In a largely unknown aspect of the 1984-5 Miners' strike, gay activists from London gave much needed help to an embattled South Wales community. Their story is told in Pride, a film released in the UK this week.
Given it shows two of Margaret Thatcher's "enemies from within" forming a united front against her government, Pride will appeal to many on the left – Guardian columnist Owen Jones wrote that it made him cry.
Yet, if the politics of Pride is fairly blatant, a less obvious point of interest is that the film is one of the very few screen dramatisations of miners to appear in recent years. So far as I am aware, not since Billy Elliot in 2000 has a commercial movie depicted miners in any significant way.
But there was a time when those living in the shadow of the pit dominated the imagination of many novelists and dramatists, embodying as they were deemed to do, in heightened form, the virtues of the British working class. Sometimes brutal, often noble, but always suffering, the miners were to many eyes the great victims of capitalism as well as the best hope that its evils might one day be challenged.
At its peak, immediately after 1918, 1.2 million people were employed in mining. But the working class was always much more than just the miners. As feminists later suggested, this dramatic emphasis unduly distorted the real nature of the world of work, exaggerating its masculine character. There were, after all, 1.5 million mostly female domestic servants in 1901 – but they never quite attracted the same attention.
Despite the number of miners falling to 280,000 by the start of the 70s, it was in then that their cultural predominance was most obvious. This was partly due to a National Union of Mineworkers' strike that effectively ended Edward Heath's Conservative government in 1974. But that wasn't the only reason.
As stand-ins for the working class as a whole, miners' stories dramatised in a heroic form the more banal experience of millions. Consequently, during the 70s television broadcast an unprecedented number of drama series in which miners were the main protagonists. The likes of Sam (1973-5), How Green is My Valley (1975), The Stars Look Down (1975), Days of Hope (1975), When the Boat Comes In (1976-7) and The Camerons (1979) reflected the experience and politics of mining families across Britain and drew in millions of viewers every week. Matters went so far that in October 1975 the Daily Mirror argued: "Miners have become the new TV heroes on both channels, ousting gun-slinging cowboys and private eyes."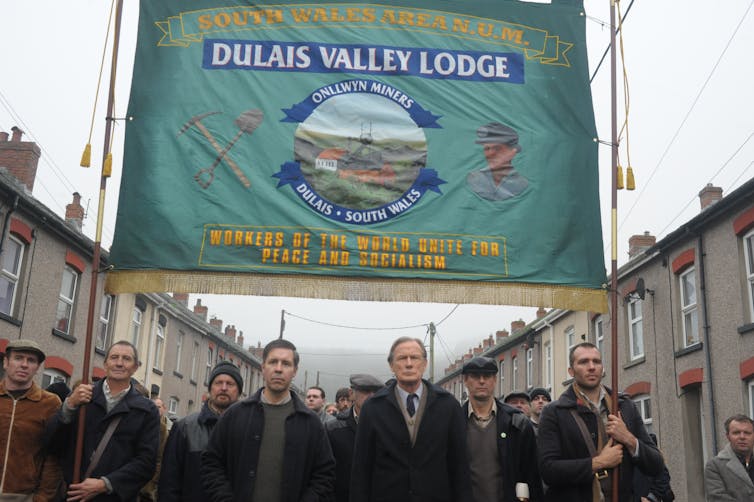 Like Pride, these series were set in the past and underpinned by political motives. Miners were by no means all shown to be heroes, but it was difficult to dramatise coal mining and not be skeptical about the virtues of the free market. ITV's The Stars Look Down was an adaptation of AJ Cronin's 1935 novel, but producer Howard Baker expressed the hope it would create "a little more sympathy and understanding for the miners". He went on:
Unless we can appreciate the history of coal mining – all the struggles and betrayals – the miners' arguments for £100 a week appear unintelligible.
If Baker directly linked his series to the NUM's campaign to increase wages, the four part series Days of Hope, written by Jim Allen and directed by Ken Loach, instead called for revolutionary change based on an interpretation of how the miners were betrayed during the 1926 General Strike. It even attracted criticism from Thatcher herself.
Loach was famous for the "authenticity" of his films, due in part to his careful casting of hitherto unknown working-class actors, including club comedians. His casting notes for Days of Hope (held at the British Film Institute) put the relationship between class politics and sexual politics in the 1970s in an ironic light, containing as they do occasional references to some actors being too "camp" to play miners. One in particular was rejected for a leading role because he is, "soft but not bent – I think!!"
A few weeks after Days of Hope concluded its run, with much self-conscious bravery, ITV broadcast – at 10.30 – The Naked Civil Servant, a dramatisation of Quentin Crisp's memoirs of his life as a gay man. This was yet another period drama with a political motive, albeit of a sort that was rather different to the one on show in the miners' dramas.
John Hurt's sympathetic portrayal of Crisp is credited with helping change many viewers' prejudices; and Pride is but the latest of similarly themed works to have followed in his wake. Arguably many such gay dramas have largely focused on the struggle of the individual, in isolation from the labour movement, echoing the great strides in sexual equality that have occurred since the 70s (accompanied by a rise in income inequality). In highlighting a moment when both class and sexual politics combined, Pride is therefore a very rare and uniquely radical drama for 2014. I can see why it made Owen Jones cry.