Former prime minister Gough Whitlam has died at the age of 98.
His family said in a short statement that he died this morning. "A loving and generous father, he was a source of inspiration to us and our families and for millions of Australians," they said.
One of Australia's most reforming and controversial leaders, Whitlam's 1972-75 period in office ended sensationally when he was dismissed by then Governor-General Sir John Kerr.
A divisive figure in government, he became a national icon in his later years.
The Whitlam government, which came to power on the "It's Time" campaign, ended conscription and introduced major reforms in education, health and social welfare. In foreign policy it recognised China and sought a more independent stance for Australia in the world.
After losing the 1975 election Whitlam stayed as Labor leader in opposition to fight the 1977 election. He quit parliament in 1978, after a few months on the backbench.
Tributes poured in today from both sides of politics.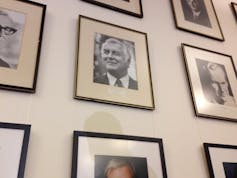 Prime Minister Tony Abbott described Whitlam as "a giant of his time".
"He united the Australian Labor Party, won two elections and seemed, in so many ways, larger than life.
"In his own party, he inspired a legion of young people to get involved in public life.
"He established diplomatic relations with China and was the first Australian prime minister to visit China. China is our largest trading partner. That is an enduring legacy.
"Gough Whitlam recognised the journey that our country needed to take with Indigenous Australians. The image of soil passing from Gough Whitlam's hand to Vincent Lingiari's is a reminder that all Australians share the same land and the same hopes."
Opposition Leader Bill Shorten said: "The party that I lead – the Labor Party – has lost a giant … The nation has lost a legend. Like no other PM before or since, Gough Whitlam redefined our country and in doing so he changed the lives of a generation … Our country is different because of him."
Addressing the Labor caucus, Shorten recalled Whitlam's battle to reform and transform the ALP: "He shook Labor up … Gough refashioned our party – he drew it out of its narrow partisan divisions into an inclusive social democracy."
Caucus observed a minute's silence.
Former Labor PM Julia Gillard said she remembered Whitlam as "one of the great Australian characters … I honour Gough as a man of the highest political courage, a giant of his era. He was truly prepared to 'commit and see what happens'. He transformed Australia."
The Governor-General, Sir Peter Cosgrove, said Whitlam was "a towering leader of his time who made a significant contribution to the life of our nation and his legacy endures today".
Malcolm Fraser, who was installed as caretaker PM when Whitlam was sacked, but later became close to him in retirement, joining him to push for a republic, said: "He was a great Australian and he'll be remembered as such. He was a formidable opponent - that covers it all."
Parliament was suspended as a mark of respect and there will be tributes at midday.
On his 80th birthday Whitlam said: "I do admit I seem eternal … Dying will happen sometime. As you know, I plan for the ages, not just for this life.
"You can be sure of one thing, I shall treat Him as an equal."