Under the title Inventing Impressionism: The Man Who Sold a Thousand Monets, the National Gallery in London recently mounted an exhibition about Paul Durand-Ruel (1831-1922). It's just finished, but don't worry if you didn't see it, I'm about to tell you why you shouldn't have. This is how it was presented on the website:
This spring, the National Gallery presents the UK's first major exhibition devoted to the man who invented Impressionism, Paul Durand-Ruel (1831-1922). An entrepreneurial art dealer, Durand-Ruel discovered and unwaveringly supported the Impressionist painters and is now considered a founding father of the international art market as we know it today.
I would like to be somewhat picky. One man invented Impressionism? Can this be right? In what sense did a dealer invent Impressionism?
Clearly the artists were the origin of the paintings. The first show was in 1874; it was an artist-led independent initiative that then was folded into the emerging dealer critic system. The artists had already formed a joint stock company to gain direct access to a potential public.
The knowledge of artistic practices, their conditions, and their potential recipients depends on a far more complex interface between economic theory, social systems and cultural production than this facile description allows. And in particular, the role of women at this time as both artists, collectors and those engaged in speculative creation and its conditions of dissemination cannot be erased from history without distorting our knowledge.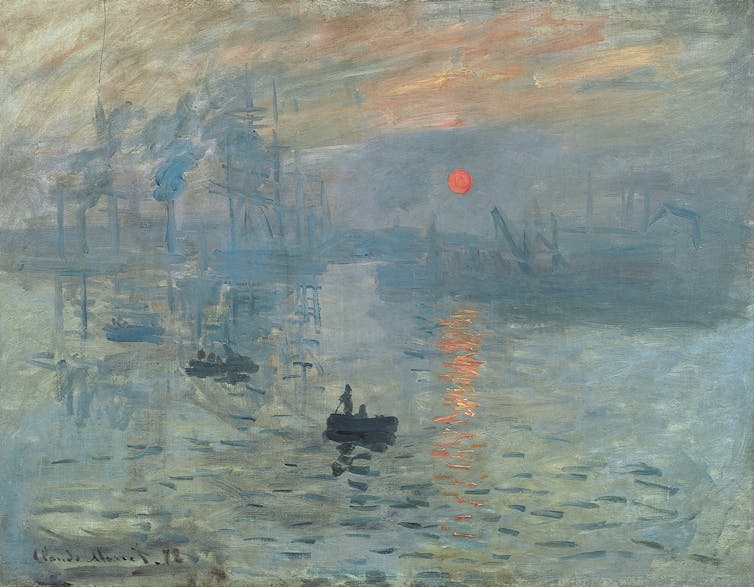 Let me go one stage further. The group of artists who were labelled "Impressionists" first appeared before the public as a "Group of Independent Artists". As a result of one of the paintings by Monet in the first exhibition in 1874 bearing the title Impression: Sunrise (impression being an academic term for an artist's preliminary study when preparing a landscape painting), an irate critic named the whole lot mere "Impressionists", indicating his disdain for their somewhat unfinished studies that should not, in his opinion, be exhibited as "works". But the works in the original show and the five that followed until 1886 were labelled: "The New Painting" by their supporters. Did Durand-Ruel invent the brand? No. Did he invent the brand-name? No.
'Founding father'
What he did do was to create a market for works of this new kind of painting by artists who had themselves already dared to set up shop independently of the government-run and official annual exhibition, the Salon, with its thousands of exhibits and rather conservative gatekeepers. They had to find another way to any public, and had to build another public if they were to survive. They wanted to get before a new public directly.
It was tricky. And so the emergence of a new system named by Harrison and Cynthia White "the dealer-critic" system, of which Paul Durand-Ruel was certainly a leading figure, represents a major change in the organisation of artistic production in France at a time when, having deposed an authoritarian Emperor, the economy was being liberalised and capitalised.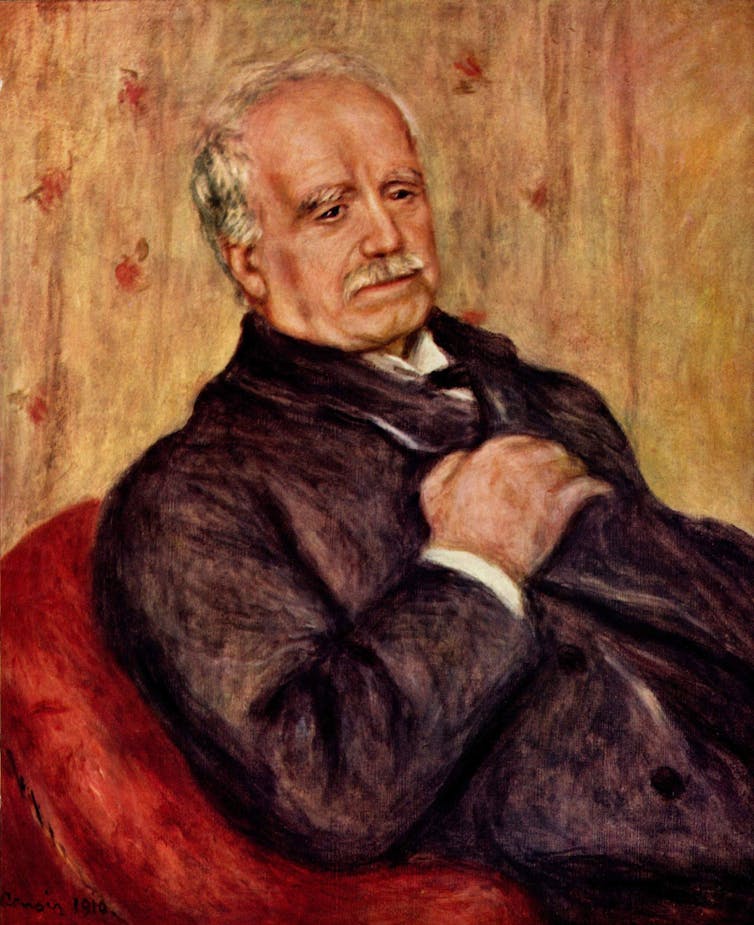 In the free market system, the artists produce works on spec. The dealer takes the risk by supporting the artist to make the work with a salary, but the dealer also takes the works to sell, taking a percentage if he or she does. To sell, the dealer has to cultivate buyers and create collections of specific artists' work over time. He plans annual shows to showcase the new work each year. To sustain this new venture capitalist form, dealers may commission critics to write about exhibitions and to write intriguing biographies of the artists, to gossip about what is new, if possible setting up a journal to do so. Durand Ruel was canny enough to understand all of this, although not always to stay entirely afloat in what was a very uncertain situation of a completely new kind of market and marketing.
But I've a third query: "founding father of the international art market". Durand-Ruel in Paris was not alone in the development of this market. Monet jumped ship for Georges Petit in the early 1880s. Goupil was already there and Theo van Gogh, Vincent's dealer brother, would push that company towards the new contemporaries during the 1880s. Ambroise Vollard would soon enter the scene in 1890s, Cassirer, Berthe Weill, Wilhelm Udhe – and later Peggy Guggenheim, Betty Parsons and Leo Castelli would also all be players in the history of modern art.
So why speak the language of the "father of the international art market" when it is absolutely not true? The answer is simple. Because it is part and parcel of a specific way of telling the story of art. The "great individual" model of art history involves one person who invents a movement and is a founding father. This blinds us to the entanglement of many factors and many actors in the making of the new.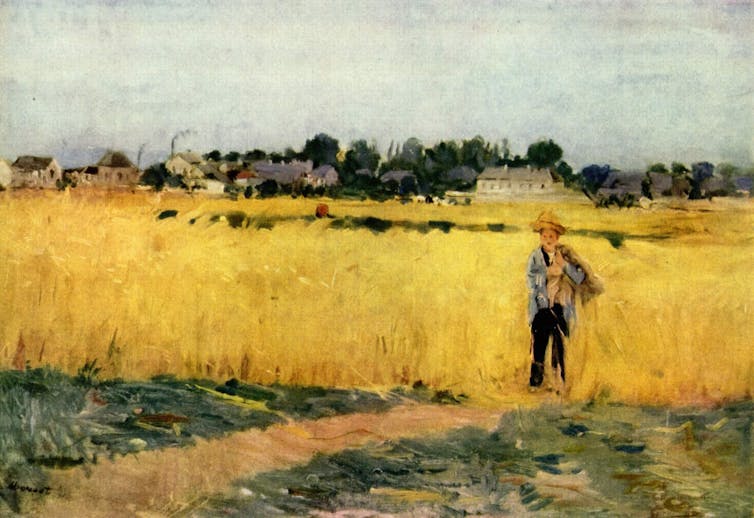 Painting history
Why am I bothering to take this simple website information page apart? It is, to me at least, perplexing that a major institution should still be peddling this way of learning about important events in art and art history to a sophisticated London – and international – audience made up of people from many walks of life who have found their way to the National Gallery and who are surely capable of understanding marketing on the one hand, and creative speculation on the other.
Why does this enrage me? Because this kind of story was challenged half a century ago. Then, we were not afraid of talking seriously about economics of art production, the relations between money and art, art and society, art and social change, art and modern experience, even art and gender. It was all already there in the history itself. All of this richness is reduced by the National Gallery to a show that starts with a photograph of one man, Paul Durand-Ruel, and then hangs the paintings he bought and sold in chronological groupings. Visiting the exhibition we learn nothing that we might not have learned from any show collecting some "Impressionists" together.
By telling us nothing new, the show actually misrepresents the past. It erases knowledge and deprives the visitors of ways of experiencing the art of 19th century Paris that are grounded in the actual history of that moment of early capitalist modernity that is still relevant to us today.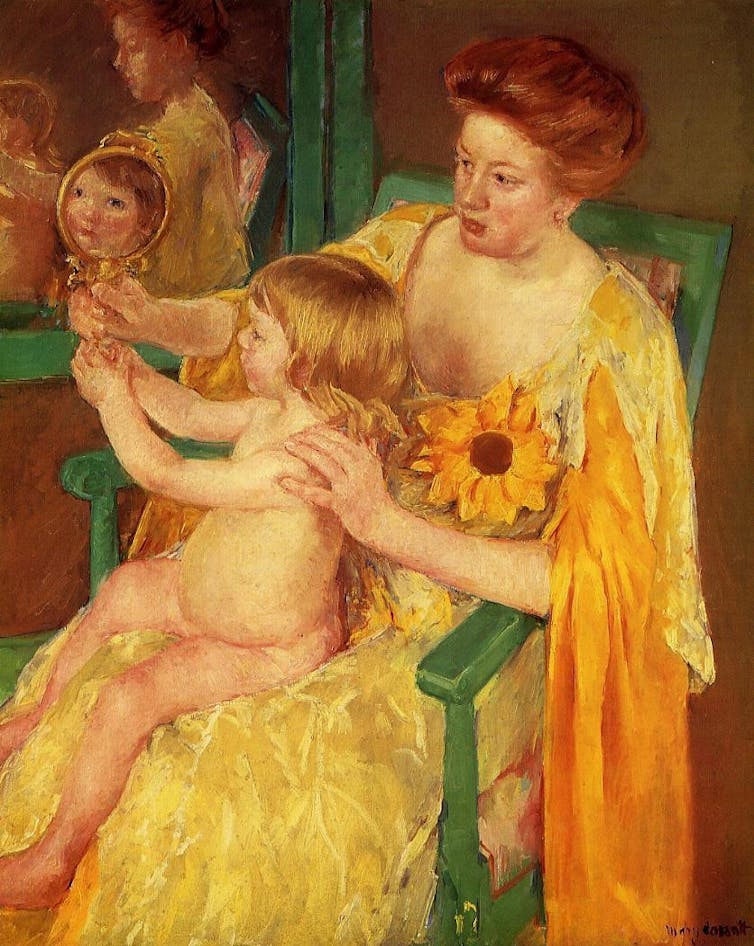 On the website, they also tell us:
Between 1891 and 1922, Paul Durand-Ruel purchased around 12,000 pictures, including more than 1,000 Monets, 1,500 Renoirs, more than 400 by Degas, 800 Pissarros, 200 Manets and 400 Mary Cassatts.
Renoir was clearly Durand-Ruel's favourite. Yet the show sells on the man who sold 1,000 Monets.
And Durand-Ruel bought as many works by Mary Cassatt as Edgar Degas. But in the exhibition, there is only one painting by Mary Cassatt: The Child's Bath (1893, art Institute of Chicago). There are two paintings by Berthe Morisot. Out of the 400 by Cassatt bought by Durand Ruel, they manage to show one and only in the section on Durand-Ruel when he goes to New York: thus erasing the remarkable fact that the American Mary Cassatt was embraced by this French coterie of new painters from the mid-1870s.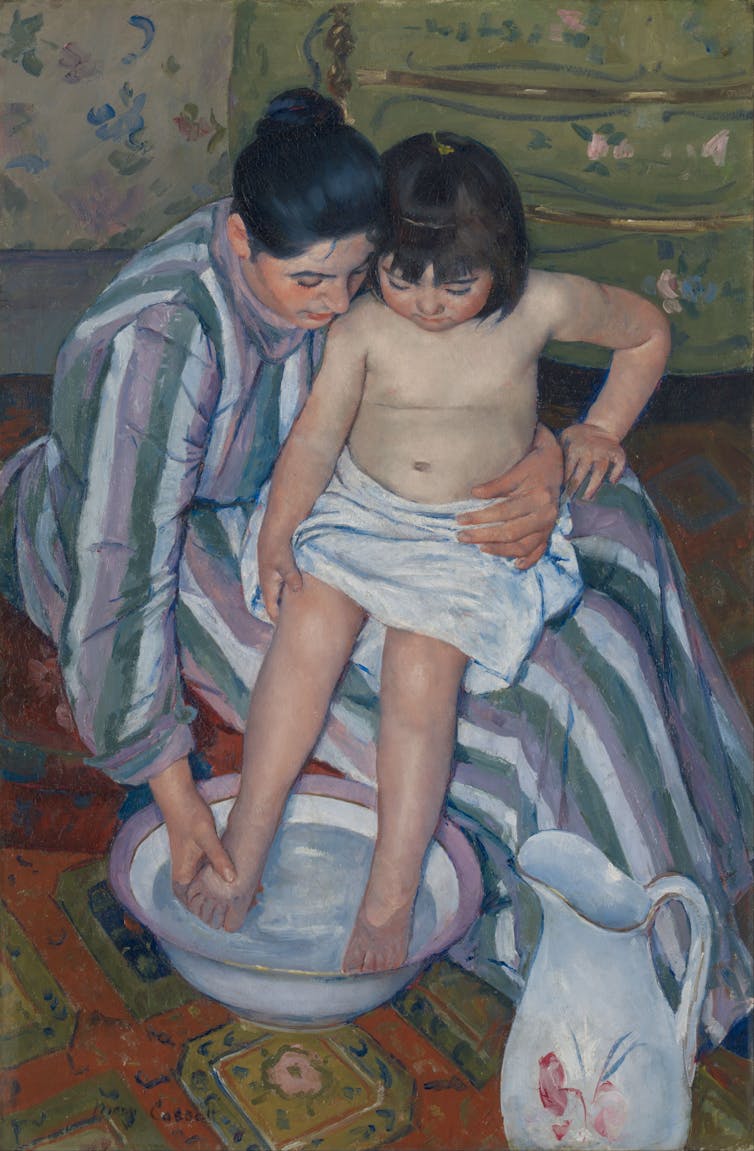 Erasing women
This virtual absenting of the work of Mary Cassatt flies in the face of a key fact about the Impressionist exhibiting group: that it was the first affirmatively and consistently egalitarian art movement. In keeping with their progressive modern approach to art and society, women were involved alongside men in the organisation, promotion and exhibitions of the Independent exhibiting society from the start in 1874. Mary Cassatt was invited in 1875.
In the exhibition catalogues for the first few Independent Exhibitions, you'll find Marie Bracquemond, Eva Gonzales, Berthe Morisot and Mary Cassatt there in black and white. This is the primary evidence. It cannot be contradicted. But it has been consistently ignored by 20th-century art historians and 21st-century museum curators to the point at which what has been offered as knowledge to the visitors to this exhibition in 2015 actively erases this significant fact.
Does this matter? Yes. It has real effects. For example. if there are no works by Mary Cassatt in our major art galleries or featured in these historical exhibitions that represent the Impressionist moment to which thousands flock, no visitor will seek out a book on the artist from the bookshop. No publisher will commission a book on Cassatt, or keep those that exist in print. No books extend the imposed ignorance. No visitor will ask about the artist, and so on.
This is called "disappearing". Through exhibitions then, the erasure is repeated. What we are allowed to know in art history is thus gendered: favouring "men who invent" and "fathers of invention" when the special fact about this particular event was actually the participation of women side by side with progressive men.
Utter failure
Let me take this one step further.
In terms of producing knowledge of either the work of Impressionist painters or the development of the art market, the exhibition was also a failure. It simply presented the major paintings in which Durand-Ruel dealt, without any detailed history of the emergent liberal economic policy of the time, or the cultural-business strategy of this innovative dealer, or of their artists' participation in such a new climate, or of the relations between exhibiting, writing, journalism or collecting that sustained it.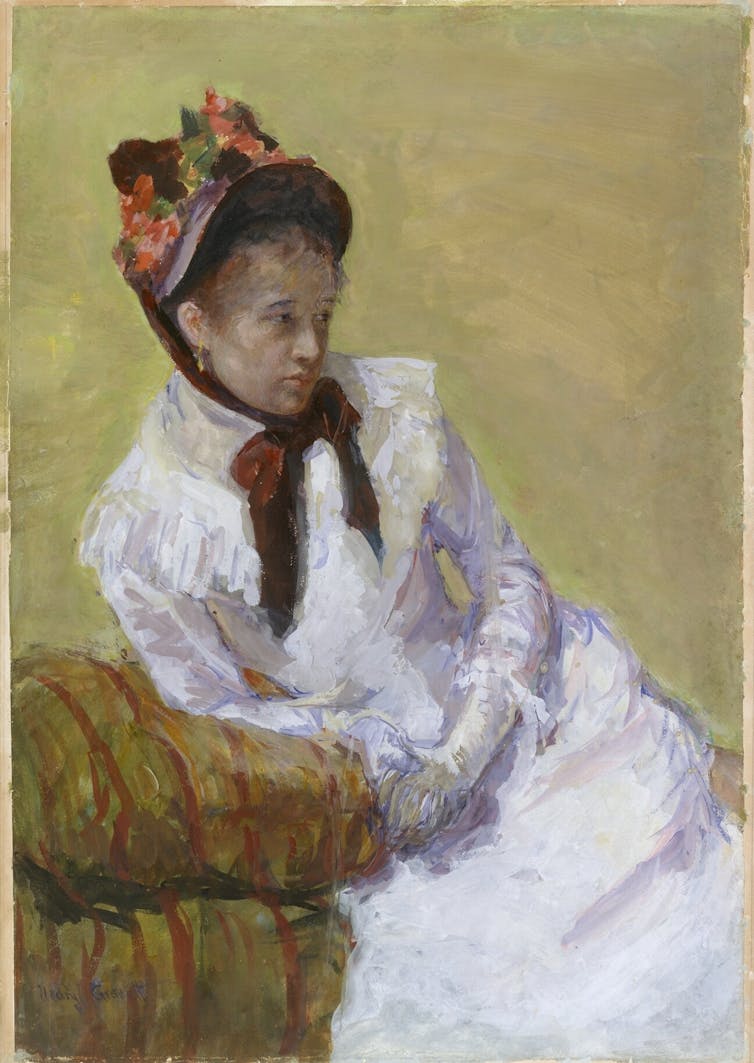 Durand-Ruel's courage was considerable and his risky venture suffered during severe economic recessions in the early 1880s. Durand-Ruel's specific strategy for selling to American tourists in Paris led to a plan to open a gallery in New York. It was this venture that ultimately saved his business. The key supporter in this scheme – who provided introductions to major collectors in the US and whose paintings, already in collections in the US, were lent to initiate the first exhibition – was none other than Mary Cassatt, who also provided some financial support to the failing dealer.
Since settling in Paris in 1874 and meeting the Independents, with whom she regularly exhibited, she had fostered interest and investment in her struggling companions, notably encouraging purchases by an American, Louisine Havemeyer, whose superb collection created under Mary Cassatt's astute guidance formed the bequest that is now the core of the Metropolitan Museum's brilliant holdings of later 19th-century French painting including their major Manets, Courbets and Degas.
I have to confess to more than academic interest. My first article as an art historian in 1974 was about the holdings of works by women in the National Gallery. They were precious few and they were all in the basement. Not much has been done to rectify their absence since that time. I am also the author of two books on Mary Cassatt, one written in 1978 and reprinted in 2010 and another written in 1998 for the Thames and Hudson World of Art. Will the latter stay in print if it never finds its readers through their exposure to Cassatt and her remarkable body of work over a 30-year career?
After seeing this exhibition, I felt as if I wanted to do a performance outside the National Gallery. Standing with a pile of my books and others on the women who also invented Impressionism side by side with their male colleagues, I wanted to hold a banner declaring that this institution wilfully and persistently distorts knowledge of art's histories.
Instead, I wrote this article.