This year, the majority of TAFEs across the country have been threatened by state government changes to the sector. In New South Wales and Victoria, vocational education has seen institutional closures, loss of expertise and reduced opportunities for students.
The Queensland government, too, is looking at similar changes to save money on vocational education.
This stands in stark contrast with the debate around government support for higher education. This funding is widely accepted – the discussion mostly looks at why it should be increased not whether it should exist at all.
We justifiably assume that Australia benefits from a well supported higher education sector and from university students who contribute to a higher skilled economy, a more informed political debate, and a richer more well rounded society.
So why is it that cuts to vocational education often fly under the radar?
Who benefits?
With vocational education and training (VET) the same arguments about the benefits of education to our economy and society apply, and are perhaps even stronger than for higher education.
Stronger because the TAFEs and the private vocational colleges that make up the sector, are more accessible to a number of disadvantaged groups.
My recent research on the VET sector shows the role VET plays in both addressing disadvantage as well as the substantial government return on its investment.
Returns on investments have been estimated as more than six to one for NSW TAFEs. And a potential two to one return on investments in the VET sector nationally. Beyond the purely economic arguments, there is an even stronger case that it provides substantial social benefits by giving a forum for those from disadvantaged backgrounds to improve their options.
The following graph uses ABS data that divides the population equally into five levels of socio-economic disadvantage. It shows the percentages of VET and higher education students in each level. The dark line indicates the height the columns would be if students were drawn exactly equally from all levels of disadvantage.
The graph shows that those from less advantaged backgrounds may have difficulty accessing higher education. While the VET sector has a relatively even spread of students from disadvantaged, middle class, and affluent backgrounds.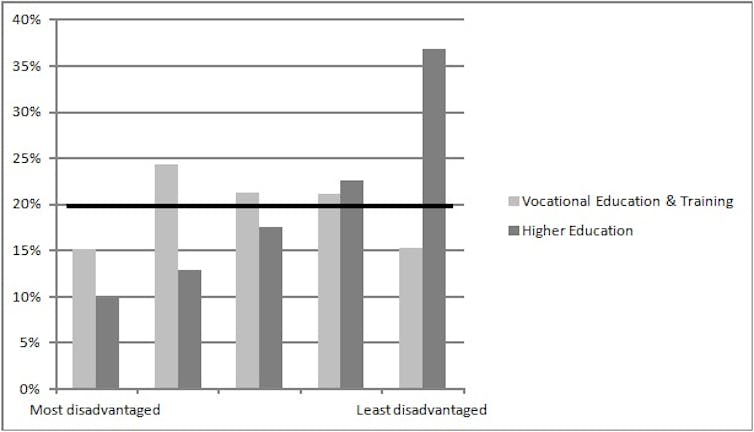 The government money going towards VET is then more evenly spread across different backgrounds, and is making further education available to those who may not normally have access.
This is not an argument for removing government support from universities. Quite the opposite – less funding for universities would only make the problem worse, as the increased costs of university could only be afforded by the wealthy.
However, it does demonstrate the need for other education providers that have greater accessibility.
A helping hand
There are a number of unavoidable reasons why universities are not as accessible as TAFEs. For example, the smaller size of most TAFE campuses and private colleges means they can be more widely distributed.
Shorter travel times make them more accessible to students from rural and remote areas, which are often areas of socio-economic disadvantage.
The lack of access to resources and facilities that can come from living in remote areas is itself a form of disadvantage. And here again TAFEs perform well in providing opportunities.
While the percentage of Australians in rural and remote areas is 11%, the percentage of TAFE students from these areas is 20%. And private vocational colleges also do well with 14% of students from rural and remote areas.
TAFEs play a particularly important role in providing a forum for those with a disability to improve their opportunities, with 7.2% of TAFE students having a disability or long-term medical condition. This is double the proportion of university students with a disability, which is 3.5%.
A question for governments
The evidence shows TAFE's ability to work for everyone. The role it plays for disadvantaged groups is a challenge to the number of state governments that are implementing or considering large cuts to TAFE funding – which themselves are in a context of long-term funding decline to the VET sector.
The challenge is to explain why cuts are being made to education providers that are clearly using these public funds to provide opportunities to all. So why are our governments choosing not to make this investment when everyone wins?
While there have been some protests, the level of debate around the cuts has been limited. This may be because the damage won't be realised for many years to come.
It also seems as though VET students as a whole are less politically active than university students. Personally, I think this is because many VET students are working in the industry as they train and worry about endangering their jobs by encouraging media attention.
But whatever the reason, an education sector that benefits all Australians in the long-term should not depend on the activism of its current students. Broader public support is needed. The value of TAFEs and the VET sector, should speak for itself.
In the long term, Australia will come to regret the year we sold out on vocational education.