From today, Australia has a new-look Senate. Twelve new and 64 returning senators will take their seats on the red chamber's plush leather benches for next week's sitting. With them comes a major shift in the federal parliament's dynamics, as the power to alter or obstruct the Abbott government's legislative agenda passes from the Greens to a more diverse group of right-of-centre parties.
While most past governments have had to negotiate with a fractious upper house, the wild-card presence of new representatives from the Liberal Democratic Party, Family First, the Motoring Enthusiasts' Party and the Palmer United Party (PUP) means this Senate is likely to be more volatile than most.
Predicting the unpredictable is always a fool's errand, but here are some of the key factors to keep an eye on in the coming months as the new senators settle in.
The numbers game
From today, the Coalition will hold 33 seats in the 76-seat Senate — well short of the majority needed to ensure passage of its legislation. Reflecting its poor result at the 2013 federal election and even worse belting at the recent Western Australian Senate re-run, the ALP holds just 25 seats.
The Greens managed to retain all of their previous Senate spots and pick up a further seat in Victoria, bringing their tally to 10. High-profile independent Nick Xenophon also comfortably retained his seat after winning nearly two quotas in his own right.
The Democratic Labour Party's lone senator, John Madigan, was not up for re-election in 2013 and so remains a presence on the crossbench. Six new microparty senators will join him there. Much of the media's scrutiny (and condescension) has focused on political neophytes such as Ricky Muir from the Motoring Enthusiasts' Party, and Jacqui Lambie, Glenn Lazarus and Dio Wang from the PUP.
However, there are also some more seasoned operators in the mix. They include Family First's Bob Day, who has a long history with the Liberal Party and is a former president of the National Housing Association, and David Leyonhjelm from the Liberal Democratic Party, who is a former chairman of the Shooters Party.
Together, these minor and microparty members make up the largest crossbench in the Senate's history. While the government would be able to pass legislation with the support of either Labor or the Greens, both parties have already committed to blocking key proposals such as scrapping the carbon tax, introducing a Medicare co-payment and deregulating university fees.
This means it will fall to the new crossbench senators to decide how much of the government's agenda can be implemented. Importantly, however, government Senate leader Eric Abetz won't be able to take a one-size-fits-all approach to negotiating with the crossbench, as distinct voting blocs with quite different preferences and interests have already begun to form.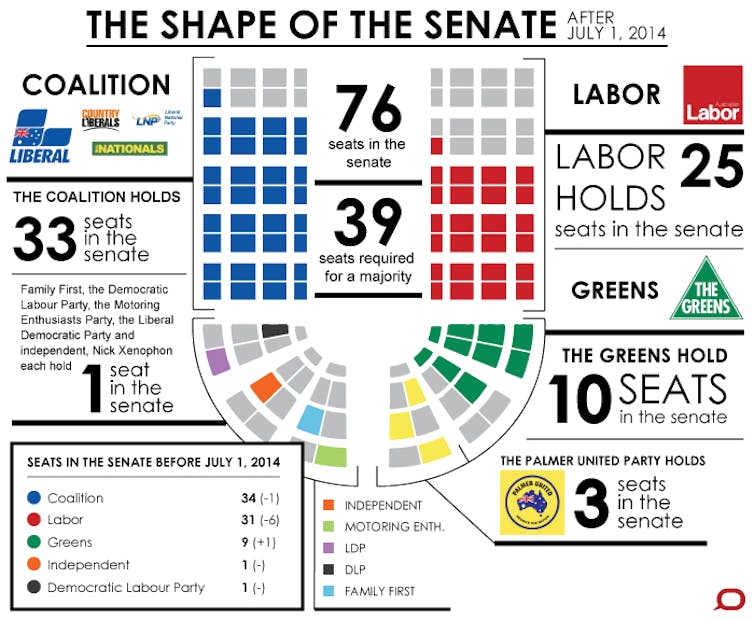 Motoring with Palmer
With three Senators, the PUP already represented the largest crossbench voting bloc aside from the Greens. But in a move that reminded political observers never to underestimate PUP founder and leader Clive Palmer, he also brought Muir from the Motoring Enthusiasts Party into the fold with an alliance agreement signed last October.
Muir has committed to voting with PUP's senators in return for pooling staff and other parliamentary resources. This gives Palmer notional control over half the key crossbench votes.
From his perch in the House of Representatives, Palmer has said that his senators will oppose major budget measures such as the GP co-payment, changes to pension arrangements and a temporary levy on wealthy Australians.
Last week, Palmer confirmed he would support the carbon tax repeal while rejecting other parts of the Abbott government's climate mitigation package. He has also previously signalled that his party supports the abolition of the mining tax, is opposed to offshore processing of asylum seekers, and will allow its parliamentarians a conscience vote on issues such as marriage equality, abortion and euthanasia.
But two big questions hang over the PUP bloc. Will the party actually stick to those commitments when it comes time to vote? And how long will Palmer be able to hold together such a ragtag crew of parliamentarians?
Palmer has a history of changing policy positions when the political moment suits, while the government has reportedly targeted individual PUP senators in the hope of convincing them to break ranks.
The history of minor parties in Australia certainly suggests that a falling out between Palmer and one or more of his underlings is on the cards in the next few years. It will be interesting to see what steps he takes to keep them in line and maintain the party's position of power.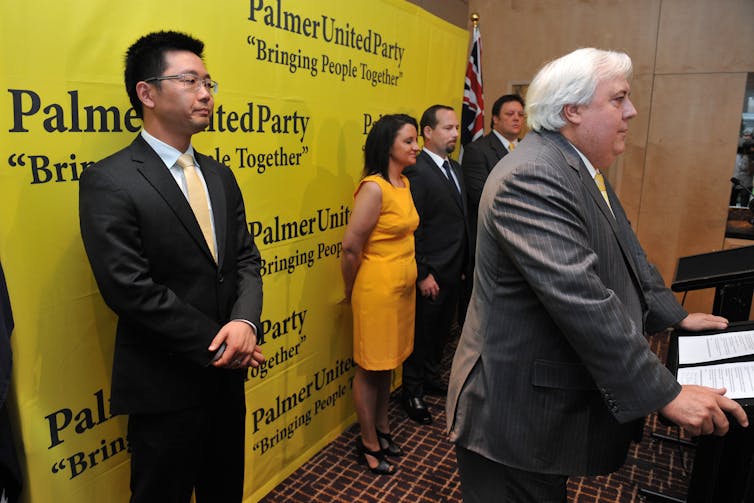 Liberalism for two
In a more intriguing Senate development, Leyonhjelm and Day – a political "odd couple" – recently announced that they will also vote as a bloc on any legislation relating to the economy. The pair share a passion for economic liberalism, and so intend to block any new taxes, advocate for a reduction in the minimum wage and support privatisation of public facilities such as schools and hospitals.
Importantly for the government, this also means the pair will oppose "big government" initiatives such as the proposed paid parental leave scheme and the deficit levy.
The alliance does not extend to voting on social issues. As an avowed libertarian, Leyonhjelm reportedly supports the legalisation of same-sex marriage and the decriminalisation of some drugs. Day is a social conservative who strongly opposes such measures.
It remains to be seen whether the pair's shared economic values provide a strong enough foundation for a lasting double act. However, it seems certain they will at least team up to block important aspects of the budget in the weeks ahead.
Of course, outside this complicated network of alliances, the government will also need to deal with senators Xenophon and Madigan. Both are now experienced parliamentarians who see themselves as an important check on government power. Neither has ever indicated much sympathy for the Coalition's political worldview.
Prime minister Tony Abbott may well find a friend in the staunchly Catholic Madigan if issues such as marriage equality and euthanasia come before the parliament again, but Xenophon has a reputation for being far more mercurial in his policy positioning.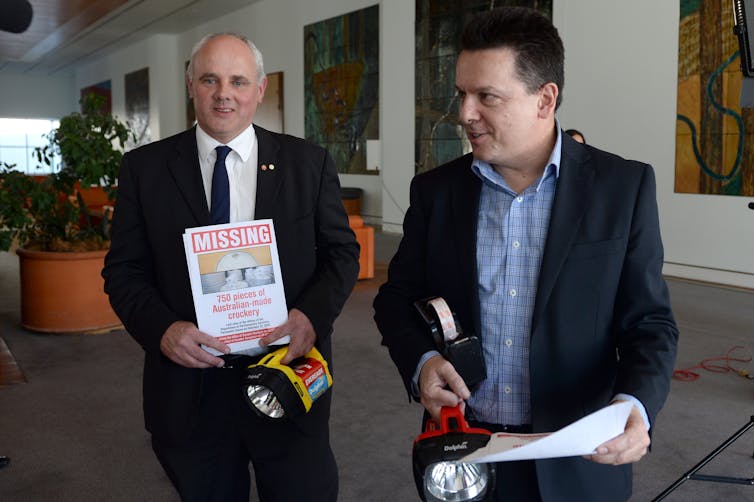 Obstacle or opportunity?
The media has made much of the new Senate's capacity to wreak havoc with the Coalition's agenda, and it is true that the crossbench will be pulling it in many different directions. However, this diverse upper house also represents an opportunity for the government to incorporate different perspectives into its legislative processes and so (potentially) come up with more palatable policies.
One of the most frequent criticisms levelled at this government is that its circle of advisors is too small and skews too heavily towards sectional interests. This has arguably led it to propose policies and reforms that lack broad public support and do not reflect mainstream community values.
By working collaboratively and consultatively with the crossbench senators, the Coalition could expand its thinking and avoid being captured by a narrow worldview. If it can do that, the new Senate might end up being a useful resource for the government rather than an exasperating obstacle.