A little over 10 years ago Nintendo changed the game with the release of the original Wii console. Featuring motion controllers that allowed users' arm and body movements to control their video games, the system was wildly successful going on to sell more than 100 million units worldwide.
This was followed by 2012's Wii U console, which didn't fare as well. With a large "second screen" controller packed in, part of Wii U's goal was to provide asymmetric gaming, where the player with the larger GamePad had more or different options to those who might be playing with more traditional controllers.
Despite these grand plans and a steady diet of Nintendo staples, including numerous Mario and Zelda games, the Wii U failed to take off in the same way the Wii had. It still managed to sell around 14 million units by the start of 2017, with the last Wii U console rolling off the production line in November 2016.
Never one to shy away from innovation, 2017 brings the release of Nintendo's newest console: Switch. And true to form, Nintendo has done things a little differently yet again, while using some of the same strategies they've employed previously.
As with previous generations, it's likely that Nintendo's console will be less powerful than its Sony and Microsoft peers. But that's not the battleground Nintendo has chosen. It has gone for mobility and "out-and-about" connectivity in a similar vein to its DS line of portables, or perhaps more closely, to a Sony PS Vita. The goal here is to connect people in person through gaming. And it could pay off in spades.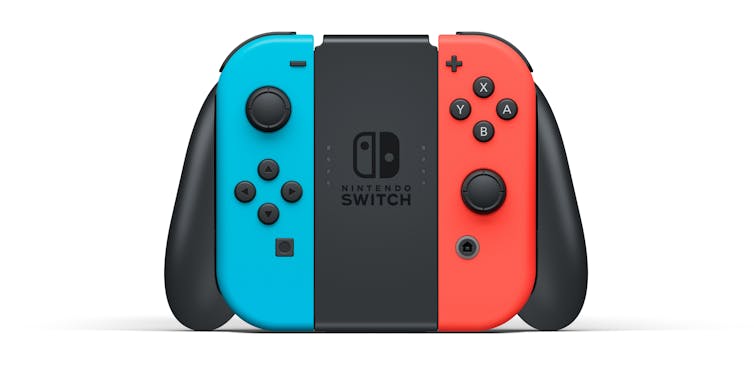 In betweener
The Switch itself has a "phablet" sized 6.2 inch touchscreen with controllers that snap onto the sides when in portable mode. But it also has a portable multiplayer trick up its sleeve.
Sliding off the controllers allows them to connect around a central connecting block as a single traditional controller. They both also contain an analogue stick and the regular diamond of buttons, so each side can be used by a different player.
While on the road, the console will try to conserve battery life where possible, with a claimed life of between 2 and 6.5 hours based on usage. Plugging the Switch into its dock allows it to charge and boost it's processing power to act more like a traditional console with the action displayed on your TV.
While there is only a handful of games at launch, including the excellent The Legend of Zelda: Breath of the Wild, further titles can be purchased on the eShop app-store. These will require installation on the device's built in 32GB of memory, while titles bought on cartridges don't require installation at all.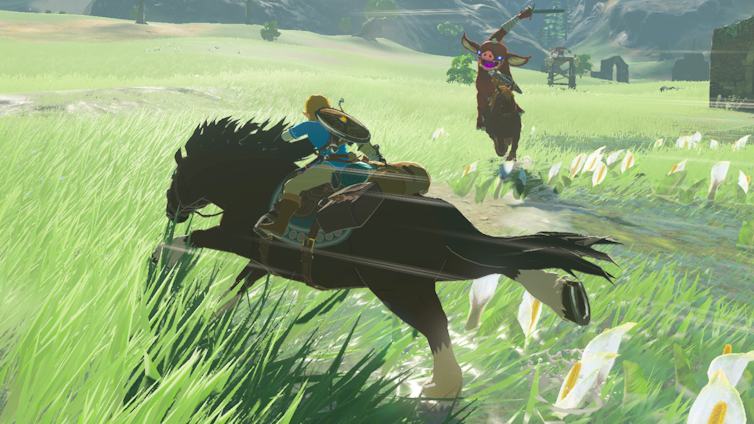 Although 32GB isn't a great deal of space to work with when referring to modern games, a MicroSD expansion slot allows for up to a planned further 2TB of storage to be added. The largest current MicroSD UHS card is presently 1TB, but it's expected that 2TB cards will arrive in time.
With additional features like HD Rumble, which uses multiple haptic activators per controller, and the ability to connect up to eight Switches together for multiplayer gaming, Nintendo has a chance to do things no other console can.
But what it doesn't have is its one social "killer app", such as Pokémon Go, which drove millions of people out into their local parks, or Super Smash Brothers, which draws large crowds to tournaments around the world.
The game 1-2-Switch currently comes closest as a party game, with its large collection of mini-games that have you doing everything from racing to eating sandwiches, having old-west style quick-draw competitions and milking virtual cows. But it remains to be seen how long these kinds of silly diversions will hold peoples' attention.
And if it turns out that they don't, then Nintendo's recent love of indy gaming and a planned roster of 60 titles in 2017 can still step in to shore up the wait between larger AAA releases.
The Nintendo Switch offers a lot of flexibility and potential, especially in its multiplayer aspects. But by choosing gameplay over hardware specifications, it may ultimately fail or succeed based on the depth and breadth of its software library and ability to cater to a wide variety of gamers.