Australia's government has announced new planned waste recycling targets, as part of its response to the crisis prompted by China's decision to crack down on recycling imports earlier this year.
The wider goal of Australia's plan to update the National Waste Policy is to embrace circular economy principles.
That process is now in train. Following engagement with industry and government working groups, a proposed update to the policy is now open for public comment.
So how well does the proposed new policy incorporate circular economy principles? The short answer is, not well enough.
---
Read more: Explainer: what is the circular economy?
---
A circular economy is centred on keeping products, components and materials circulating in use for as long as possible, through long-lasting design, repair, reuse, re-manufacturing and recycling. The ultimate aim is to minimise the amount of resources consumed, and waste generated, by our economic activities.
The proposed principles, targets and strategies are a good start. They will help tackle a range of issues, including:
dealing with China's recycling imports crackdown by improving local capacity
increasing the currently limited responsibility for products at end of life
focusing on organic waste (such as food and textiles), one of the major obstacles to current recovery rates
reducing litter and marine plastic debris
harmonising the various disparate state policies.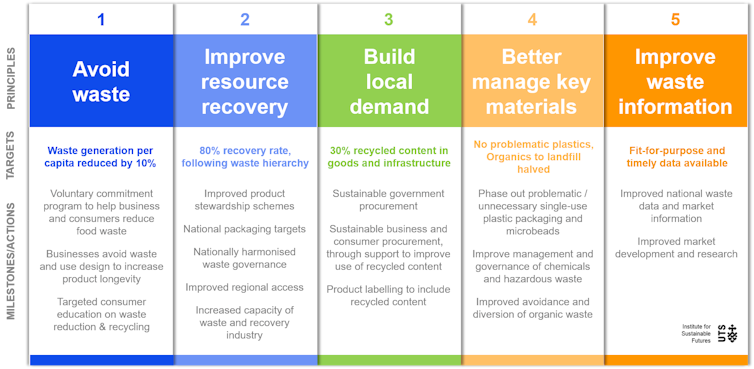 Yet these proposals, while all crucial, represent only a moderate evolution from our current situation, rather than the revolution needed to truly embrace the circular economy.
The policy's major focus is still on recycling and recovery, and while recycling is certainly a "circular" activity, the circular economy involves so much more than simply improving how we reclaim and reprocess unwanted materials.
A truly circular society aims to transform our whole system of production and consumption, with innovative approaches like "products as services" (through leasing or collaborative consumption) and designing for next life and new life (through repairability, modularity and disassembly).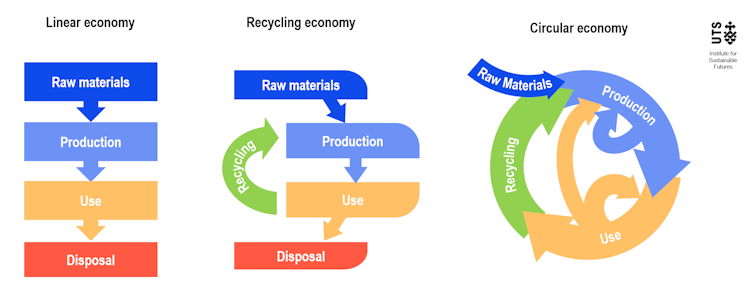 Global changes, local opportunities
The proposed policy misses the opportunity to focus on innovation and create a step change in not only the resource recovery industry, but our whole economy and broader society.
The public arguably has more awareness of this issue than ever before, thanks to the continuing emergence of sustainability as a concept, combined with China's shock to our recycling industry and the media focus afforded by campaigns such as the ABC's War on Waste documentary series.
Public awareness and expectation is one thing, but to deliver on these goals the national waste policy must strengthen the explicit adoption of circular economy principles and significantly increase support to transition towards it.
This includes such things as:
appointment of a Commissioner for Circular Economy
explicit targets for reuse, repair, reassembly and remanufacture
"Circular" procurement of goods and infrastructure
support for innovation in business models for circular economy
standards for imports, not just local production
federal tax incentives, funding, and research and development to enable all of the above.
Australia has a unique opportunity to lay the building blocks for the type of economy and society we want. Let's hope we can get it right.