For some time, my research has shown that Muslim women who wear the hijab or other types of Muslim attire are the most likely to become victims of street-level Islamophobia. The explanation is simple: those wearing the hijab are easily recognisable as being Muslim. For perpetrators, the hijab is also seen to symbolise Islam, or more appropriately, all that they perceive to be wrong or problematic about Islam.
In recent weeks however, the hijab appears to have taken on a new symbolic value. The Daily Mail has publicised a campaign to get British Muslim women wearing hijabs designed with a poppy motif in the run up to Remembrance Day on November 11.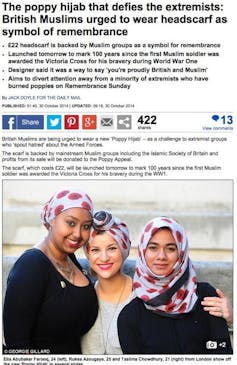 The paper suggested the poppy hijab "defies the extremists" and can be worn as a rebuke to Muslims who "spout hatred" about the British armed forces – such as those who have burned poppies around Remembrance Day in the past.
The hijab is being backed by the Islamic Society of Britain and think tank British Future to mark 100 years since the first Muslim soldier was awarded the Victoria Cross. Sughra Ahmed, president of the Islamic Society of Britain, seemed to suggest in a comment to the Mail that this hijab would help divert attention away from the "angry minority" who offend people with their views.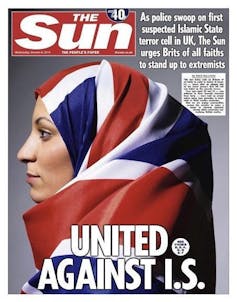 A few weeks earlier, The Sun trod a similar path in an article about British Muslims and Islamic State extremism. Its front page was emblazoned with a full-page image of a woman wearing a hijab fashioned from a Union flag. The headline, United against IS was accompanied by a sub-heading urging "Brits of all faiths to stand up to extremists".
But there is more to the poppy hijab than either the Daily Mail or Ahmed would have us believe. As Nesrine Malik wrote in The Guardian in response to The Sun's choice of front-page image, these re-appropriations of the hijab can be little more than proxies for anti-Muslim bigotry. They become a politically correct way of airing a suspicion that all Muslims are "basically terrorist sympathisers". The wearing – or not wearing – of a patriotic hijab becomes a shrouded loyalty test.
The poppy hijab however takes the Sun's loyalty test a step further. Muslims are being asked to not only pledge their allegiance to Britain but so too its armed forces. Not only do Muslims have to prove they're not the enemy but so too that they're not a traitor either.
Under pressure
This is not a new issue, even as it takes a new floral form. New Labour, for example, launched the now defunct National Muslim Women's Advisory Group back in 2007. And ever since then, politicians – whose plans were often backed by various Muslim representatives and spokespeople – have endorsed the view that Muslim women are uniquely placed to influence and challenge the perverted ideology spread by extremists.
Employing the language of counter-insurgency throughout, the mantra that has emerged is one which depicts Muslim women as able to play – on behalf of the state – a crucial role in the winning of hearts and minds in the fight against extremism and radicalisation.
The poppy hijab sits within this broader political landscape. Maybe some feel this it necessary to produce such a garment, just in case British ground forces go into Iraq or Syria in the not-too-distant future. But it's difficult to see how it could ever be seen as a well-meaning initiative by the Muslim groups and organisations that are complicit in its sale.
In response to criticism about the Daily Mail article, Ahmed has attested that no one is being "urged" to wear anything but they are evidently being encouraged to. Making unreasonable demands of Muslims – for whatever reason – is never going to have a positive outcome, especially not Muslim women. It merely contributes to the normalised culture of intolerance that is increasingly evident in Britain.
What is interesting from my research into the experiences of Muslim women who are victims of street-level Islamophobia, is that irrespective of their age, ethnicity or indeed anything else that makes them who they are as individuals, the actual women behind the hijab – the symbol of Islam – remains completely invisible to perpetrators. They are Muslim and nothing else.
And what is most sad about these recent attempted to make the hijab a symbol of patriotism or anti-extremism is that Muslim women are expected to comply without question. They are to wear these farcical hijabs as symbols of their loyalty to Britain and its armed forces. And again – just as with more overt forms of Islamophobia – the woman actually wearing the hijab is completely invisible.