A new book, Zimbabwe's Migrants and South Africa's Border Farms: The Roots of Impermanence, tells the story of the lives Zimbabweans build on commercial farms across the border, as they escape crises at home. This is an edited extract.
South Africa's great spinal road, the N1, runs from Cape Town to Zimbabwe. Past Johannesburg, Pretoria, and hundreds of miles of green Highveld; over the subtropical ridge of the Soutpansberg at Louis Trichardt; through the flat, dry, scrubby mopaneveld (bush dominated by Mopane trees) of the Limpopo Valley, and the bustle, trade, and exhaust fumes of Musina town.
Then it collides abruptly with the border, near South Africa's northernmost point. Following the Limpopo River westwards, rather than crossing into Zimbabwe, means tracking a military service road and an endless serpent of razor wire coils, the centrepiece in an undulating strip of sandy no man's land. This defensive line, punctuated by garrisons, was erected during the 'border war' of apartheid's twilight. Its electric wires are now set to 'detect'. The patchwork of repairs shows that the fence is not as formidable as it might seem.
Across the road, gaps in the foliage expose the tomato fields, cotton plantations, and citrus orchards of white-owned farms, and the regimented brick blocks or ramshackle mud houses of their labour compounds. The occasional bakkie (pick-up truck) shuttles between estates, garrisons, and the border post and town to the east. But the spaces between sites of settlement are quiet. A turn in the road, and there is not a soul to be seen.
A precarious life
The emptiness is vital for people hoping to cross the dry Limpopo riverbed undetected, climb and cut through the fence, and make their way southwards. A sparsely populated landscape is also a danger. Game farmers find corpses slumped against trees in the silent, parched expanse of mopaneveld – their postures exhausted, their empty water bottles still in hand. The bush stretching back from the border is a sea surrounding islands of crop farms and their working populations.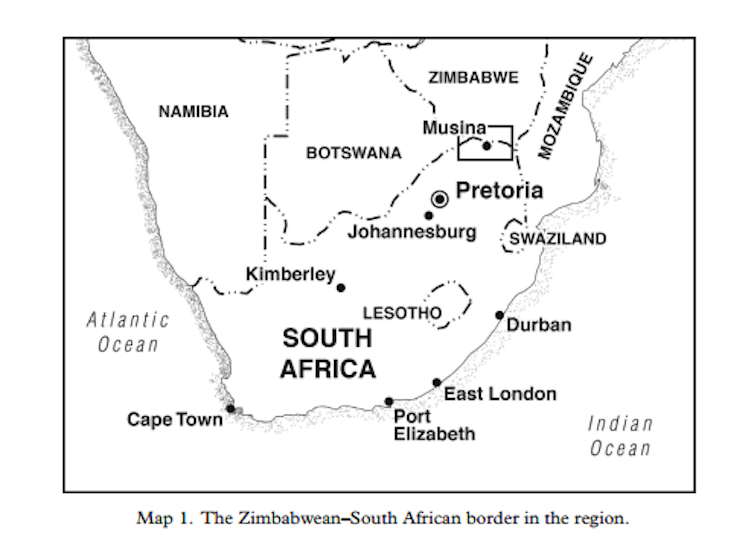 Undocumented migrants generally try to stay out of sight – with good reason. So, at six o'clock one April morning in 2008, South African soldiers newly posted to the area were all the more perturbed by the sight of hundreds of 'border jumpers'. In the biting cold of dawn, they crowded outside a farm, just off the border road a stone's throw from the garrison. Conspicuously undeterred by the soldiers' presence, they were looking for work.
At Grootplaas Estates, recruitment for the harvest was under way. In the yard outside the farm's workshop, women who had been employed in previous years stood in rows. Some jostled; others rushed forward. All hoped to be selected first for jobs in the 'packshed', sorting and boxing the farm's oranges and grapefruits for export.
Marula, the black foreman, and his team of work supervisors struggled to maintain control. Even Willem, the usually aloof white farmer-landowner, in khaki two-tone shirt and shorts, came over to call for order. The real fight would be at the yard's perimeter fence, where most job seekers waited. As usual, cross-border networks had relayed the recruitment date at least as far as Beitbridge, the Zimbabwean border town some 50 kilometres to the east.
The soldiers entered the yard, but the crowd of 'illegals' clearly saw the recruitment process as trumping any state presence. Willem approached them, his Alsatian at his heel. If the soldiers left his recruitment alone, they would have a list of workers' names by the end of the day – a gesture towards distinguishing between those undocumented Zimbabweans who were farm workers, and those who were simply 'border jumpers'.
Eventually, the recruitment roll was completed: two teams of 30 male pickers and one of 30 female pickers; and 40 men and 80 women for the packshed. There would be further recruitment, but surprise and disappointment were unmistakable among the huge crowd left outside the gate.
There was a more immediate concern. The line between workers and border jumpers had been drawn, for now. Those left in the crowd were simply 'illegals', incongruously arrayed in front of a South African military patrol. People scattered into the citrus orchards, chased briefly by a soldier before he tripped over his gun strap and dropped his magazine.
Most would walk a few kilometres to the neighbouring estates, hoping for work there. Some would soon be back for the next round of recruitment at Grootplaas. Once the soldiers had gone, a few men and women approached supervisors and the white production manager, trying one last time to find employment through quiet negotiation.
A fugitive existence
At the moment of recruitment, diverse people, with diverse hopes and plans, become divided into clear groups. On the one hand are those without employment. In the eyes of soldiers, these are simply 'border jumpers', transients fleeing Zimbabwe's crisis, with no claim on the border as a place of labour. On the other are 'workers', built around a core of permanent employees – 140 at Grootplaas – whose presence is legitimated by their attachment to the farm.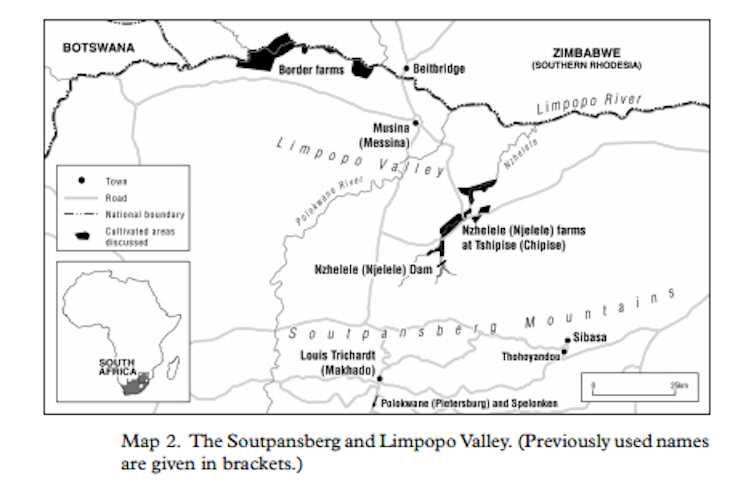 Many new arrivals do indeed live a fugitive existence. The Limpopo River presents risks: from drowning or crocodile attacks when it is in flood, to abuse, assault, or rape by magumaguma – gangs that operate along the border – or by South African soldiers. Some arrivals on the farms lack basic resources for immediate survival, robbed of money, mobile phones, and even South African contact numbers. On the farms themselves, aggressive border policing leaves recruits vulnerable to deportation raids.
Migrants' experience of transience is one of temporal fragmentation. Fast-shifting, unpredictable circumstances require constant navigation, as personal projects collapse, and norms formerly taken for granted cease to produce intended effects. Displacement and the search for employment foreground a distinctly spatial dimension. As migrants seek shelter and work, and as they attempt to avoid apprehension, connections to places are tenuous at best. Crisis and transience here mean not only living from day to day, but also looking over one's shoulder, and figuring out where to go next.
On the border farms, recruitment renders migrants' transience starkly visible. Yet, away from the ritual of recruitment, distinctions between people become more complex. The farms and their settled workforces represent sites around which diverse people gravitate. The majority of workers hail from Zimbabwe, but many have relatives elsewhere in South Africa with whom they remain in constant contact. Large numbers of Zimbabwean seasonal workers are employed on the farms each winter, and while some stay for the whole harvest, others quickly move on southwards into South Africa. Others again, who lack employment, are connected to workers through kinship, friendship, and sexual relationships.
Zimbabwe's Migrants and South Africa's Border Farms: The Roots of Impermanence is published by Cambridge University Press, with a South African edition published by Wits University Press.