Australia is part of the global explosion in space industries – including the design and engineering of satellites smaller than a loaf of bread.
But we're at a point now where we need to take the next step.
The growing number of small satellites orbiting Earth presents some unique challenges, such as interference with communication networks, the buildup of space junk, and the legal questions that arise if something goes wrong.
Australia's new Space Agency can play a vital role in coordinating our government policy around these issues.
---
Read more: Yes we've got a space agency – but our industry needs 'Space Prize Australia'
---
Acceleration in small sats
Since Sputnik 1 in 1957, there have been 8,303 registered space objects. Only 20 of those, so far, have been registered to Australia, but five satellites have been launched for Australia in just the past four weeks (although not all of them have been registered yet).
Fleet Space in Adelaide had two satellites launched from New Zealand, one from India and one from the United States. The University of New South Wales in Canberra had the M1 satellite launched on the same rocket as the Fleet Space satellite from the US.
Globally, there are almost 1,900 active satellites in orbit. That number is set to increase rapidly in the near future – regulators in the US alone have recently approved more than 12,000 new satellites to be launched into space over the next decade.
In Australia, Fleet Space plans to launch 100 satellites over the next decade.
The volume is growing, but the satellites are shrinking. We've moved from satellites the size of buses, to those similar in size to a washing machine, to cubesats (10x10x10cm), and even smaller still.
---
Read more: We're drafting a legal guide to war in space. Hopefully we'll never need to use it
---
Australia has committed itself to secure a large proportion of a global space market worth more than A$400 billion, tripling the Australian space industry from A$4 billion to A$12 billion and growing many thousands of jobs in the many new space start-ups in Australia.
That's great news for the Australian economy, and the new Australian Space Agency has the mandate to make that happen.
Here's where we need new policy around satellites to meet the challenges involved.
1. Congestion in signalling networks
Communication with your satellite is essential, even if communication is not its main purpose - to get data from remote sensing satellites, navigational satellites, experimental satellites, or just to track it, control it and monitor its status. But the use of radio frequency by small satellites has been hotly contested.
Big satellite manufacturers and operators, and others, oppose the allocation of frequency to small satellites through the international regulator – the International Telecommunications Union and its domestic equivalent – the Australian Communication and Media Authority (ACMA).
Notwithstanding that big satellite manufacturers and operators have a commercial incentive to oppose the disruptive upstarts, they have a point.
Small satellites don't use less bandwidth in proportion to their small size (although they may transmit with less power). So, by their sheer number, they represent a significant risk of congestion and interference in the electromagnetic spectrum - leading to mobile phones not working properly, WiFi networks being degraded, and maybe even failure of your Netflix account.
The ACMA is seeking solutions to those potential problems, but if the solutions involve imposing significant technical and financial burdens on new space start-ups, these companies may go offshore to find better solutions – a loss for Australia.
2. The problem of space junk
Small satellites add to the space debris problem in outer space – because a significant proportion of them fail and not all of them follow international best practice (such as it is) on the operation of small satellites.
For example, US company Swarm Technologies went ahead with the launch of several very small satellites known as "Space Bees" via a launch on an Indian rocket even though the US Federal Communications Commission had previously declined to grant them a licence, on the basis that they were too small to be tracked, thereby making collision avoidance impossible.
SpaceFlight, a company that finds and facilitates launch opportunities for satellite operators, facilitated this opportunity for Swarm Technologies, and it was SpaceFlight that facilitated launch opportunities for the five Australian satellites launched in the last four weeks.
To be fair, Swarm Technologies and SpaceFlight have taken good steps to earn back the confidence of regulators in the US and globally, but it does demonstrate the need for clear and enforced best practice standards.
Unfortunately, there is a lack of consensus internationally on what those standards should be.
In Australia, our Space Agency has yet to decide on the content of subordinate legislation (Rules) under the new Space Activities (Launches and Returns) Act 2018 that may commit Australia to best practice standards for small satellites.
Again, there is a difficult balancing act – if the standards are too lax, there is a greater possibility of something going wrong and we lose reputation, influence, bargaining power and the opportunity to optimise international conditions for Australian commercial and other national interests.
If they are too strict, new space start-ups may find them unpalatable, and move their operations offshore – and the prospect of new jobs and economic growth in the industry dissipates.
3. Mistakes can happen
What happens if something does go wrong? Who bears the liability?
Under international law, in the first instance, liability rests with any state that launches, procures the launch or whose facility or territory is used for launch. Ultimately, that means the taxpayer.
A small satellite could conceivably be responsible for a failure at launch, or a collision in orbit, where there is infrastructure worth many hundreds of billions of dollars (not least, the International Space Station). Thankfully, the probability of any such failure or collision is generally extremely small.
But who accepts that risk of liability on behalf of the Australian taxpayer? For non-governmental operators, it is the Australian Space Agency.
Government operators are largely exempt from the legislation. Australia's Department of Defence has been involved in the recent Buccaneer cubesat and the M1 cubesat, and CSIRO has recently initiated a project to acquire its own cubesat.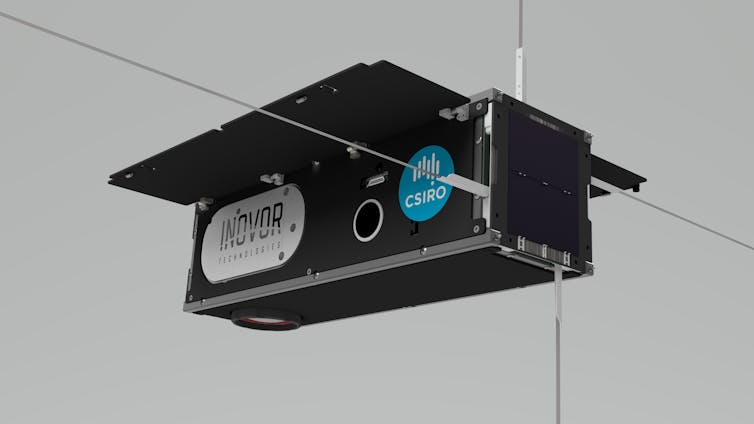 There is the possibility of different standards within government and relative to the private sector. Australia's Space Agency does not currently have a strong mandate to coordinate across all space activities in which our nation participates.
In the case of the Buccaneer cubesat and the M1 cubesat, the University of New South Wales in Canberra – which built and arranged the launch of the satellites – is subject to control by the Space Agency under legislation.
In other cases, the Space Agency will have to engage and influence others through excellent communication and soft influence. So far, the staff and leadership of the agency have managed that with great skill.
But there's more work to be done.
---
Read more: It's not clear where Trump's 'Space Force' fits within international agreement on peaceful use of space
---