On Boxing Day, Australia Day, birthdays and other significant cultural or religious celebrations, many of us gather in parks to celebrate with family and friends. Certain locations are coveted – people arrive at the crack of dawn to claim a good spot for the day. Often, what makes it a good spot is that it has a barbecue.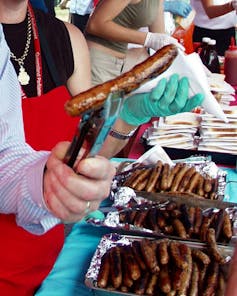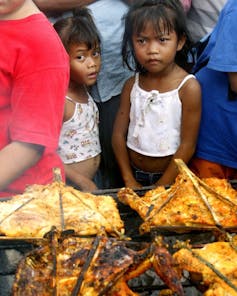 If we take a closer look at the typical public park barbecue, we see a design that represents an iconic and celebrated Australian culinary institution, the barbie. The quintessence of Aussie lifestyle and culture – Crocodile Dundee, the Leyland Brothers, blokes in singlets and thongs clutching stubbies – it's a symbol of our relaxed outdoor lifestyle in the "Lucky Country", but that was yesterday!
Today the cultural landscape has changed and our population presents a richer, more colourful picture. And so does our food. Halal, kosher, vegetarian, raw, paleo, vegan, gluten-free and other diets, together with different styles of cooking, are now common.
Yet how do we cater for them outdoors? Most public parks offer only an electric barbecue accompanied by picnic settings a few metres away to prepare, cook and enjoy this food. This sort of facility now seems quaint and limited.
What do we want from a modern barbie?
So how could we improve the humble barbie? To answer that question, we need to think about why it's needed and how it's used.
Parks provide a natural setting for large gatherings, which are hard to have in small city flats. There is simply not enough space indoors for everyone to feel relaxed and comfortable, especially when the gatherings are large, the weather is hot, and active children, or even pets, are involved.
If it's a significant event, it's likely to involve special food – part of the celebration is preparing, cooking and eating the festive dishes. This usually causes plenty of stress for the host. There's the washing up, the cleaning, dealing with the rubbish, not to mention the risk of a big, boisterous gathering upsetting the neighbours.
But moving from a well-equipped house and kitchen to the park doesn't solve all of the host's problems. For a start, a vital feature for hygienic food preparation – access to clean water – is often missing.
When preparing food, the washing of food and hands is a critical health requirement. It is part of legislated environmental health guidelines for commercial food venues. When we offer barbecue facilities to the public why don't we routinely provide a working tap, sink and drain?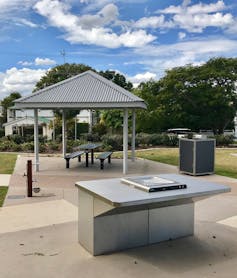 Then, of course, there is the barbecue itself. Why, over all these years, has the barbie not evolved? Despite some recent developments, these are invisible to the user and cater to maintenance requirements with digital diagnostic capabilities.
Most current iterations still look institutional and outdated. Attempts have been made to revise the design. Christie Parksafe Barbecue has even received a Good Design Award. Yet we still don't have other outdoor cooking options – for example, imagine what a difference public microwaves or ovens, kettles or even sandwich makers could make.
Getting the barbie going is another issue. The coin slot or on switch is usually located on a vertical panel below the cooking surface. To find it, one has to bend down and perhaps even read the instructions.
Once the button is pressed, how do we know if this thing is working? There might be a little light that comes on, but it can be hard to see in the glare of the sun. And this awkwardly placed interface is of mission-critical importance for success on those days out with friends and family.
We could certainly develop other ways ways to communicate barbecues' working status, as well as their availability by allowing people to book them for a certain time. This could help take some of the stress out of the big day – people would at least know the cooking side of things is sorted!
We can do so much more with public places
The argument that the public can't be trusted, that "they" destroy everything, is an excuse we should refuse to accept. It is too easy to blame our compatriots or the young. After all, did we not teach them and raise them?
In any case, if something is broken, it should be able to be fixed – quickly. JCDecaux is a good example in this regard.
There's also the question of where barbecues are available. Why are they confined to parks and nature reserves? Our increasingly dense cities also have this need. What about plazas and other public spaces?
Placing domestic-style objects into public spaces can transform them. Gretchen Coombs, in Inside out: When objects inhabit the streets, observes:
The sidewalk where Swaine keeps his [sewing] machine cultivates a social ritual for the residents … and influences the tenor of the streets … giving way to a sense of ownership and belonging of the space he creates and the provisional public that forms.
Cooking and food preparation go together with behaviours like phone use, charging, washing utensils, short-term storing of equipment, hanging things up for drying, keeping things away from children and dogs, hanging up festive decorations, lighting and so on. UNSW industrial design students came up with an innovative barbecue that includes a sink, options to place and store things while cooking, shade and illumination at night, as well as a places to perch, charge your phone, and park your surfboard.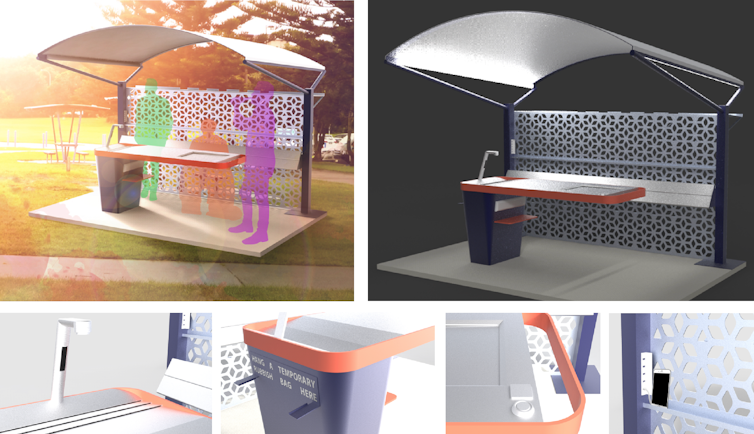 Innovative product design solutions can service culturally and socially diverse users, which includes catering for public food preparation and consumption. Developing outdoor facilities, similar to an informal outdoor common room, can extend the domestic realm. We should be aiming for an amenity that allows us to carry out quasi-domestic activities and have access to utilities in public.
And creating a healthier and more liveable urban environment helps residents engage with each other, which in turn fosters a shared sense of belonging, trust and well-being.