Today, Alan Joyce has announced that Qantas and Emirates have struck a joint venture alliance for the next 10 years.
As a result, Qantas will be taking its passengers to Europe through Dubai, instead of Singapore. It will fly daily Airbus A380 services to London from Melbourne and Sydney by transiting via Dubai's airport, and stop its service to Frankfurt.
The deal goes beyond a typical code-share agreement and will involve coordinated pricing, sales and scheduling, shared airport lounges and integrated frequent-flyer programs.
The arrangement, set to start in April 2013, still requires the approval from the Australian Competition and Consumer Commission (ACCC).
As a result of the new partnership, Qantas will terminate its agreement with British Airways, which began in 1995, as of March 2013.
The news was welcomed by investors with Qantas shares rising on the news, up 6.5 cents (5.8%), and comes after the recent increase of Etihad's holdings in Virgin Australia to 10%.
Analysts at Macquarie Equities estimate an annual earnings uplift of as much as $90 million from the new relationship with Emirates.
But how do airline alliances work? And what does that mean for you, the passenger?
Airline alliances: stronger together
Alliances became popular in the 1990s as a way for airlines to expand international connections and destinations. Oneworld is one of the three big airline alliances, along with Star Alliance and SkyTeam. Together, they cover 58 airlines around the globe.
These alliances have been increasing their member base and analysts predict that competition will soon move from being between specific airlines to global airline alliances.
Emirates is not a member of any of the world's three major airline alliances. However, Alan Joyce revealed in his speech that Emirates will complement the new deal with Qantas with partnerships with American Airlines, LAN, South African Airways and China Eastern, as well as oneworld. It will be interesting to see how Emirates expands its empire and reach in future years.
As Tim Hindle explains in The Economist's Guide to Management Ideas and Gurus, strategic alliances have many advantages as they require little financial commitment, allow companies to reach new markets, and offer a relatively smooth exit if things don't work out.
Indeed, the Qantas-Emirates new partnership only offers access to the Emirates network in the Middle East, Europe and Africa and, in turn, provides Emirates access to the large share of Australia's domestic market that Qantas controls: a deal that seems to be a win-win.
However, Tim Hindle also points out that a crucial aspect to a successful alliance is a degree of cultural compatibility. Indeed, a lack of corporate understanding can lead decision-making deadlocks that are sapping the power out of the alliance and questions its efficiency.
Companies are advised, for example, to pick on someone their own size. With Emirates being the largest airline in the world, it will be interesting to see how the dynamic with Qantas will evolve in future years.
Making ends meet
The new partnership received mixed responses from the aviation community. The deal may well ease some pressure on the international arm of Qantas which has been bleeding money, with reported losses of $450 million for the last financial year.
However, some believe that Qantas just gave away one of its most precious assets: its Frequent Flyer program. Indeed, Emirates will now have access to 8.6 million Qantas frequent flyer members and — most importantly — to their points.
The Qantas Frequent Flyer program has been a very profitable venture for Qantas, with points becoming a lucrative source of profit as they can be sold to partners like Optus or Woolworths. Analysts value Qantas' frequent flyer program at more than $2 billion, over 50% of the airline's market value.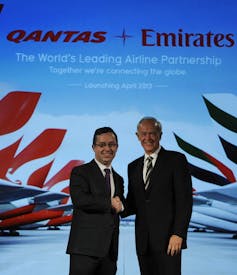 Looking ahead
As Alan Joyce also pointed out, Asia remains the area with the most potential for growth. As such, Mr Joyce said that future changes will be made to services to the Asia-Pacific region.
Qantas has been struggling with record high fuel costs, warfare with unions, dire economic conditions and increased competitions from Asia and the Middle East. This partnership may well ease things in the short-term but bolder actions may be required to get Qantas back to profitability in the years ahead.