With homeownership slipping out of reach for millions and soaring rents, the dearth of genuinely affordable homes is seeing property guardianship on the rise.
Property guardians live in empty or disused premises that are usually awaiting development by the landowner. UK TV viewers may be familiar with the concept from Phoebe Waller-Bridge's Channel 4 comedy Crashing, which featured six young, university-educated, twenty-something artists living as guardians in a disused hospital in east London.
Despite this oft-promoted image of guardianship as an alternative lifestyle choice, across Europe many people – from key workers to students – are opting for this kind of housing solution primarily for financial reasons.
Under what are commonly termed "licence agreements", instead of rent they pay discounted occupation fees. But these agreements do not afford the same protection from quick eviction and the right to repairs that tenancy agreements must.
My research looks at the legal complexities of guardianship. Its very existence – and its growing popularity – speaks to the wider state of housing precarity in the UK.
A Dutch import
Property guardianship emerged in the Netherlands in the 1980s as an anti-squatting measure. Squat actions had taken off in the 1960s when students in Amsterdam, faced with a dire lack of housing, criticised the city for boarding up buildings due for demolition, thereby making them uninhabitable. They called for their peers to take control of vacant premises and by 1980, the squatter movement is estimated to have counted upwards of 20,000 people among its ranks.
In the 1980s, as opposition to the movement grew, property management agencies multiplied. Working on behalf of owners, these agencies developed what became known as antikraak or "anti-squatting" strategies, recruiting people to live in abandoned schools, leisure centres, monasteries and even former police stations. They paid no rent, only utility bills. And they enjoyed neither privacy nor protections – evictions could happen with only two weeks' notice.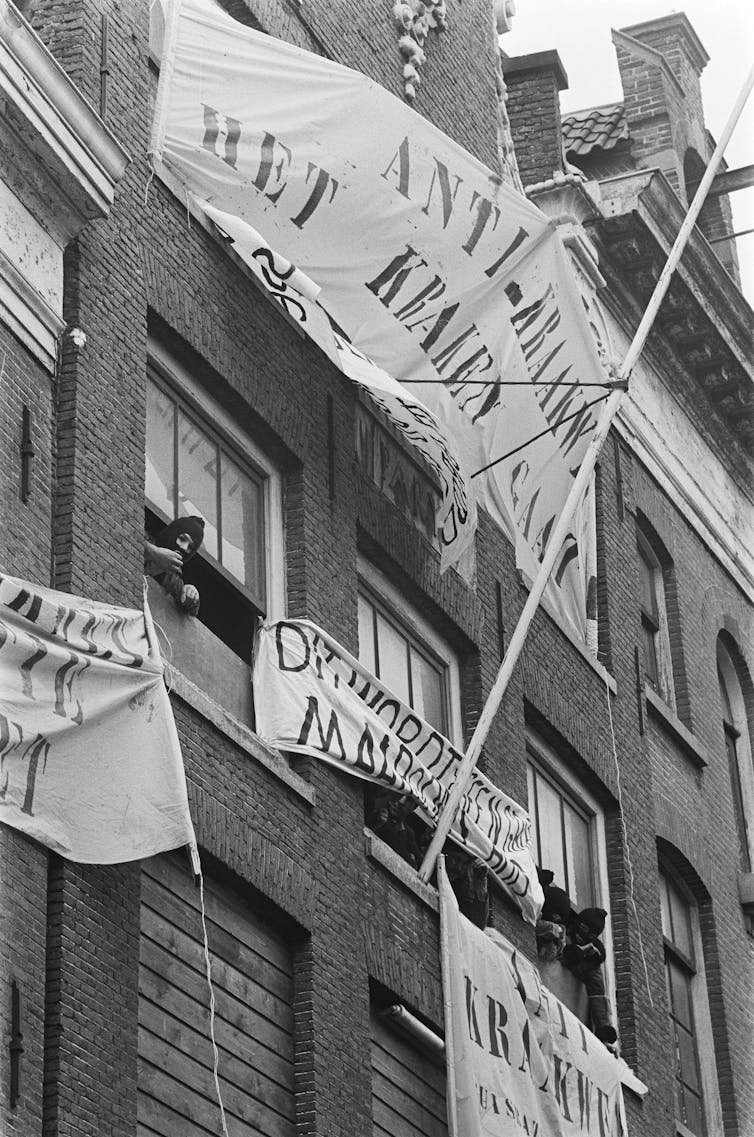 This trend spread across Europe to capitals in Ireland, France, Germany and Belgium. It arrived in the UK in 2001, with property guardians setting up home in Scottish mansions, 14th-century charterhouses and Merseyside observatories, as well as empty townhouses, office blocks and council buildings in Brighton, Bristol, Manchester and London.
Assessing the true scale of this is challenging due to a lack of reliable data. Government estimates in 2017 put the number of property guardians in the UK at between 5,000 and 7,000. Figures from the Property Guardians Providers Association in 2019, however, showed it is closer to 60,000.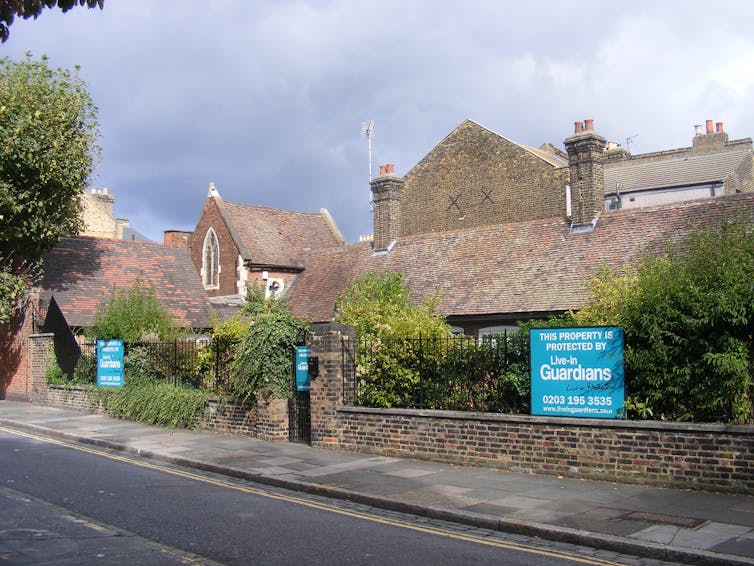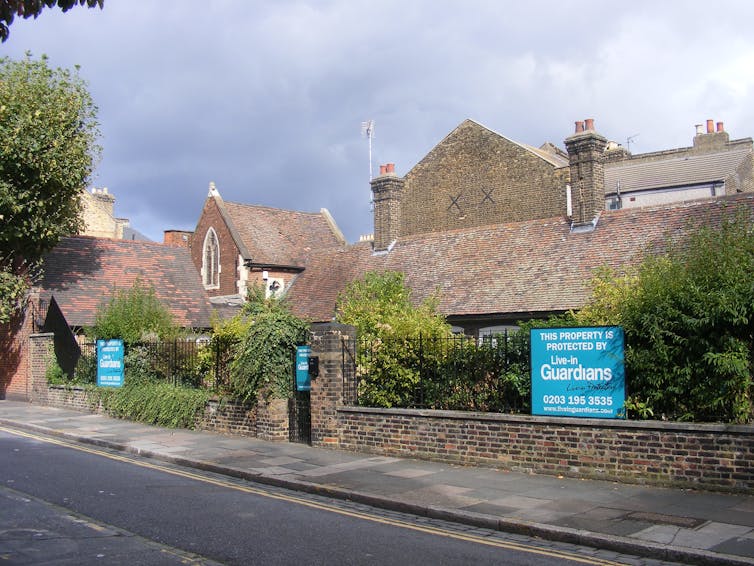 A winning business model?
Landowners with empty properties allow intermediary agencies to find people to occupy them as guardians. Guardianship is generally presented by these agencies as a win-win business model. In return for guaranteeing the security of the premises, guardians pay below-market value fees in otherwise expensive residential areas: a £4.5 million Grade-II-listed mansion in London's Primrose Hill, say.
Agencies market guardianship to both landowners and those seeking accommodation as flexible, affordable, adventurous – and even as a solution to the cost of living crisis.
For landowners, as well as having their sites secured against unwanted intruders or squatters, they avoid the higher rates of non-domestic council tax that would otherwise be attached to commercial premises. They also avoid the greater responsibilities and tighter regulations of standard tenancies.
Compared with standard lease agreements, guardianship arrangements operate under what are labelled "licences". Unlike tenancies, these offer few safeguards and can be brought to an end very easily and speedily, leaving guardians vulnerable.
These agreements also do not guarantee guardians much protection in terms of repairs, which is a significant problem. Research has found housing conditions to be poor across the guardianship sector.
Furthermore, reports have highlighted how, as the industry has grown, agencies have sought to maximise their profits by squeezing more guardians into poorly divided spaces: plywood walls, no natural light or ventilation.
The economics of the UK housing market means demand outstrips supply, which forces up costs. House price growth might have slowed in recent months, but figures from the Office for National Statistics show that private rents in the UK increased by 4.2% in the 12 months prior to December 2022 – representing the largest annual percentage change since January 2016 with no signs of slowing.
Landowners often sit on empty properties awaiting financing for redevelopment or navigating the time-consuming planning process. Guardianship sits at the heart of this, perfectly encapsulating the disconnect between property as investment and property as home.
As early as 2013 , housing activist Rueben Taylor put it plainly:
The guardianship industry legitimises keeping buildings empty and makes it a profitable thing to do. It also represents the legalisation of a two-tiered system of tenants' rights – those who can afford to have rights and those who can't.
Were more affordable housing options available, a large proportion of current guardians would arguably turn to more stable, longer-term, housing options. "I'm in a catch-22," one property guardian told me in my research in 2022. "I don't want to be a guardian, but I can't afford not to be."