UFC fighters Conor McGregor and Ronda Rousey are becoming household names and Mixed Martial Arts, or MMA, is rapidly making the move from minority to mainstream sport. Although MMA only emerged in the 1990s, its growth has been, quite simply, phenomenal; it is currently one of the fastest growing sports in the world. According to a recent report, MMA is second only to adventure racing when it comes to growing participation, recording a 19.5% increase since 2013.
While viewing figures are still to be released for the recent UFC 196 McGregor v Diaz fight in March – in which Irishman McGregor was defeated by a rear naked choke hold in the second round (after previously beating Jose Aldo in just 13 seconds) – it was widely anticipated that this would be the highest selling pay-per-view bout in UFC history. The pre-fight press conference alone attracted over 2.9m views and despite his defeat, McGregor still made history as the first UFC fighter to earn US$1m for the fight (Diaz earned US$500,000).
The rise of women's MMA has also been dramatic. Having only introduced women's divisions in 2012, UFC has also massively grown the popularity of WMMA. Ronda Rousey is still one of the sport's most bankable athletes, despite suffering a shock defeat to Holly Holm in UFC 193 in November 2015. Holm was herself beaten by Miesha Tate at UFC 196, also with a rear naked choke.
In spite of its phenomenal growth many people remain unclear as to what MMA actually involves. This is perhaps unsurprising given the rapid transformations that the sport has undergone within a relatively short time period.
Often referred to as "ultimate fighting" or "cage fighting" (a term despised by anyone involved in the sport), MMA is essentially a combination of bare-handed oriental martial arts and Western combat sports involving combinations of standing and striking techniques along with grappling and fighting on the ground. This can involve techniques of muay thai, Brazillian Jiu Jitsu, kickboxing and submission wrestling, with many participants also drawing on a variety of martial arts such as judo, savate or sambo, often depending on their country of origin. Everything martial arts goes, with many fans drawn to its incredible mix of athleticism and risk.
Raw beginnings
While MMA has links to the Portuguese sport of Vale Tudo ("anything goes" established in the 1930s) and the English No Holds Barred (NHB) contests of the 1990s, its emergence as a sport in its own right can be largely attributed to the American promotion of the Ultimate Fighting Championship (UFC).
The first ever UFC event took place in 1993 after business executive Art Davie proposed the idea of an eight-man single elimination tournament to screenwriter and director John Milius and Rorion Gracie of the famous Gracie Jiu Jitsu family (founders of Brazilian Jiu Jitsu). The idea was picked up by Semaphor Entertainment Group and the first event took place in Denver, Colarado – a state that had no boxing commission, meaning that there was no legal way to regulate the fight. With no weight categories or time limits, and only strikes to the crotch and throat and eye gouging forbidden, MMA was a complete rejection of amateur combat styles.
Initially, the UFC focused on pitting fighters from different martial arts backgrounds against each other in order to determine which martial art was superior. MMA was not considered a sport, merely a fighting contest that offered a montage of different combat sports, under new rules of engagement.
Despite initially drawing relatively significant TV audiences (the first UFC competition drew a pay-per-view audience of 86,592) throughout the early 1990s, the UFC struggled to survive because of negative public perceptions of its brutality and high levels of violence. Arizona senator John McCain famously referred to MMA as "human cockfighting" and was successful in getting MMA banned in all but three states in the US.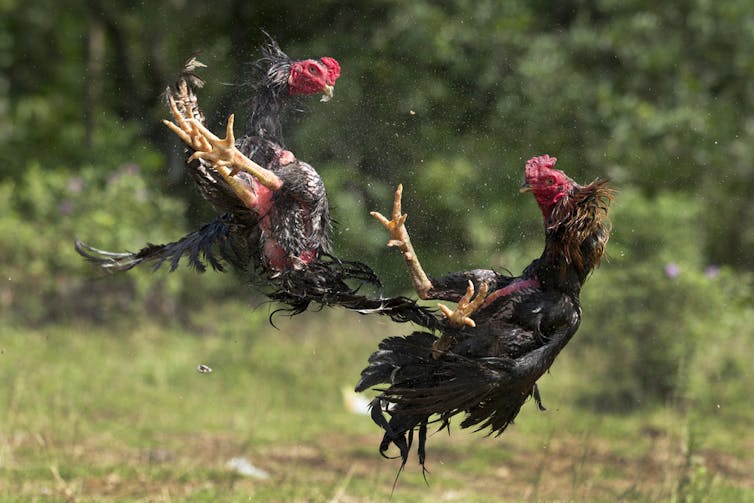 Having struggled considerably through the 1990s, the UFC brand was sold to Zuffa LLC in 2001 and MMA as we now know it began to emerge. This included new rules to make MMA more acceptable and appealing to a wider audience. These included new weight classes, rounds, time limits, a list of over 31 fouls and eight possible ways for a fight to end.
This "civilisation" offered an element of legitimacy to MMA. There was also now a recognition that certain styles of martial arts were susceptible to the strengths of others and rather than pitting different disciplines against each other, the prowess of individual fighters using all styles was promoted. All of these factors allowed MMA to be recognised as a proper sport.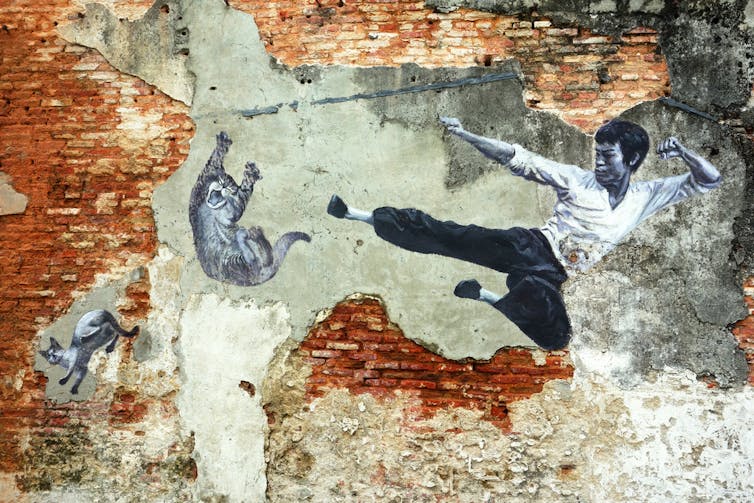 Aggressive promotion
So what is it about MMA that makes the sport so attractive? There are many factors but it could be argued that the media has played a central role in shaping the sport and stimulating its growth. While the development of most sports has been driven by the athletes and a governing body, MMA is essentially a media sport developed to appeal to mass audiences and deliver profit to the organisations behind it.
There is no doubt that the UFC has driven MMA into the mainstream, utilising an aggressive strategy to bring the sport to new markets.
Like boxing before it, MMA promotes the cult of personality, with fighters trash talking opponents, and the theatrical design of the octagon (though also a key safety feature for fighters) adding to the drama and spectacle. Despite this spectacle and the increasing sums of money involved, MMA is also still marketed as rawer than boxing, which is seen as an establishment sport with its grand multi-million dollar promoted fights. Ultimately, however, it is perhaps the unpredictability of MMA – as exemplified by the recent shock defeats of some of its biggest stars – that makes it so appealing.