The ABC's Vote Compass tells us that the environment, education and health are three big election issues this year across Australia.
Climate change and other environmental problems have attracted prominent attention in media election coverage. So have advocacy for STEM education, university fees and science funding. And hospital resourcing always plays a role in election argy-bargy.
These might all seem like issues particular to our time. But they're not.
As my research shows, we can go back 213 years to Australia's first newspaper, The Sydney Gazette and New South Wales Advertiser, and see thriving public debate about the environment, education and health among colonial Sydney's residents.
Founded in 1803, the Gazette was primarily intended to disseminate government orders. But voices of the colonial public came through vividly in letters to the editor week after week, including from self-identified ex-convicts and women as early as 1804.
Australia's print-based political debate had begun.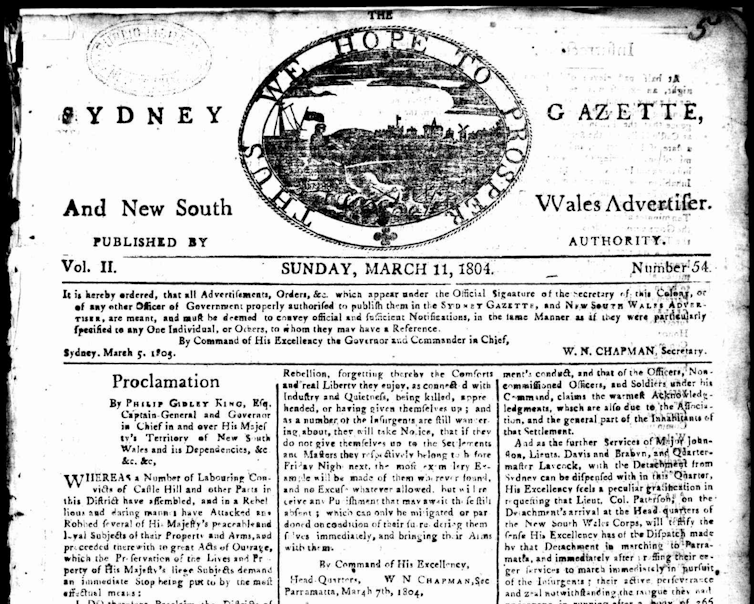 The environment
Just three months into the Gazette's existence, on May 29, 1803, a resident calling herself or himself "A Well-wisher to Posterity" wrote Australia's first letter to the editor advocating environmental sustainability.
This sustainability advocate cautioned that over-exploitation of Bass Strait seals for skins and oil was going to kill the industry.
Well-wisher decried the practice of "indiscriminately hunt[ing] down all ages and sexes" of seals, including "females" and "pupps", warning that "the impolicy of killing the breeding seals will in time discover itself".
In a depressingly familiar rhetoric of concern for both the present and the future, Well-wisher wrote:
And some general plan will I hope be speedily adopted, whereby this valuable trade may be found beneficial to our children, as, under certain necessary restrictions, it may be tendered profitable to ourselves.
Then, as now, concerns about Australian marine life seemed to go unheeded, and the seal industry collapsed in the 1830s as seal populations plummeted.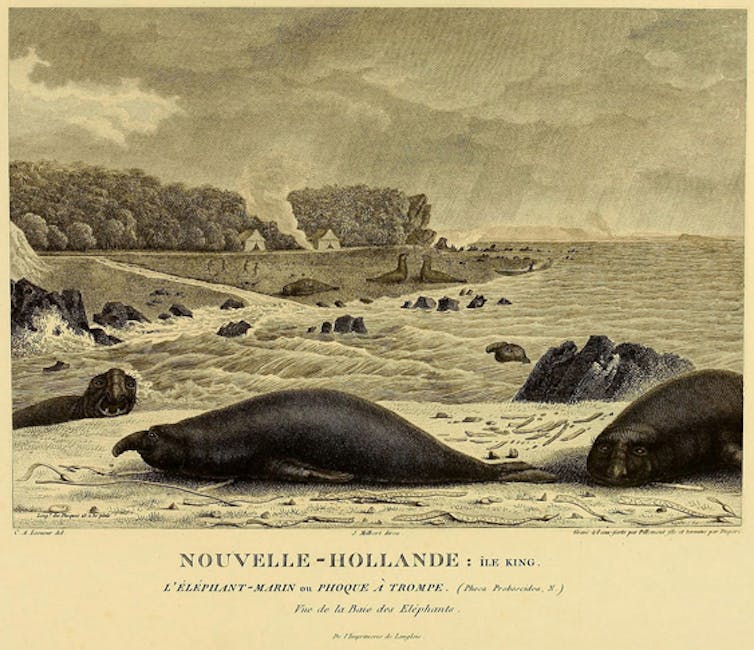 Education and knowledge sharing
The unsatisfactory standard of public education due to underpaid teachers didn't escape the Gazette's readers either. 'An Inquisitive Observer' wrote many words on this topic on May 8, 1803.
"Is it possible", asked the Observer about a school teacher, "that so arduous, so laudable a task as yours, should be so ill requited?"
Well may we continue to ask the same question.
But even earlier, on April 6, Sydneysiders read the first Australian-published opinion piece advocating the public sharing of scientific knowledge for the benefit of society.
"Philomath" wrote to the Gazette that week to argue that useful knowledge "should be promulged for the common benefit of mankind", and it was "a duty, which every member owes to society, to contribute to the advancement of the public good".
She or he proclaimed:
Men despising private interest have in all ages contributed to the rise of the arts and sciences, by laudably communicating to the world such discoveries as have fallen within their knowledge.
Philomath then discharged that duty by laudably communicating to the residents of Sydney a means of brewing "An excllent manure" [sic]. It was a very Australian moment, when lofty ideals collided with talk about poo.
We might object to the context of the communication, given its aim was to turn native bush on stolen land into a fertile paddock. But Philomath's letter tells us that sharing knowledge freely with those who can make use of it – and writing to the paper about education, science and research – are old Australian traditions.
Health
Home remedies for illness and injury were common topics in the Gazette, but the newspaper also promoted official public health measures.
The paper ran a campaign supporting vaccination against smallpox, with a whole page devoted to its advocacy on 13 May 1804.
In scientific style, it printed a table comparing the effects of natural smallpox and two kinds of inoculation, including Edward Jenner's cowpox vaccine, which was imported to the colony that year.
Despite the poor state of the type, the visual design still made a great point. See if you can figure out which option won't kill you.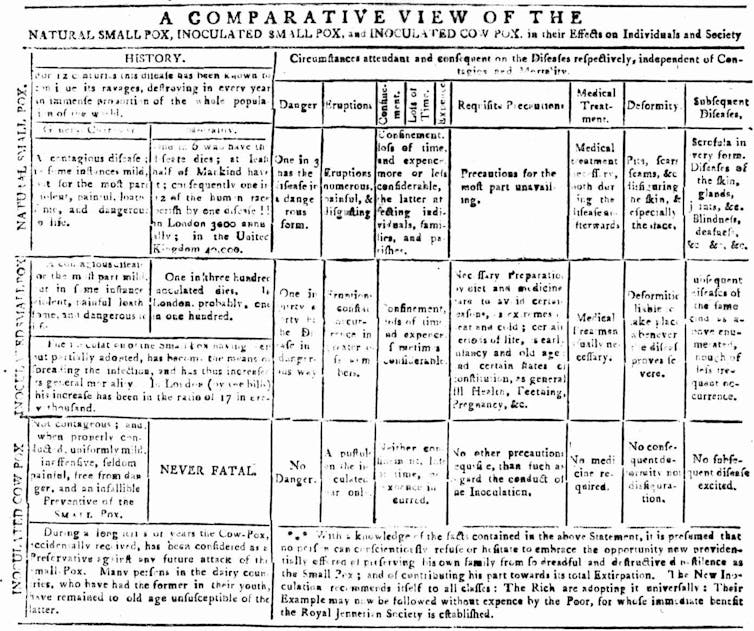 Laudably communicating to the world
The Gazette's printer and editor from 1803 to 1821, the convict George Howe, created a richly interesting publication that kept the colonial public informed about current events, and current science and technology.
He published lots of science-oriented articles alongside colony gossip, court proceedings, shipping news and commercial advertising.
In its first five months of publication, the Gazette published all kinds of fun science like Europeans' first encounter with the koala, the invention of a mechanical toy in China, and methods for collecting and preserving birds.
This was in addition to the very practical scientific knowledge it continually communicated in the domains of the nautical, the meteorological, health, agriculture and public works.
In other words, the stuff elections are made of.