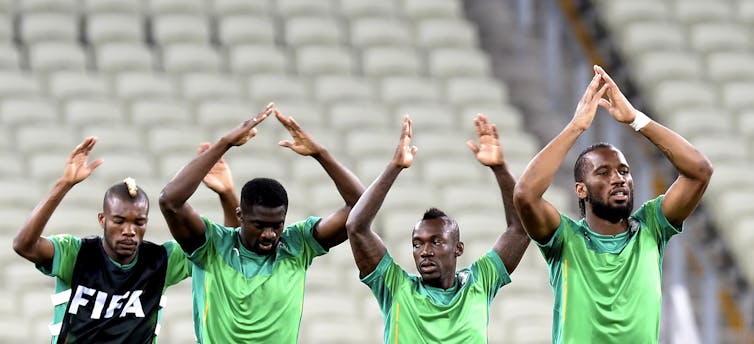 The financial struggles of a large number of African footballers earning wages at poverty levels in their home countries is an issue easily lost amid the high salaries and glamorous lifestyles of most professional footballers. And the struggles of many African players are overshadowed by the presence of a few high profile footballers in the squads of African countries at the World Cup.
Of course, some of these stars, such as Yaya Toure, Samuel Eto'o and Didier Drogba, make between US$185,000 to US$320,000 a week. But for every Toure, Eto'o and Drogba there are others toiling at home, earning what can barely be considered a living wage.
With FIFA reportedly making hundreds of millions at the World Cup, it is time to consider how to alleviate the plight of these footballers. The footballers are part of the professional cadre that FIFA proudly mentions to underline the impact of football globally. If FIFA proudly cites this group of players, it is important for FIFA to also ensure that they consider their profession to be worthwhile, whether they play at home in Africa or somewhere in Europe.
Of course, there are several African countries where professional leagues do not exist such as in the Gambia where footballers still must first be employed on other jobs and play football recreationally. But there are other countries that claim to have professional football leagues in the continent. All five African nations at the 2014 World Cup have professional football leagues but such leagues are not all equal and this is demonstrated in whether they are able to keep footballers at home or have them migrating to foreign countries where wages are significantly higher.
Of the countries at the World Cup, the West African ones – Ghana, Côte d'Ivoire and Nigeria – experience largescale player migration to professional leagues outside their home country. And it's not all to the top paying European leagues, some of these players end up in unpopular destinations such as Bangladesh.
It is easy to see the widespread migration of players by quickly running through the squad lists of each African country represented in Brazil right now. Most of these players were pushed to seek foreign employers because of poor finances from playing at home. Both Ghana and Côte d'Ivoire, at the World Cup, have only one player each that is based on home soil. Nigeria lists four such players perhaps – because of Nigeria's Coach Stephen Keshi's concerted effort to groom home-based players for the national team. But even in spite of this effort, there are three players in the squad who were initially invited to the team by Keshi while they were based at home and have since joined clubs in Europe.
Most of the leagues in Africa are "professional" in name only. Clubs are generally unable to afford their own grounds and, in Cameroon for example, league matches take place on grassless surfaces covered in dirt. But it is the wages of players who perform in these leagues that should raise eyebrows: they are extremely low compared to their counterparts elsewhere in the world.
Salaries can be as low as US$150 a month, as is the case in Zimbabwe. Nigeria recently ordered clubs to pay players no less than US$600 a month, an increase on what was previously paid. Few clubs have actually been able to fulfill this order, but even this minimum pay attracts players from Ghana, Côte d'Ivoire, Cameroon and Niger Republic who now play in the Nigerian league. That speaks volumes on wages in those countries. When compared to the monthly pay in the Bangladesh Premier League, which is about US$2,000 monthly, it is then easy to understand why African players are migrating in large numbers to wherever a ball bounces in an oversea country.
But the issue is not just the low pay scale. In many cases, players are not paid at all or are paid far less than what had been agreed. There are reports in the Nigerian league on player strikes or planned work stoppages to protest nonpayment of what had been agreed.
FIFA cannot continue to rake hundreds of millions of dollars in its tournaments, particularly the World Cup, without sparing a thought or an additional dollar for those who toil at the edges of poverty as professional footballers. FIFA and the Confederation of African Football must step up and address this inequality in global football.
It's time to clean up the sub-human labour conditions that exist in many African football leagues. Surely, some of those tournament dollars can find their way to support player welfare and compensation in Africa.