Can you imagine a public transport environment free from the complications of buying a ticket and validating it? What if fare evaders were automatically singled out for their faux pas? Or how about the information you require to complete your journey following you around on a wall surface, allowing you to use a mobile phone application which integrates your real time location with a game so you can play and not miss your stop?
These are some of the scenarios outlined in Infostructure: A Transport Research Project, which explores how digital media technologies can improve the customer experience on public transport.
In many cities rising traffic congestion and the sustainability agenda has brought renewed focus to public transport utilisation. Infostructure argues network and station expansion efforts are not the only solutions to public transport issues.
Information is key to the journey
As the information around us becomes ever more dense, access to high quality facts has gained increasing importance.
Within public transport environments, effective provision and access to information shifts greater control to the customer. That in turn enables them to make informed decisions about their commute, helps them manage their time and experience.
The publication features twenty key projects undertaken by both Architecture Masters and Design Computing students at the University of Technology Sydney and University of Sydney.
The architecture projects examine one of the largest train stations in Australia - Central in Sydney. The design interaction projects explore the potential for mobile phone applications to enhance the customer experience across Sydney transport networks.
Got a ticket?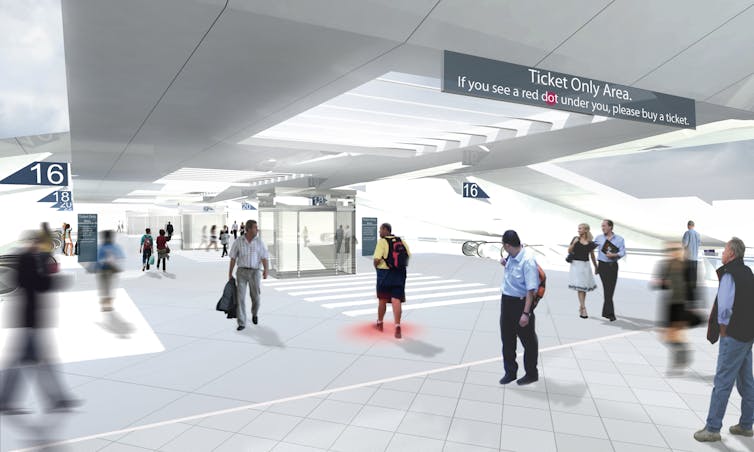 The project entitled Forward Motion proposes a station environment where digital technologies are seamlessly integrated with the building fabric to enable an innovative mode of ticket validation for public transport users.
Described as the "shame security system," and comprising Radio Frequency Identification Detectors (RFID), a multi-touch sensor system and LED lighting integrated within the flooring, the system detects a customers presence, and automatically communicates with their RFID embedded ticket. Or it automatically red-flags those trying to evade paying their fare.
The efficiency of the system primarily lies in the sensor activated ticket validation eliminating the physical act of stamping, tapping or swiping a ticket.
Updating in real time
The mobile phone application designs demonstrate the convenience of access to location-based real time information. Not only does this information travel with you, but it can also be responsive to other context specific information as your environment changes.
The digital technologies featured here are in many cases already operational in small and large scale applications. RFID technology is used for public transport ticketing in London with the Oyster card, Hong Kong's Octopus system, and in San Francisco's Clipper cards. It's also used for facial recognition with biometric data integrated into passports and augmented reality information applications on many smart phones.
So these technologies are not new, but developments in how they are manufactured and their cost suggest new and innovative applications.
The challenges to change
The implementation of urban digital media design-based concepts within the public transport arena is both critically relevant and challenging.
Any changes to transport networks has to be managed carefully. Their sheer scale and public nature means the system must remain operable, well maintained and managed. This is a key constraint to implementing new technologies.
While mobile phone applications circumvent some of the risk and cost constraints, coordination, management and quality of data content sourced from multiple stakeholders can also inhibit implementation.
In each of the scenarios in Infostructure, consideration needs to be given to the varying cognitive and interactive capabilities of all users.
Designing a better travel experience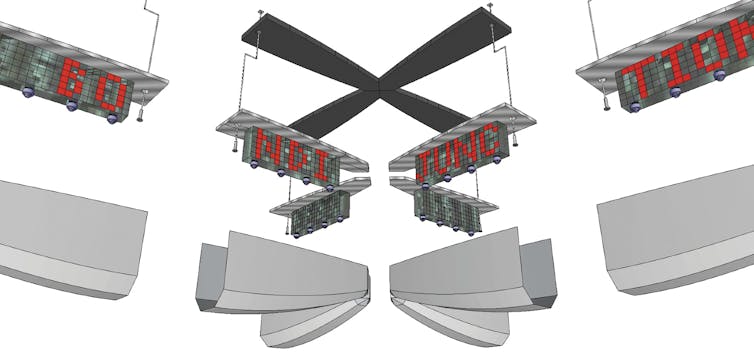 As demonstrated by projects such as Dare to Be Aware, Lead the Way and Intelligent Tunnel the integration of urban digital media technologies with broader design solutions for public transport environments provides opportunities to simultaneously address both operational and customer experience issues.
The design of a station - its architecture and the way it defines space, has the potential to operate "informationally." That means surfaces such as the wall, floor or ceiling have the possibility to both transmit and receive information. They can become responsive to the user, and therefore focussed on the customer.
And these ideas may not be too far away from becoming a reality. The University of Technology Sydney, and the University of Sydney have been awarded an ARC grant to work with Transport NSW and Railcorp to develop them further. Work on improving the spatial and visual user information technologies for public transport will start at the end of this year. Stand by for your daily commute to get a lot smarter.
Infostructure: A Transport Research Project, was written by Nicole Gardner, M. Hank Haeusler and Martin Tomitsch. It is published by Freerange Press.