President Muhammadu Buhari and his party, the All Progressive Congress, rode to power on the promise to fight corruption, restructure the Nigerian economy, and reduce poverty.
Riding on the slogan of "change", and the perceived discipline and incorruptible disposition of Buhari, Nigerians believed that the messianic personality who will fight corruption, promote economic and infrastructural development, had indeed been found.
Though it took the government six months to constitute a cabinet, Buhari's supporters remained optimistic that it was taking this long because he wanted to be thorough due to the perceived rot in government institutions. This view was promoted by Buhari and his party.
But for those in opposition, business leaders and investors, it was a drain on the Nigerian economy, and a lack of strategic vision.
Thirty-six ministers were eventually sworn in recently, with Buhari allocating the petroleum ministry to himself due to the strategic importance of the sector. He will be assisted by a minister of state.
Buhari's conviction in his choices led him to claim that he has put "round pegs in round holes". But to what extent is this true?
Fiscal responsibility and management
The new finance minister is Kemi Adeosun. She is the immediate past Commissioner of Finance for Ogun State. This is a non-oil producing state, in Nigeria's southwest, with a population of about four million.
Ogun State was in a poor revenue position prior to Adeosun's appointment despite its agricultural, solid minerals and industrial potential. Though a lot more needs to be done in terms of development, she put the state in a healthy financial position by significantly improving its internally generated revenue.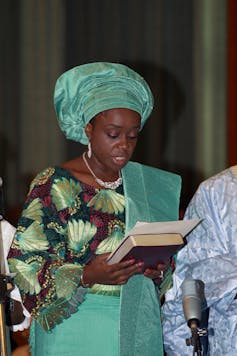 Adeosun faces a tough job with crude oil prices down dramatically, and a struggling economy. Will she be able to implement policies that will attract investment, shore up fiscal discipline and promote an inclusive economy? Does she have the clout to influence global financial actors, such as the IMF and the World Bank?
Though considered a rookie in the world of international economic diplomacy, this is an opportunity for her to prove otherwise.
Though Buhari appointed himself as petroleum minister, the day to day activities of the ministry will be driven by minister of state, Kachikwu Ibe. He is also Group MD of state-owned Nigeria National Petroleum Corporation (NNPC).
In his role as MD he has introduced reforms to promote efficiency, transparency and accountability. These include the monthly publication of financial and operating statements. He has also reduced the number of directorates from eight to four.
Ibe is expected to shape the policy direction of the petroleum industry. But will he be able to wiggle through the political bottlenecks and landmines to achieve this? Buhari disagrees with him on the complete deregulation of the downstream sector and the privatisation of government refineries.
The jury is still out. With the revenue from the industry funding about 70% of the Nigeria's budget, coupled with dwindling oil prices, the essence of efficient management, transparency, elimination of untidy bureaucracy and bottlenecks cannot be over emphasised.
New investment opportunities
Okechukwu Enelamah is the new Minister of trade, investment and industry. Until his appointment, he was a founding partner and CEO of an investment and advisory firm in Lagos. It is expected that he will use his expertise and experience in the investment community to drive policies that will assure investors of the viability of the Nigerian market.
Udoma Udo Udoma, an Oxford-trained lawyer and chairman of Union Bank of Nigeria, was appointed to the Budget and National Planning Ministry. He is the right man for the job based on his experience. The government's commitment to fiscal discipline in the budget process could have necessitated this appointment.
Until now, budgeting was under the Ministry of Finance. The decision to split it seems to be due to its entangled bureaucracy. If this is the case, Udoma will be expected to drive initiatives for innovative, transparent and effective budgeting.
Buhari's commitment to the diversification of the economy seems evident in the appointment of Kayode Fayemi, former governor of Ekiti State in southwest Nigeria, as the minister of solid minerals. He was a reform-minded governor who improved the infrastructure architecture of the state within four years.
The challenge and possibilities
The appointments of Babatunde Fashola, minister of power, housing and works, and Rotimi Amaechi, minister of transportation, are very interesting.
Babatunde Fashola, a former governor of Lagos State, is credited with transforming the state from being chaotic and environmentally unfriendly to being a better organised state. This was done through improving decaying infrastructure, better transport management and the promotion of a green environment
The Financial Times recently wrote:
Lagos has long been a byword for urban chaos, but Mr Fashola won praise for tackling the city's biggest problems, from traffic and security to broken infrastructure.
Rotimi Amaechi was former governor of the oil-rich Rivers State. With aviation now under his ministry he has been handed the responsibility of improving Nigeria's transportation value chain. This is an enormous responsibility.
As governor of Rivers State it was reported that he constructed about 500 modern primary schools with 14 classrooms each. To further improve the quality of education, he retrained, recruited and trained about 13,000 teachers. To improve the state health care, he built about 110 health centres in different communities located in Rivers State.
Nevertheless there is a caveat. Amaechi was indicted by a Rivers State inquiry set up to probe – set up by the present governor, Nyesom Wike – into the sale of state assets. Amaechi and his party have denied any wrongdoing.
Critics say his ministerial appointment is compensation for his effervescent support and financial backing of Buhari during the elections rather than his competence. The jury is still out here.
The Ministry of Environment might not be thought of as being vitally important. But it is, and the appointment of Amina Mohammed might change this view if she brings her expertise in formulating and implementing policies that will ensure environmental sustainability. Mohammed was special adviser to UN Secretary-General Ban Ki-moon on the post-2015 development planning process, which resulted in the Sustainable Development Goals.
With ministers appointed and portfolios assigned, it can be concluded that the strategic business of governance has commenced. Nigerians and the world now expect positive results, and for Buhari to live up to his promises.