For over a thousand generations Aboriginal people made no distinction between art and craft. Art was, and still is, a way of life and as much about function as it is about beauty and form. Artistic forms continue to be used to give Aboriginal people skills, knowledge and practical tools to survive, thrive and manage the continent of Australia.
The idea that these art forms should be marginalised as "traditional" and "craft" is a myth that is dispelled by the rise of the Tjanpi Desert Weavers. It's an enterprise of Ngaanyatjarra Pitjantjatjara Yankunytjatjara Women's Council (NPYWC), where more than 300 Aboriginal women from 28 remote communities in the western and central deserts of Australia come together to create their art.
For Aboriginal people, crafts and arts are intrinsically linked, whether it be weaving, making implements, dancing and singing, or painting on rock walls and bodies. But it was not until the birth of the Aboriginal art market, born of the souvenir trade of the 1960s, that Aboriginal work was seen as art by the contemporary Australian art sector.
This week it's heartening to see artists such as the Tjanpi Desert Weavers giving masterclasses at the Victorian College of the Arts and being celebrated in the 2014 TarraWarra Biennial as part of the Melbourne Art Fair.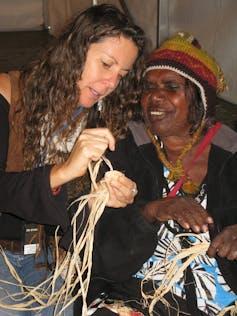 Art versus craft
However, we still have so much further to go.
The continent's British invaders recognised that culture played a huge part in "settling" the land. In addition to physical genocide, they denied Aboriginal people their culture.
One of the more subtle and ongoing aspects of this cultural genocide is the separation of "art" and "craft" as two distinct forms. In this way, European dominance over the rest of the cultural world has been exerted in Australia – by ensuring that the white-dominated Australian art sector continues to be the arbiter of what constitutes art and what does not.
In the early 1990s, pioneering artist Lin Onus (the father of one of the authors of this article) explored the notion of exclusion in Australian art through a series of pieces that explored the works of 19th-century illustrator Ellis Rowan. Rowan was excluded from exhibiting when it was discovered that she was a woman, not a man.
Just as the notion of craft as a form is used to marginalise Aboriginal, Torres Strait Islander and other cultural groups, craft is often considered the exclusive domain of women. When craft is synonymous with cultural works and female practice, it inherently but wrongly asserts that contemporary Australian art is the domain of white men.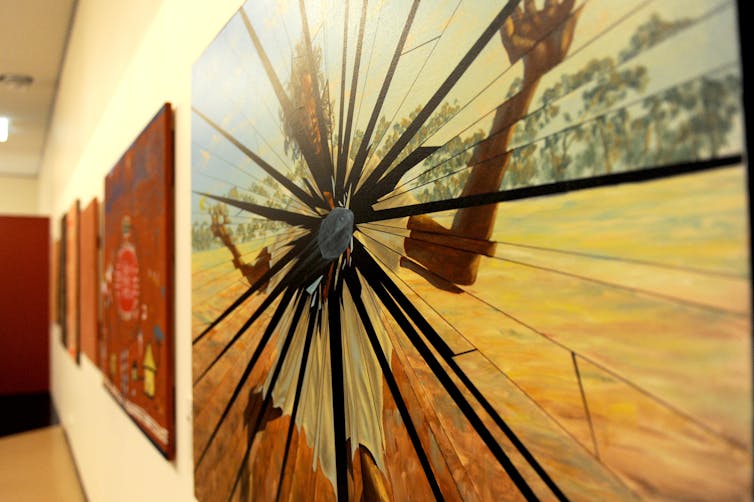 The current celebration of the Tjanpi Desert Weavers as contemporary Australian artists goes against this practice. The notion underpinning that celebration should be applied across the board. Dot paintings are almost unanimously considered "traditional", when in reality working in acrylic paint on canvas is an innovation that ensures the practice is contemporary.
Similarly, while almost all other weaving continues to be considered a "traditional craft", once you take the function away from the form, we are able to view it as art. Intrinsic in Aboriginal culture is the belief that art can be functional and dynamic: it does not need to be on a wall in a gallery or behind a glass case in a museum to be considered art.
True innovators
We should be viewing the Tjanpi Desert Weavers as true innovators of contemporary art. The work that they do lies at the heart of Aboriginal art and culture. They are insightful artists who work within a community context with materials readily available to them such as colourful wools, chicken wire and grasses. They are able to be inspired by techniques handed down through the generations and innovate upon them, fusing them with their lived experiences of the 21st century.
While this should be a given, that all great artists look at the world around them and reflect their experience and ideas in the form and content of their work, somehow this is less often applied to Aboriginal and Torres Strait Islander artists.
Too often, Aboriginal people are unable to define for themselves how they are presented to the world as artists. This is predefined for them in a world that perceives a distinction between "traditional" art and craft and "contemporary" art, a world where Aboriginal art is a commodity.
Just as the Tjanpi Desert Weavers are innovators in their chosen art form, so too are they innovators in changing the way that the art world perceives Aboriginal art. They set a precedent in the contemporary Australian art world that should be taken up widely across the sector.
The TarraWarra Biennial 2014: Whisper in My Mask runs from August 16 to November 16 at the TarraWarra Museum of Art.