As an Aboriginal mother, I am deeply concerned that our national broadsheet finds the neglect of Aboriginal children to be a source of entertainment and ridicule.
Bill Leak's cartoon, published in The Australian on Thursday, showed an Aboriginal policeman telling an Aboriginal dad that he needed to sit down and talk to his son about personal responsibility. The father, clutching a beer can, looked at his boy and responded: "Yeah righto, what's his name then?"
The cartoon has been roundly condemned as racist by people including Professor Muriel Bamblett, AM, the chief executive of the Victorian Aboriginal Child Care Agency Co-Operative, Greens Leader Richard di Natale and the Indigenous affairs Minister Nigel Scullion.
As a daughter of an Aboriginal man and the wife of an Aboriginal man, I know that Bill Leak's claim that Aboriginal fathers are neglectful is not representative of Aboriginal family life. Instead, this cartoon is representative of a white man's imagining of Aboriginal men.
Leak's agenda of demonising Aboriginal men and ridiculing the abuse of Aboriginal women has been running for well over a decade, and continues a long tradition of white men's fantasies about the inferiority of Aboriginal people. From racist pseudoscientific theories that suggested we were the missing link between apes and humans to the notion that we were a retrogressed or dying race.
Liz Conor's book Skin Deep: Settler impressions of Aboriginal women reveals to us white men's imaginings of both Aboriginal women and men. Here she cites Queensland police magistrate Charles Henry Eden in 1869:
Certainly the Australian gin is of no beauty, or if she ever possessed any it is soon knocked out of her by the life of privation and misery which she leads, and the brutal conduct of her husband.
Focusing on the brutality of Aboriginal men enabled indifference to the physical and sexual abuse of Aboriginal women at the hands of white men on the frontier and beyond. Let us not forget the more recent claims by former federal ministerial advisor Gregory Andrews who appeared on ABC's Lateline under a false identity and claimed that he "saw (Aboriginal) women coming to meetings with broken arms, and with screwdrivers or other implements through their legs". These claims (later found to have no basis) formed part of the moral imperative for the Northern Territory intervention.
In response to the criticism that his cartoon has sparked, Leak claims that he is being criticised for simply telling the "truth". But the moral authority of white men and their supposed truths about Aboriginal people needs to be contested.
Take, for example, Cape York Family Responsibility Commissioner, Magistrate David Glasgow, who suggested in 2008 that the welfare reforms imposed upon Aboriginal communities should be extended to include "places like Inala and Redbank and places of that nature where children are not looked after properly". He went on to state, "you know if an analysis was made of school attendance in Inala and some of the Brisbane suburbs, you'd be surprised about how closely they resemble some of the Indigenous communities".
According to his logic (or his truth), as an Aboriginal mother living in Inala I must be twice as incapable of looking after my children properly. His statement tells us about who he presumes to be neglectful parents - that they are Indigenous and/or poor, and should be subject to regulations and controls over daily life in ways that families in white and wealthy communities aren't.
Yet oddly enough when children are tragically murdered at the hands of white fathers, the script is reconfigured as an exception rather than the rule. These dads are described as mentally ill and/or usually a "top bloke" or "lovely guy".
Leak's cartoons suggest that Aboriginal dads can never be top blokes, because violence, abuse and neglect is so ingrained in Aboriginal culture. Yet anthropologist Marie Reay's study of marital conditions of Aboriginal and "mixed blood" women in northern New South Wales in the 1950s found it was largely white men who were neglectful of their parental duties to their Aboriginal children.
Indeed, she wrote that "mixed blood" Aboriginal women experienced difficulty in trying to "extract money from white men for the maintenance of their children, even by legal means". Aboriginal women were more likely to marry "mixed blood" Aboriginal men because they "do not object to supporting their wives' illegitimate children, whereas white men are generally reluctant to do this".
More recently, the ABC's Four Corners story on the Don Dale detention centre has brought to our attention the abuse and torture of Aboriginal children at the hands of the state, not Aboriginal men.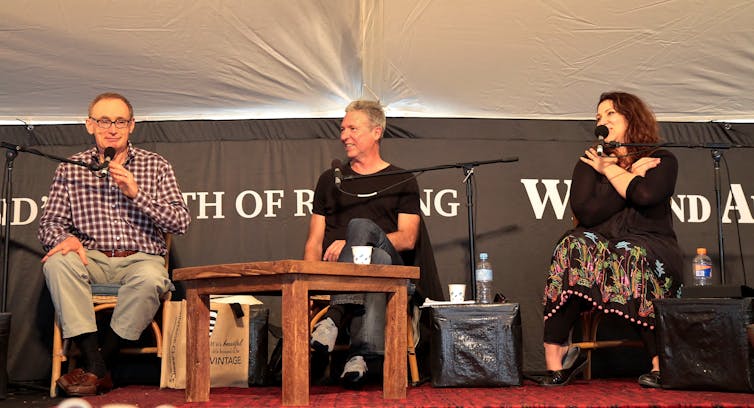 The responsibility that is being absolved in Leak's cartoon, is one that has long been avoided, and that is of the abuse experienced by Aboriginal people within government run/sanctioned institutions, be they missions, reserves, dormitories, detention centres, or gaols, most of which have been under the stewardship of white men.
The fact that white men were absent from Leak's caricature about Aboriginal people's contact with the criminal justice system was also profoundly revealing. Casting an Aboriginal man in the cartoon as the police officer with baton was no misstep on Leak's part - it sought to absolve white responsibility and restore white virtue.
What is amusing about this to me – as the wife of an Aboriginal man who was a Queensland Police Officer for well over a decade – is that my husband was rarely imagined to be a police officer by non-Indigenous people. In fact, even in uniform, many insisted that he must have been a Police Liaison Officer.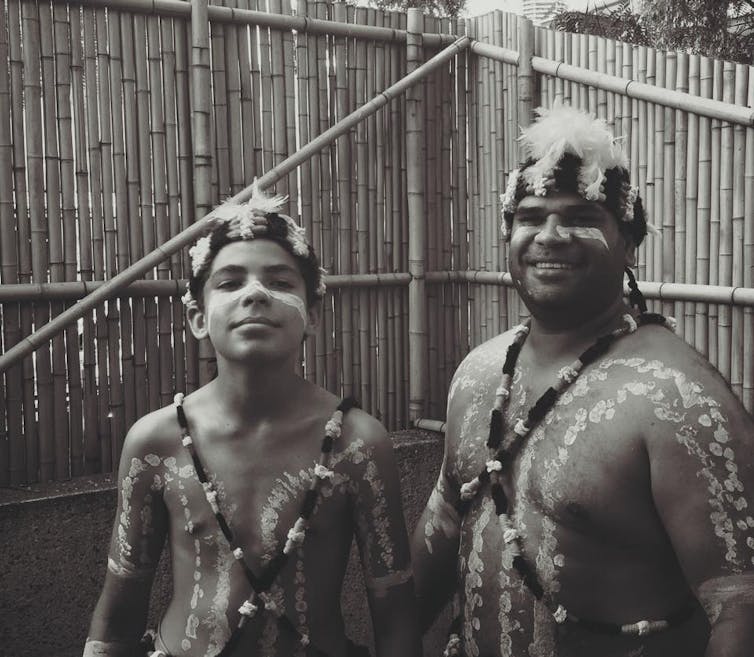 Leak's cartoon reminds us of the need to interrogate and scrutinize what white men are saying and doing to black Australia (men, women and children) and the lived consequences of these commentaries, caricatures and policies on the lives of black people in this country. This abuse at the hands of white men has so often been hidden beneath a rhetoric of "protection" and "truth".
This does not by any means absolve the responsibilities of black parents to their children.
But there has been no let up from the state in terms of the surveillance and regulations imposed upon Aboriginal people and families, from "random" street checks by police to the Northern Territory Intervention, not to mention the outrageously high rates of child removals via the justice and child protection systems.
Leak's cartoon is a distraction and a typical one. The Four Corners expose demonstrated what Aboriginal parents have been saying for some time – that Aboriginal children are not in safer hands when they are in the hands of the state. As a society that should be troubling to all of us.
The issue in front of us is institutional violence by white men against Aboriginal children. Tell that truth Bill.