Twitter's IPO filing has today revealed a loss of $US69 million on $US254 million in revenue in the first half of the year - which is up on the US$49 million loss in the same period last year.
With results like these, it is vital that they explore new ways to generate revenue if they hope to meet expectations of US$1 billion in earnings next year.
Twitter is currently building partnerships with commercial content providers, in order to develop into new ways to increase revenues. It has gained a lot of attention for a deal with the US National Football League (NFL), alongside alliances with the CBS broadcast network.
The expectation is that the NFL will provide real-time video highlights, video clips from major games broadcast on networks such as CBS and Fox, commentary, news and 'fantasy football'. Much of that content will feature advertisements, with Twitter and the NFL sharing the associated revenue.
The latest announcements from Twitter are bad news for Australia's commercial television networks. But it serves as a reminder that the principle of the 'Attention Economy' is alive and well in the multi-channel, micro-audience age.
Commercial broadcasting – on a free to air or subscription basis – is based on the principle that if you own the pipeline (aka the distribution channel) you can make money by delivering content to a mass audience. The content needs to be what the audience wants to hear or see, ideally what it cannot access elsewhere.
In essence the audience pays with its attention, and advertisers pay the pipeline operator for a chance to grab some of that attention.
Twitter, as the owner of its own pipeline, can be held to the same principle. Much like a commercial broadcaster, it makes money delivering content to the masses and attaching targeted advertising to that content.
Who comes out on top?
So, what does the NFL deal mean for Twitter, for traditional broadcasting, and for other social networking services such as Facebook?
The partnership is good news for Twitter, particularly as it heads for an IPO that is meant to validate its US$10 billion notional valuation and estimated earnings of US$1 billion next year. Twitter is currently in the same position as Amazon.com was a decade ago, hoping that revenue growth will quickly outpace losses.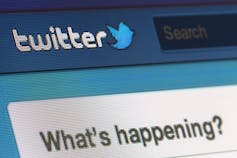 The NFL deal opens up new revenue channels to help Twitter move towards their US$1 billion earnings target. For example telecommunications giant Verizon will pay huge dollars to be the exclusive Twitter advertiser for the Super Bowl. Getting the attention of millions of sports-mad Americans is expensive: recently Verizon agreed to pay US$1 billion over four years to significantly expand its rights to air NFL games on mobiles through an NFL Mobile app.
For broadcasters the partnership is a reminder that they aren't the only channels through which consumers access content. Commercial success is about compelling content – what's wanted by consumers in the attention economy – and not about owning one of a handful of pipelines that are restricted by spectrum scarcity and government licensing. The broadcasters will be under pressure to pay the NFL more money for privileged or exclusive access. Controlling access was one of the subtexts in last month's election: as much about Foxtel and football as about Kevin, Julia, Tony and drowning refugees.
For Facebook and privacy the partnerships are bad news. Facebook is reported to be losing its hold on the attention of particular demographics, particularly US consumers aged 17 to 25 (ie prime targets of the NFL and other advertisers). One response is likely to be more aggressive data mining by Facebook and its partners, potentially with a backlash from consumers over more 'in your face' advertisements and profiling. As a result, consumers may move their attention over to a competitor.
The future for Australian pay-TV
Broadcasting in Australia has been predicated on the notion of one audience addressed through a handful of pipelines. That notion is also apparent in much of the thinking surrounding newspaper publishing, with broadsheets, for example, allowing advertisers to purportedly reach an audience that extended from corporate directors and consumers of haberdashery to job seekers and used-car buyers.
The Twitter-NFL deal is a reminder that we are moving towards the 'audience of one' – targeted communication to a micro-audience that is reached through a proliferation of pipelines, some of which overlap and few of which engender much consumer loyalty.
If you are the sort of person who absolutely needs to see the footy highlights on your phone, tablet, desktop machine or big-screen TV in the kitchen and bedroom your choice of pipeline is likely to be determined by convenience, timeliness and cost rather than whose corporate logo appears on the pipe. Twitter is about attention, not technology.