The Winter's Tale is one of Shakespeare's great "hospitality plays" – a tragicomedy about what goes wrong when a guest outstays their welcome.
Leontes, king of Sicilia, suspects his friend Polixenes, the king of Bohemia, of adultery and catastrophe ensues. In keeping with the 16th-century genre, however, the villain is eventually reformed and the friends – and husband and wife – reconcile.
Director Sean Holmes streamlines things in this production for Shakespeare's Globe, so the action in the kingdoms of Sicilia and Bohemia each revolve around a feast. The audience are invited in to the second but are strictly onlookers for the first.
The opening three acts in Sicilia are played as a dinner party with a "fourth wall" in the indoor space of The Globe's Sam Wanamaker theatre. Set designer Grace Smart has created a strong, if claustrophobic, design – a tasteful mid-century dining room with a large glass-topped dining table, the back wall modernised with a lick of peppermint green paint.
The dialogue of the diners – Leontes (Sergo Vares), his wife Hermione (Bea Segura), Bohemian King Polixenes (John Lightbody) and Leontes's son, Mamillius (George Robinson) – is punctuated by discordant string music, announcing the arrival of a stream of Heston Blumenthal-style dishes. The audience are positioned as voyeurs, while the court of Sicilia are reduced to Downton Abbey-style servants anonymously waiting at the side lines.
Cut down to jarringly bite-sized episodes, the production reaches for a more conceptual adaptation. It conveys something of the brittleness of Sicilia's court but loses much of its complexity and depth.
Dishes continue to be served, through Mamillius' bedtime story, the truncated prison scenes, birth of Perdita and Hermione's trial – whether the diners are present or not.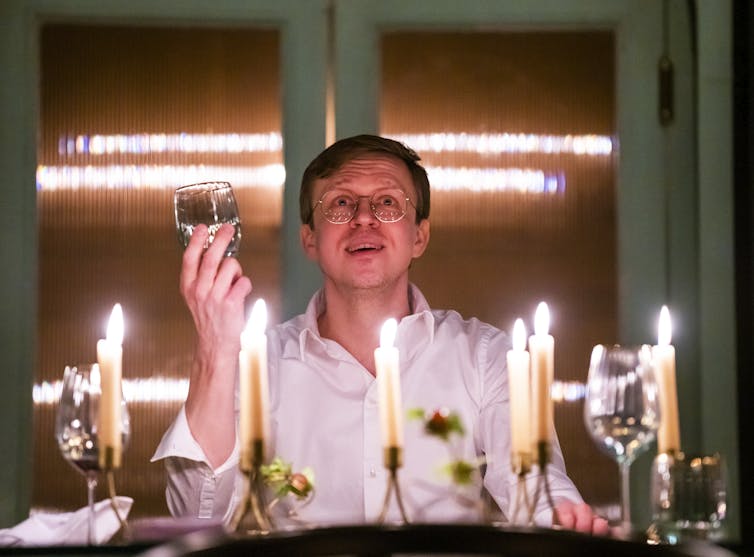 The cuisine morphs from fine dining to takeaway dishes from Deliveroo, as Leontes descends into a jealous rage. Stripped to his underwear, he crawls on the table and chases his friend and servant Camillo (Beruce Kahn) around it.
As Hermione speaks the heartrending lines of her hopeless self-defence: "Now, for conspiracy / I know not how it tastes, though it be dish'd / For me to try how", she clutches a steaming burger.
Stripped and chopped like this, the play cannot convey the tenderness of the relationship between Leontes and his son, the friendship between Paulina (Nadine Higgin) and Hermione, the concern of Leontes' wise councillors or the pathos of Hermione's dignity and despair. It is not exactly clear what is left.
Hospitality in The Winter's Tale
The current political debate around the UK as a place of "welcome", calls out for artistic engagement with hospitality and its stakes.
An ambivalent art of social and political navigation, hospitality is a play of manners, sustained in the tensions of obligation and reciprocity. Identifying what is real and what is feigned in hospitality is hard. Theatre should be the perfect laboratory for its investigation.
The first scene of The Winter's Tale, which is almost always cut – as it is here – stages a war of courtesy over whose hospitality is better, Sicilia or Bohemia. Holmes takes the bold directorial decision to stage each kingdom in a different performance space and have the audience move between them. This is the first time Shakespeare's Globe's two spaces have been used in tandem in a production.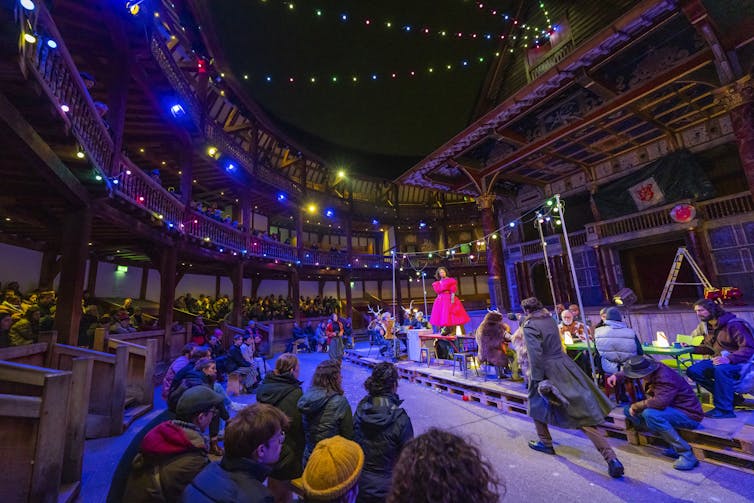 In the cold night, with a bare and makeshift stage, Florizel (Sarah Slimani) invites the audience into Bohemia, switching on rigged fairy and flood lights. There's a shared thrill in creeping into an empty theatre after hours.
Antigonus (Colm Gormley) abandons new-born baby Perdita in Bohemia and is eaten by a bear. A baroque but necessary plot device in other productions, the abandonment takes on a different gravitas in the cold open air.
Indoor Sicilia is stiff and uninviting by contrast with hospitable and festive Bohemia, outdoors. The contrast is over-egged, however, which means the dramatic ambiguity of hospitality on which the action turns is lost.
Holmes has an ambitious vision for this production of The Winter's Tale, but its realisation is a piecemeal tasting menu that is better celebrated in its parts than its whole.
The Winter's Tale is on now at Shakespeare's Globe theatre, London, until 16 April.