Sport, we're told, lies at the heart of what it means to be Australian. But what in reality does this mean? The Conversation, in partnership with Griffith Review, is publishing a series of essays exploring the role and place of sport in Australian life.
---
In late September 2015, Malcolm Turnbull made his first sporting appearance as prime minister at the Dally M Awards, the black-tie night for the working-class game. It should have been home turf. Turnbull is a long-time supporter of the Sydney Roosters – the closest to a silvertail club in the code, but really just the local rugby league team in the eastern suburbs where he grew up.
But something went wrong for Turnbull – and News Corp, Fairfax and SBS all settled on the word "awkward" to describe his performance at the event.
There was modest but perhaps surprised applause when host Tony Squires called Turnbull to the stage. Squires thanked Turnbull for coming, and Turnbull – with seemingly genuine bonhomie – responded "that it is great to be here". This was greeted with near silence, so Squires asked a chatty follow-up about the Roosters. Fatally, Turnbull turned pundit.
"The Roosters had very bad luck," he said of their defeat to the Brisbane Broncos in the first preliminary final.
He continued:
I thought that was a very good pass, Shaun Kenny-Dowall's pass, it just went to the wrong person. There's a lot of luck in rugby league, and there's a lot of luck in politics. Ah, I mean Shaun Kenny-Dowall's long pass was intercepted by Darius Boyd, and then Ben Hunt did a similarly, well, not quite so long a pass, more of a Harbour Bridge pass, and, of course, set up a try. So it's the result that counts, Tony, that's all that matters.
Turnbull proceeded valiantly, but he tried too hard; he had already lost the crowd. The television coverage catches bemusement on the faces of Ben Hunt and other players. Eyes glaze over, and eventually Turnbull retreats to his table to negligible applause.
Since his ascendancy, the currently trim and muscular-looking Turnbull has – for an Australian prime minister – had unusually little to say about sport. They are not a fit. In only one prepared speech that I can find does Turnbull choose to employ a sporting metaphor, when in October 2015 he likened leadership in the sciences to:
… a sailor [who] adjusts his or her course in a sailing race [by] constantly trimming the sails.
There has been none of John Howard's misty-eyed invocation of sport to talk about the "essence" of Australia. Turnbull, when he lets himself loose, prefers Sydney-centric narratives of a self-made nation.
And unlike Tony Abbott, the intimate proportions of Turnbull's own body, its real or potential athleticism, are absent from his self-presentation. There has been no Lycra, no boxing gloves and no budgie-smugglers.
Turnbull is not unfriendly to sport. He attended the 2015 NRL and AFL grand finals, and as per tradition he has hosted the Prime Minister's XI cricket match. But unlike Abbott, Howard and Bob Hawke – unlike even Julia Gillard and Kevin Rudd, the one-time number-one ticket-holders for the Western Bulldogs and the Brisbane Broncos respectively – Turnbull has only tentatively drawn upon the prestige and public popularity of sport.
Where is sport in the Turnbull narrative?
Turnbull isn't unsporting: he exercises, he kayaks, he body-surfs. His appearances in the fourth-grade rugby team at Sydney University more than 30 years ago (Abbott and Joe Hockey were second-grade regulars) were enough for him in 1978 to meet the criterion that a Rhodes scholar show:
… energy to use one's talents to the fullest, as exemplified by fondness for and success in sports.
But if we accept for the moment that the Australian prime ministership is still a "masculine" office – and unfortunately the disrespectful treatment of Gillard seems to underline this rather than disprove it – Turnbull is an interesting instance, like Paul Keating, where sport is de-centred from the Australian political narrative and from the self-fashioning of a "man of reason" – that is, a man suitable for high office.
Hawke, Howard and Abbott all incorporated sport into their prime ministerial personas. They self-fashioned as sportsmen (especially Hawke), as fans or sporting administrators (especially Howard), or as athletes (especially Abbott). Some of the most famous images of these men involve sport, or at least exercise:
Yet Turnbull, in manifesting an equally convincing persona of hegemonic masculinity, draws upon an alternative repertoire of symbols, narratives and gestures.
Personas are best when they have an authenticity to them, a history or a logic. Turnbull's resumé – head boy at Sydney Grammar, a pugilist at the bar, corporate consigliere to Kerry Packer, high financier (including director of Goldman Sachs) – can be promulgated or can be read as the habitation of a form of masculinity associated with social and economic domination.
This is a narrative of propinquity to power, and the eventual claim of it through the prime ministerial office; it is a representation best developed by journalist Annabel Crabb in Stop at Nothing, her 2009 Quarterly Essay.
For the public, it is a representation of Turnbull that sanctions him for some functions of office but undermines him for other aspects. How can welfare or social policy be left to a man sometimes criticised by his opponents as being nothing more than the power-hungry, born-to-rule child of privilege?
The emotional deprivations of Turnbull's mother leaving him when he was nine – and of being sent off to boarding school at the age of 12 – while well known, are never quite integrated into this account of his privilege.
Instead, the narrative of Turnbull as plutocrat is more usually leavened by a parallel narrative of him as a rationalist innovator at the helm of a contemporary meritocratic technocracy. This narrative emphasises Turnbull as the founder of OzEmail. Abbott went so far as to say Turnbull:
… virtually invented the internet in this country.
This idea gets taken up again in Turnbull as the refashioner of the National Broadband Network, as the prime minister who emphasised innovation in the moment he claimed the office, and as the centrist who commands a fifth column of climate-science believers inside the Coalition government.
Where is sport in this? In some sense, the other aspects of Turnbull's life are so rich and so useful in the construction of an identity suitable to political life that they make the sporting Malcolm irrelevant. Turnbull is the first prime minister since Hawke to be able to fashion a substantial narrative external to his political career.
But to note the irrelevance of sport to Turnbull's story is to see how widely other Australian prime ministers have used sport. Sports fandom has been offered as a form of authentication as a "proper" Australian – that is, as a way of elevating oneself as the embodiment of an exemplary masculinity appropriate to high office. And the selection of particular sporting narratives has been used as a proxy politics to arbitrate questions of Australian cultural history and identity.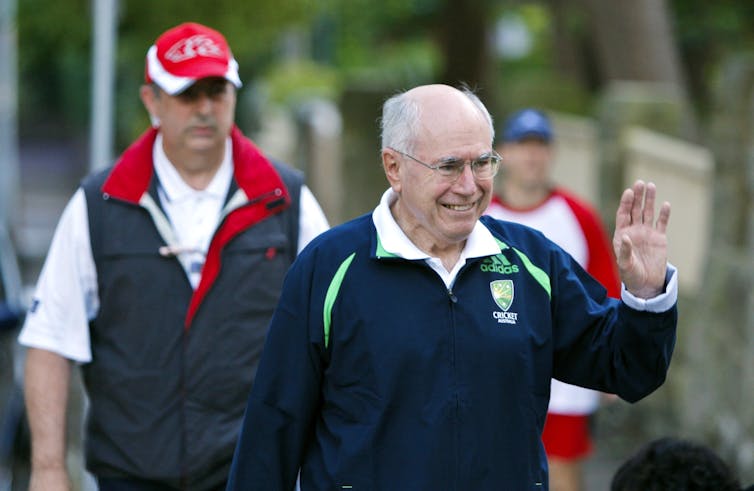 To be celebrated (and played)
If the footage of Hawke nearly losing at eye at the annual parliament versus press gallery cricket match in 1984 is too painful to laugh at, the 21 seconds of vision from 2005 of John Howard bowling a sticky ball to a local boy in a pick-up match in Dhanni, Pakistan, is a joy to behold.
It is impossible not to give into schadenfreude as Australia's greatest cricket tragic and, in a sense, our greatest cricket propagandist fails three times to bowl a tennis ball covered with sticky tape. Instead, Howard can barely get it out of his hand and onto the pitch. Later he faces up to two balls to little effect before retiring hurt and limping away.
These moments, like Barack Obama's ceremonial pitch in "mom jeans" at the 2009 Major League Baseball All-Star game, underline the significant risks for the politician when seeking to perform as an athlete or sportsman. Ridicule, like that heaped on Boris Johnson after he knocked down a ten-year-old boy in a touch rugby match in Japan last year, is always just a fumble away.
Luckily for Howard, he seemed genuinely delighted to mostly just sit back and cheer Australia on. His green-and-gold tracksuits became iconic: not least for the photograph of him celebrating Australia's first goal against Croatia in the 2006 Football World Cup. He is up out of his chair, arms aloft, surrendering unselfconsciously to the joy of the moment.
Recently, I have seen similarly unselfconscious celebrations of England's progress at the Rugby World Cup by the princes William and Harry (perhaps demonstrating where their ultimate loyalties lie), but Howard, more so than most leaders, always seemed delighted to turn up anywhere his nation or fellow nationals were playing in almost any sport: cricket, rugby union, rugby league, tennis and at the Olympic and Commonwealth Games.
Howard took on the role of Australian fan-in-chief as though it was a given one for the leader of the government – rather than a role more suitable, say, for the governor-general as the head of state.
The slippage here between Howard as the private citizen, as leader of the government, as avatar of the Australian state (as a structural polity), or as avatar of the Australian nation as a people becomes acute. Mostly, these slippages are unproblematic, but occasionally underlying politics come into view. And this could be seen on a grand scale at the 2000 Sydney Olympics.
Several scholars have written on what the government sought in the way of nation-building and political favour through the staging of a global sporting event – particularly through the narrativisation and projection of Australian identity in the opening ceremony.
As Catriona Elder explicates in Being Australian, in the ceremony Nikki Webster, representing "young Australia", re-dreams the nation, conjuring up its story for the world: the making of the waters; the coming of Indigenous Australians; the fires of the land; the arrival of the British; the welcoming of post-war migrants; the transformation of the continent; and the rise of our distinctive life in the suburbs and by the surf.
Yet more than anything it is the stockman that is at the centre of "her" story. Despite a large Indigenous participation in the ceremony, the colonial account focuses on white experiences. The visually seductive telling of the legend of the bush displaces the telling of our more difficult history of Indigenous dispossession.
Howard's celebration of Don Bradman as his greatest Australian – I presume just pipping Robert Menzies, about whom he penned a book in 2014 – has a similar effect to that of the Olympic opening ceremony in foregrounding a masculinist version of white Australia.
Bradman was an extraordinary batsman. Some commentators claim that he was not only the greatest cricketer of all time, but by virtue of having a Test batting average almost double that of any batsman before or since, that he is an outlier in all sports – effectively, the greatest sportsperson of all time.
This is a question for the pub; more interesting here is the way the iconisation of Bradman, in some sense his political exploitation, leads us back to a particular version of Australia, Australian values and the Australian story.
Howard's, and to a degree the nation's, veneration of Bradman reached a new peak in 2000 with the prime minister's delivery of the inaugural Bradman Oration. Established by Cricket Australia just a year before Bradman's death as a way of marking the significance of cricket in shaping Australian life, the oration allowed Howard to imply that to speak of Bradman is to speak of the nation.
For Howard, Bradman is:
… a man representing many of the values, much of the character of his countryman … talent determination, commitment, fair play, honour.
In Don Bradman: Challenging the Myth, Brett Hutchins explores the political effects of this elevation – but concurrent narrowing – of Bradman into an icon.
Howard's Bradman is an example of this, as Howard emphasises some elements of the Don's story but erases others – left out are the cricketer's sectarianism (he was a Mason who had cool dealings with his Catholic teammates), his inflexibilities as a cricket administrator who resisted professionalisation of the game despite his own outsized profiting, and perhaps even his capacity for unfair play as seen in the scandal over a catch in the 1946 Brisbane Test match.
These aren't big issues, but instead of a posture of criticality Howard embraces a narrow nostalgia that constructs both Bradman and the nation in exemplary terms.
The social and cultural potential of looking back to 1949, to when Howard, a ten-year-old boy, saw Bradman bat in Sydney (just as Bradman was retiring from the first-class game and just as Menzies was coming to power for the second time) might have been used by the prime minister in order to rethink rather than reinforce the white consensus of Australian history. Rather than giving into a misty-eyed and triumphal version of the Australia of his childhood, Howard could have used his and our interest in Bradman (and Menzies) to recast the story of the nation – to talk of change, progress even, in the decades since.
Instead, Howard's exclusion of the mixed news about Bradman – and it is not terrible news by any means – echoes Howard's resistance to what elsewhere he reductively termed the "black armband" accounts of Australian history.
Where one might applaud historians or cricket biographers for adding to the diversity of stories of the nation and for reappraising Bradman, Howard seems to sense treachery at attempts to complexify history. For Howard, sport – whether it be his experience in 1949 watching Bradman at the SCG, or his leap into the air in 2006 as 67-year-old prime minister in a green-and-gold tracksuit – often seems to be employed in the recuperation of an idealised world of childhood.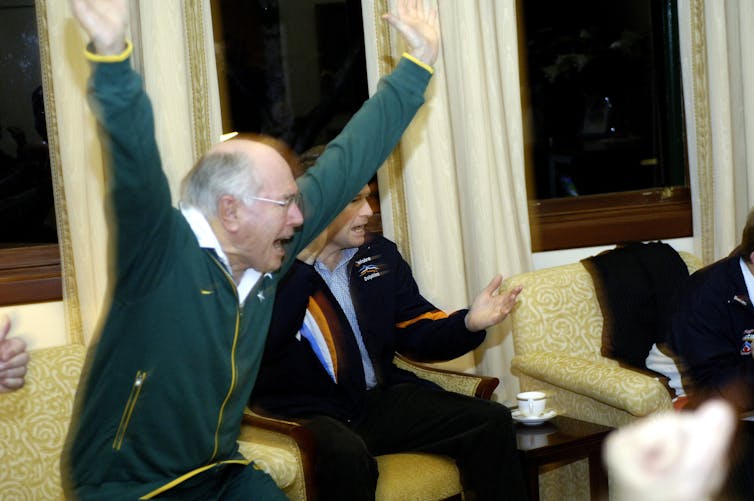 The prime ministerial 'body'
Of Australian prime ministers, probably only Julia Gillard's body has been as remarked upon as often as Tony Abbott's.
For Gillard, the problem seemed to be that she had a body at all. Even feminist allies were happy to deride it. Germaine Greer thought Gillard's "big arse" was a problem she needed to manage.
But if Gillard's best political tactic was to hide her physicality and foreground her administrative skills, Abbott is remarkable for his embrace of the obverse. Abbott was forever placing his body at the centre of our gaze.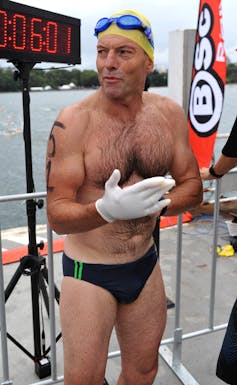 While Hawke sometimes offered himself for public eroticisation in a tiny pair of Speedos, and while Harold Holt was ominously snapped in a wetsuit, there are hundreds of photographs of Abbott in swimming briefs.
Mostly, he is associated with the red budgie-smugglers of the Queenscliff Surf Club, but as BuzzFeed established in an Abbott listicle, the former prime minister has been snapped in many different pairs: red, blue, black and striped.
In many ways, Abbott's display seems nothing more than the expression of a casual, sport and surf-orientated Australian way of life – less mockable than Keating's presumption of Italian-cut cloth. But the situation of Abbott's body is available for other readings.
In Masculinities, R.W. Connell suggests that the exemplary male body, particularly when deployed in institutionalised sport, embeds:
… definite social relations: competition and hierarchy among men, exclusion or domination of women.
For Connell, "bodily performance" settles "gender relations" – "thus men's greater sporting prowess has become a theme of backlash against feminism". I must confess to, at times, buying into the competitive ordering of male power that seems present in both Abbott's and Turnbull's physical self-presentation.
Abbott's body, Turnbull's voice, Abbott and Hockey's pursuit of the rough-house sports of rugby and boxing, the well-cut suits of all three men, sometimes draw me into competitive social relations where for a moment I stop to think how I measure up, whether I could take them in a fight, whether my voice could, like Turnbull's apparently does, mesmerise Annabel Crabb.
Effectively, when not alert to its social construction, I am hostage to their performance of particular postures of dominant masculinity.
But then, when one stops for a moment to think, you can see the downside of these forms of self-presentation. Like Vladimir Putin's staged mastery of judo, ice hockey, arm wrestling, indoor climbing, motor racing, scuba diving and bobsledding, Abbott's masculinity always seems ready to steeple over into self-parody, into an unconscious camp.
This happened when Abbott threatened to "shirtfront" Putin over the downing of Flight MH17. Later, when the two men met at the G20, Abbott had to walk his threat back.
For Abbott, it seems that being a man takes commitment to, or is an expression of, a set of tightly binarised roles and social relations that reduce certain actions to either men's business or not. Abbott was rightly angry about the terrible loss of life, but he seemed to believe that to appear strong in dealing with Putin he needed to threaten violent vengeance.
That said, one of the paradoxes of Abbott's performance of a hyper-masculine athletic self is the way it is accompanied by a messiness around the role of women in his life. His body is unusually available for the female gaze, although, according to a survey of my close family, his body is rejected, sometimes with revulsion, by many women – even conservative voters.
He has been accused of misogyny by Gillard, of physically threatening a woman when he was a student, of condemning women to do the ironing. Yet he has also been accused by journalist Niki Savva in The Road to Ruin of, when prime minister, being dependent on, even emasculated by, his chief-of-staff, Peta Credlin.
The cumulative effect of all these splits in his identity and splits in our perception of Abbott is to see his athleticism as a polar representation – to see it as an unintegrated performance of masculinity that can only be understood by also considering what it leaves out. It reminds us that, while powerful, sport and athleticism in Australia are only partial metaphors for what it is to be a man.
A commitment to sport?
My own preference for a narrative of Turnbull is one where sport has little part – its metaphorical role negligible.
To me, instead of being a sports fan (drawn to transcendent excellence) or an athlete (who embodies masculine strength and capacity), Turnbull seems a throwback to the Australian premiers of the colonial period: a time when politicians were from the rentier class and engaged in the simultaneous direct domination of politics and capital.
Then, the metaphors and symbolism of sport were less important. While Empire was the master metaphor, the political class exercised and experienced power through direct material control. Engagement in sport was a pedagogical mode left behind on the playing fields of secondary school.
Turnbull is not so powerful that he is entirely free from the burden of self-fashioning for public life. Since his elevation he has forsaken his remarked-upon leather jackets, which gave him a metropolitan touch; he has switched to lighter-coloured spectacle frames; and he seems to have settled upon orange as the preferred colour for the prime ministerial tie – perhaps a more ecumenical choice than Abbott's 50 shades of blue.
And sport is still a small part of Turnbull's performative repertoire. In March, journalist Roy Masters surveyed the authenticity of both Turnbull's and Bill Shorten's commitments to various football clubs and the competing codes.
Seemingly this matters. Turnbull's announcement in Shanghai in April that Port Adelaide would play an AFL game in China in 2017 was lambasted for his clumsy partisanship in declaring:
AFL is the most exciting football code.
This is not a mistake you can imagine John Howard making.
Our sporting masters
If we are tempted to snigger at Abbott's camp performance of an exemplary masculinity located in his tireless athleticism, it needs to be noted how difficult it is for Australian politicians to get sport and politics "right".
Often at sporting events, the biggest raspberries are not for opposing teams but for politicians who, even when attending as avatars for the nation, are perceived as present for their own political benefit.
The public mostly supports government funding of sport. Likewise, they are happy for the nation to draw on sport for aspects of its identity. And they are also happy for sport to draw on the prestige of the political class. But where politicians are seen to seek the prestige of sport only for themselves, the public are ruthless. Hawke, Keating, Howard, Rudd and Abbott have all been booed.
It takes poise for politicians to get these occasions right. At the 2014 NRL Grand Final, Abbott took a chorus of boos from the 83,000-strong crowd particularly well. For a moment, as the boos rolled around the ground, his action-man stance broke down. He looked around, grinned and blushed. Eventually he gave the crowd a resolute wave of acknowledgement.
But perhaps the best of these interactions – beyond Hawke's quip after Australia's America's Cup win in 1983 that "any boss who sacks anyone for not turning up today is a bum" – was Howard's after being kissed by a triumphant Kristian Sarkies following the A-League Grand Final in 2007.
Howard is initially greeted with boos from the crowd, but this gives way to mirth when Melbourne Victory's Sarkies rises onto his tiptoes to plant a kiss on Howard's bald pate. They are caught mid-embrace by the photographers. Howard, in the dying days of his prime ministership, was as amused as anyone.
For Turnbull, the resistance of the sports community to his charm offensive began a bare two weeks into his term, at that Dally M medal event. At the top of the evening, ex-footballer Matthew Johns cracks wise as he acknowledges Turnbull's presence:
Distinguished guests and, of course, Prime Minister Tony Abbott. Oh, I'm sorry, Prime Minister Malcolm Turnbull, of course. It's just so hard to keep up with you blokes. And they reckon coaching's cut-throat!
It is, of course, partly a joke about the revolving door of high office in Australian politics over the past five years, but also partly a reminder that in Australia prime ministers come and go but sport and sporting heroes are forever.
---
This is an edited version of an essay that you can read in the Griffith Review's latest edition.