The recent announcements of the proposed Fairfax sacking of 115 newsroom staff has again focused attention on the future of journalism in Australia.
The Fairfax cuts follow the shedding of 120 editorial jobs a year ago.
News Corp has also announced redundancies for photographers and production staff.
The redundancies are a result of publishers having to keep cutting costs in the face of declining advertising revenues for the print media.
In what appears like a somewhat futile attempt to push back the tide, the Senate has also hurriedly convened the "Select Committee on the Future of Public Interest Journalism" chaired by Sam Dastyari.
It seems inevitable that the committee will recommend halting attempts to regulate the market or even introducing new measures to protect "public interest journalism" - whatever that is.
Are there any jobs in journalism?
For those studying journalism courses or about to enter the journalism workforce, this may be, understandably, a worrying time.
It should also lead to some consideration by universities and TAFE institutions about the number of students admitted into journalism courses and the relevance of course content to what is already a rapidly changing media environment.
It is difficult to measure with any accuracy how many journalists there are in Australia or new entrants into the profession.
According to the Department of Employment, in 2015 there were 27,500 people employed as journalists or writers, and this is predicted to grow by 10% to 30,300 by 2020.
This compares to predicted growth in all professional employment of 14.4% and of all employment by 8% over the same period. On the demand side of the journalist labour market, growth is expected to be OK.
So what is happening on the supply side?
Between the previous Census in 2006 and the 2011 Census, the number stating that they had journalism qualifications had risen by 30% compared to a rise in journalists employed by about 8%.
This suggests that the growth in demand has not kept pace with supply.
The biggest source of new supply is new graduates of Australian universities and TAFE colleges, although net migration may also make a small contribution.
The problem with attempting to estimate the influx of new journalists is that the education statistics are not available for journalism graduates alone.
This is probably due to the fact that most degrees which teach journalism skills are not called "degree in journalism" but by some other name. Therefore, statistics issued by the Department of Education are classified as "communication and media studies".
Should unis still be training up journos?
This figure below shows the that the number of domestic students enrolled in communication and media studies in Australian universities between 2004 and 2015 increased by over 230%, which compares to about 40% for all university students.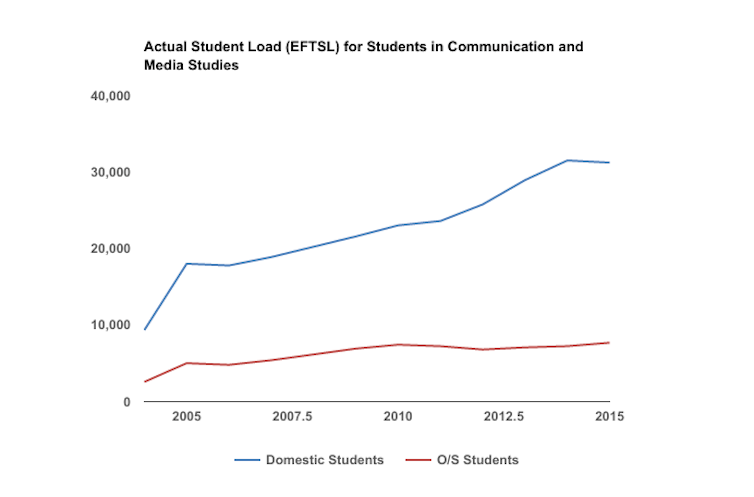 We don't know how many of these are journalism students but, if the Census data is any guide, a rough estimate would be that they would make up about third of all students in communications and media studies.
The data does suggest that the increase in "qualified" journalists has exceeded the growth in journalism jobs, at least as traditionally defined.
Further complications arise because not all working as journalists are "qualified". They may be specialist in particular areas, such as economics, finance, health or even gardening, who have taken to writing.
Journalism has become difficult to define
More importantly, the meaning of "journalists' work" has become more difficult to define with growth in new technologies and globalisation of the media.
A journalism education equips someone with a range of important and marketable skills.
Traditional newsroom skills include thorough research and being able to explain often complex ideas in a clear, understandable way.
But the new generation of journalists also needs to be proficient in use of social media, online publishing and multimedia as well as being able to write. Hopefully the rapidly increased number of students is being equipped with these skills.
Although little researched, there is certainly anecdotal evidence that there is a need for people with these skills in most public and private sector organisations.
This has created a large number of jobs for those with journalism skills which do not neatly fall into what has traditionally been thought of as journalism.
The big rise in journalism graduates would, on the surface, appear to suggest a degree of over-education in the discipline.
But similar concerns about the growth in all university places, particularly since the introduction of the demand-based system, have been expressed with respect to the quality of graduates' jobs and jobs mismatch.
Journalism is changing - unis need to adapt courses to reflect this
On the other hand, as long as potential students are aware of the career prospects that they face on graduation, then it would be hoped that they are making rational choices about the education which will best facilitate their career ambitions.
Interestingly, as can be seen from the above graph, overseas students have not greatly increased their demand for journalism courses in Australia indicating that they take a somewhat different perspective on career choices.
In order for Australian universities to equip students for the new journalism environment they need to examine how journalism is taught in an era where print journalism is dying out.
The use of journalism skills need to be looked at more broadly than in just traditional journalism jobs. Students also need to be equipped in the new skills required in the environment of global and technological change, as well as the old skills which will always be the hallmark of good journalism.