Despite being internally diverse in terms of migratory background and religious affiliation, much of Britain's Indian population would be considered "natural Tories". They are generally family-oriented, aspirational, business-minded and often financially well-resourced.
According to recent government figures, 31% of UK Indians are salaried professionals – higher than any other ethnicity. Much of the first-generation fled persecution in East Africa, where their enterprises formed the backbone of the economy.
This entrepreneurial spirit is more readily associated with voting Conservative than Labour – or at least, so the party would claim. And indeed, 2010 data show that 16% of British Indians do identify with the Conservatives. That's a higher rate than any other ethnic minority group. However, that's still a small proportion. The majority (55%) identified with Labour. To put this in perspective, 67% of people of Black Caribbean origin were Labour identifiers. Only 5% identified with the Tories.
Inroads under Cameron
Aware of his party's need to improve its record, former prime minister David Cameron sought to establish the Conservatives as an attractive political option for economically successful British Indians. His charm offensive included an early trip to India and a significant effort to diversify the parliamentary party in the 2010 election using a "priority list" of candidates. As prime minister, Cameron famously organised a very high profile state visit, using an event at Wembley to praise the contributions the British Indian population makes to the UK.
And indeed, figures from a post-election survey suggested that the Conservatives performed particularly well among British Hindus and Sikhs in the 2015 general election.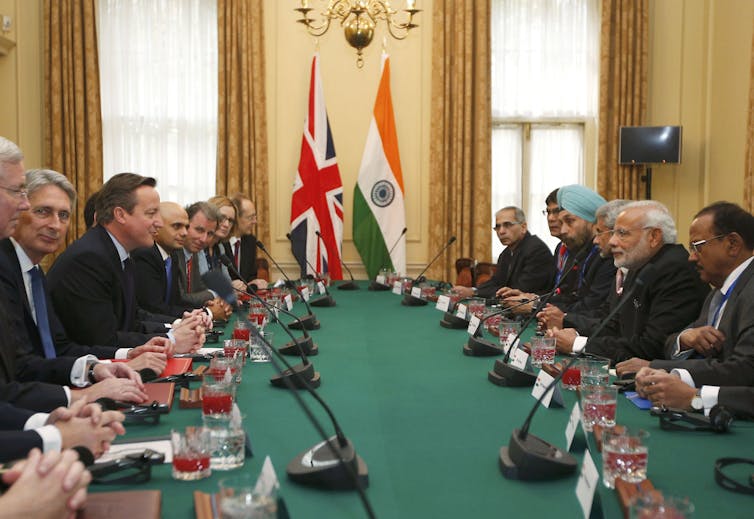 But what was really essential in transforming the Tory brand for British Indians was Cameron's desire to tackle discrimination. According to 2010 figures, a substantial proportion of Indians hold feelings of relative deprivation. When asked about life prospects, 65% felt that minorities needed greater opportunities, with four in ten feeling that non-whites living in the UK were held back by prejudice. British Indian graduates continue to suffer ethnic penalties in the labour market, finding it more difficult to obtain employment than similarly qualified white British counterparts.
Cameron sought to introduce a more level playing field by launching the blind CV equality initiative. Large employers signed up to the name-blind recruitment drive, including the BBC, HSBC and KPMG. In his 2015 party Conference speech, Cameron spoke of his intention to "finish the fight for real equality in our country today".
And then, Brexit
That didn't come to pass. Under Theresa May, the Conservatives could be about to undo the progress Cameron made attracting British Indian voters.
Her association with Brexit is a big problem. Despite data showing that UK Indians were more likely to vote Leave than other ethnic minorities, they were still more likely to support remaining in the EU than the white British majority.
After the EU referendum, May sought to broaden the party's appeal among socially conservative white working class voters in traditional Leave-voting Labour heartlands. The importance of building on British Indian support appeared to be downgraded as a result.
Following the inroads made by Cameron with British Indians (and BAME people in general), the 2017 general election was a major setback. According to post-election internal polling, Tory support among ethnic minority people dropped to a 16-year low. We don't know how many of these were British Indians specifically but considering that previous progress was driven by increases in British Indian support, it's plausible that such a sharp drop among BAME people incorporates a decent proportion of Indian-origin voters.
May has unveiled plans to address the ethnicity pay gap following her race disparity audit. These are positive efforts to understand and confront structural racial injustices which continue to persist in the UK. It may even eventually prove to be a more substantive piece of work than Cameron's anti-discrimination effort. But her flawed approach to the 2017 general election means considerable repair work must be done to regain the advances made under Cameron.
Targeting working-class Leave voters in traditional Labour heartlands which suffered severe industrial decline under the Thatcher government was a risky electoral strategy which didn't pay off. And by retreating into their comfort zone by constantly "talking tough" on immigration and Europe, the Tories – especially May – failed spectacularly to articulate a positive vision for increasing equality of opportunity in multi-ethnic Britain.
The party's choice of candidate for the 2020 London mayoral election, Shaun Bailey, could also pose problems for the relationship between the Conservatives and British Indians. Considering the Windrush scandal, the nomination of Bailey, who is of Black Caribbean origin, is significant. However, he has made some highly controversial comments about multiculturalism, including in a 2005 pamphlet:
You bring your children to school and they learn far more about Diwali than Christmas. I speak to the people who are from Brent and they've been having Muslim and Hindi days off. What it does is rob Britain of its community. Without our community we slip into a crime riddled cess pool.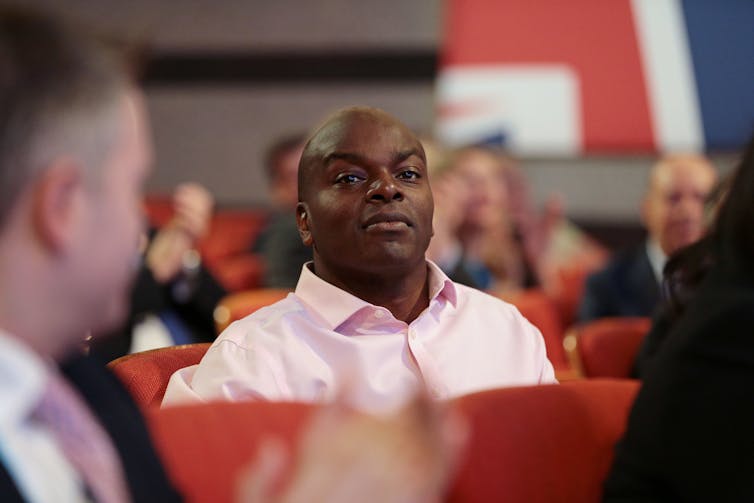 In the same work, Bailey suggested that people of Black Caribbean origin found it easier to integrate in Britain due to a shared Christian faith and common language.
Through positive political engagement and tackling the issue of discrimination head on, the Conservatives under Cameron made genuine headway in broadening their electoral appeal. Recent events threaten to overturn that progress. As well as being a noticeable presence in marginal towns such as Watford, Milton Keynes and Swindon, British Indians living in Tory-held London battleground constituencies such as Harrow East and Hendon may have an important say at the next general election.