While millions of Americans plan to watch the Final Four of college basketball on TV this weekend, I plan to check out a livestream of the Final Four of College Chess.
As a former U.S. Women's Chess Champion, my interest in the Final Four goes beyond that of a chess player or fan.
I also approach the game of chess as an educator. More specifically, at The University of Texas at Dallas, I teach two online education courses about how chess can be used in schools.
UT Dallas also happens to be a frequent competitor in the Final Four of College Chess – and a four-time winner.
The 'Duke' of chess
Chess has profoundly shaped the identity of UT Dallas. As Richard C. Benson, the university president, recently proclaimed, "We are to chess what Duke is to basketball."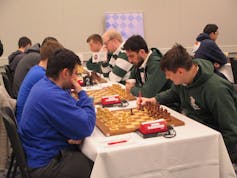 It was UT Dallas that launched the Final Four of Chess – formally known as "the President's Cup" – in 2001, when professor Tim Redman served as chess program director.
So why and how does the Final Four of College Chess matter? And what, if anything, does this collegiate chess championship say about where the United States stands academically and otherwise in the world?
Does chess make kids smarter?
Many associate chess excellence with being smart. Some also believe that chess helps kids succeed in school.
In my books on using chess to teach science and math and social studies, I don't profess that playing chess alone – untethered to academic concepts – will improve the educational outcomes of students.
Research supports this view. For instance, a recent analysis of 24 studies found that "chess instruction is no more effective in enhancing children's cognitive and academic skills than many … other possible educational interventions."
And yet several colleges use scholarships to attract chess talent from around the world.
Desirable to employers
Colleges aren't the only ones interested in highly skilled chess players. Employers are as well.
As Mark Herman, then-executive vice president of Booz Allen Hamilton, a government contractor that sponsors the Final Four of College Chess, said at the 2012 competition: "I've got a room full of the best critical thinkers that you're going to find anywhere. Why wouldn't I want to recruit them?"
Most of the chess players I met, when I served as the UT Dallas chess recruiter from 1999-2003, have succeeded in life. It's common to find highly skilled chess players studying or working in finance, possibly because chess and finance both rely on strategy.
For instance, one of the chess players I recruited to UT Dallas was Amon Simutowe from Zambia. When he arrived at UTD in 2002, Simutowe was an International Master, the title just below grandmaster. After graduating in 2006 with a degree in economics and finance, Simutowe became the first grandmaster from sub-Saharan Africa and one of three black grandmasters ever.
Simutowe went on to earn a Master of Science in economics for development from the University of Oxford. When I last spoke to him in 2013, he was at Columbia University for a second master's degree and was interning at the Liberian Mission to the United Nations.
Another student I tried to recruit to UT Dallas — but who ended up attending the University of Maryland, Baltimore County — was Grandmaster Pascal Charbonneau, of Canada. In a 2018 podcast interview, Charbonneau spoke of how his chess connections helped him land his first job in finance.
"Chess is a really useful network of people that have mutual respect for each other," said Charbonneau, who is currently a senior trader and option strategist at Alpine Associates Management.
Talent from abroad
Simutowe and Charbonneau were both international students. That's pretty much the rule among those who make it to the Final Four of College Chess. American-born players, such as Grandmaster Conrad Holt, formerly of the UT Dallas chess team and now a software engineer at Google, are more the exception.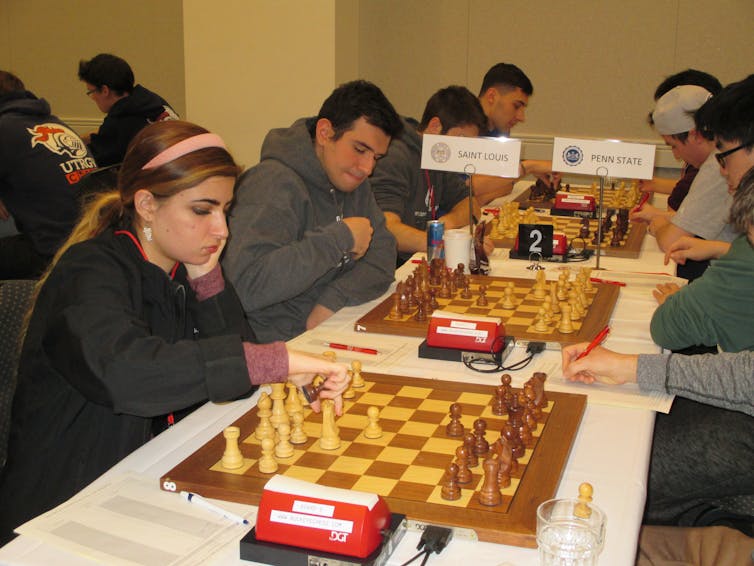 For example, if you research the backgrounds of players on the roster for this year's Final Four of College Chess, you would find that: six are from Ukraine; four are from Russia; and two are from Poland. Also, there is one player each from Peru, Azerbaijan, Hungary, Italy, Turkey, Iran, Cuba and Mexico. Each of those players has his or her own unique story. One of the more notable stories is that of Dorsa Derakhshani, a freshman at Saint Louis University who recently penned an essay for The New York Times about why she left Iran to play chess in America.
The lone American player is Grandmaster Ray Robson, who was born in Guam, a U.S. territory, and was once known as "America's youngest grandmaster" until other players claimed that distinction. None of the Final Four competitors this year were born in the transcontinental United States.
This year's Final Four competitors are: five-time Final Four winner Webster University; Saint Louis University (coached by former UT Dallas chess team member Alejandro Ramirez); Texas Tech University, two-time winner of the Final Four; and the University of Texas Rio Grande Valley.
America's chess talent
Back when he was on the presidential campaign trail, Donald J. Trump – speaking of the United States' position in world trade – complained that the United States doesn't have any chess grandmasters. Of course, he was swiftly corrected. The United States currently has 94 grandmasters, the second highest number in the world, after Russia, which currently has 234.
Trump was further criticized for making the statement right after the United States chess team captured the gold at the 42nd Chess Olympiad in Baku, Azerbaijan, which was the first time since 1976 that the U.S. could boast that it had the best chess team in the world.
Whether Trump was wrong is a matter of perspective, however. While the U.S. team won first place at the Chess Olympiad, as The New York Times pointed out, it did so with the "help of imported talent."
And so it is with the Final Four of College Chess, which will bring together many grandmasters and international masters currently studying at universities in the United States. We should learn from them while they are here, just as they are here to learn from us.