Judging by the fallout from Sunday's dramatic spat between Serena Williams and umpire Carlos Ramos during the women's final of the US Open, it is clear that the greatest female player of all time divides opinion like few others.
Williams appeared to interpret the three code violations meted out by the umpire as sexism by Ramos and an attack on her personal integrity. She said:
Because I'm a woman you're going to take this away from me … there are a lot of men who say a lot (of) things, and because they are men, nothing happens to them.
But others argued that Ramos was simply applying the rules of the sport.
This incident highlights a need to consider changing the rules of tennis, to make them more consistent across tournaments and players.
---
Read more: Get a grip: the twist in the wrist that can ruin tennis careers
---
The three strikes
The first strike issued to Williams – strike 1, a warning – was a code violation against her coach Patrick Mouratoglou for repeatedly gesturing to her to get forward during rallies.
The rules governing grand slam tennis are unambiguous, stating clearly that "Players shall not receive coaching during a match" and clarifying that "Communications of any kind, audible or visible, between a player and a coach may be construed as coaching".
This rule doesn't apply in all tennis events. Mouratoglou openly acknowledged he was coaching but used the "everyone is doing it" argument as justification.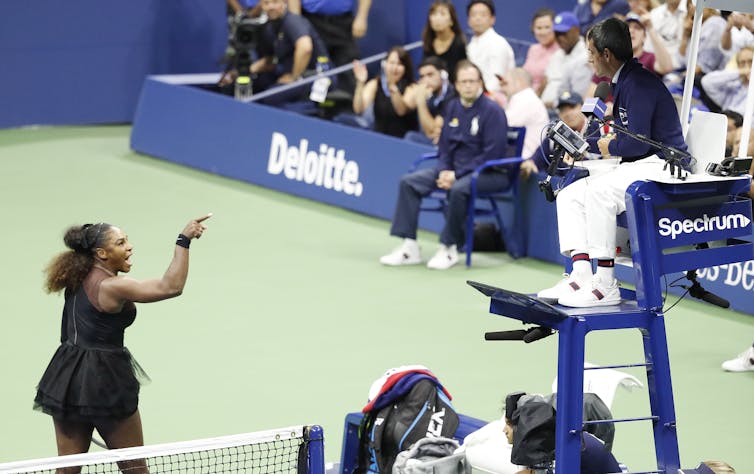 Williams' rage appeared to be fuelled in part because she perceived this code violation as rarely enforced (and certainly not in grand slam finals). But even more so because, as she apparently viewed it, her character had been impugned.
"I don't cheat to win! … You owe me an apology," she yelled.
Strike 2, a point penalty, was a mandatory code violation for destroying her racquet after losing a service game.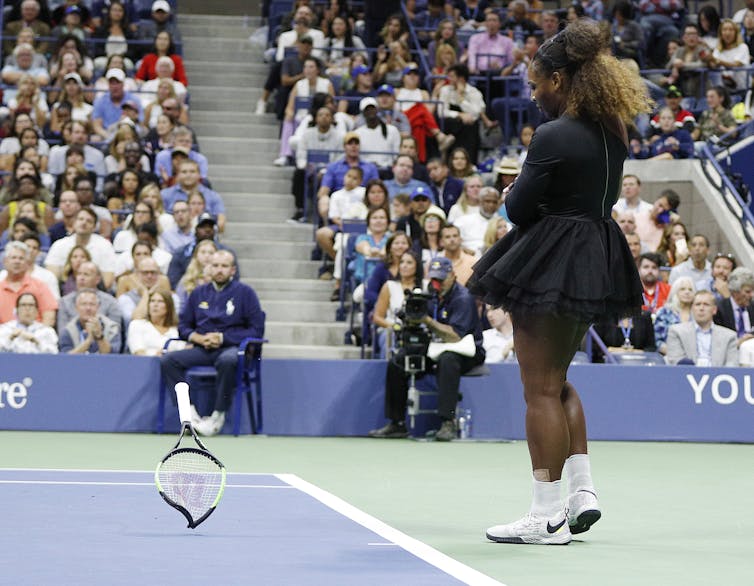 Strike 3, a game penalty, was triggered after Williams confronted Ramos, repeatedly accusing him of being "a thief" for taking a point away from her.
Publicly challenging the honesty of the umpire is another reason for a mandatory code violation.
No 'soft warning'
Several commentators, including tennis great Chris Evert, have pointed out that Ramos missed the opportunity to defuse the situation by first issuing a "soft warning", along the lines of asking Williams to calm down or warning her that she was risking another code violation.
Williams' critics have argued that this was a case of a tennis player seeing herself as above the laws of the game, and a reminder of the excesses of the John McEnroe era that code violations were introduced to ameliorate.
Williams is no stranger to such confrontations. Her previous run-ins with officials at the US Open include an expletive-laden rant against a line judge in her 2009 semi-final defeat by Kim Clijsters.
A powerful voice
When Williams speaks, the world listens. As a powerful voice for change, her words carry more weight than her trademark crosscourt forehand.
After the game was over she said:
I just feel like the fact that I have to go through this is just an example for the next person that has emotions and wants to express themselves and want to be a strong woman.
This plea implies some awareness that she might have created a watershed moment for tennis.
Katrina Adams, head of the US Tennis Association, almost immediately came to Williams' defence, commenting that:
There's no equality when it comes to what the men are doing to the chair umpires and what the women are doing, and I think there has to be some consistency across the board.
Moreover, Women's Tennis Association chief executive Steve Simon has already called for coaching to be permitted "across the sport". Others have pointed out that professional baseball allows bats to be thrown or broken with impunity, so why does tennis punish racquet smashing?
Time for change
While it is possible that the current crop of young tennis players may start asking umpires for an apology when their ball is called out, it seems more likely that the 2018 US Open women's singles final will be remembered as a catalyst for future change in the sport of professional tennis.
---
Read more: The terrible toll tennis can take on top players who play too much
---
I know from my own experiences of working with professional players at Wimbledon that surreptitious coaching is commonplace. Williams' outrage at receiving a code violation for her coach's hand gestures could be avoided in future by allowing coaching during matches at all levels of professional tennis, rather than having different rules for different tournaments.
Beyond formal rule changes, it appears almost certain that, in future, umpires will take extra care to be consistent in their approach towards male and female players.