Every year, on September 19, Mexico holds a public drill to mark the anniversary of the devastating earthquake of 1985, which killed 9,500 people and had a traumatic effect on the country. This year, just two hours after the annual drill, Mexico City was rocked by a magnitude 7.1 earthquake which, at the time of writing, has taken over 282 lives (187 in the capital) and caused 44 buildings to collapse.
The drill was partly an exercise in preparedness, but also a memorial to those who lost their lives 32 years earlier. Since 1985, Mexico has been credited with taking significant steps to reduce deaths, injuries and damage from earthquakes. Mexico City itself has been held up as a model for the developing world, having become an earthquake-conscious city within a moderate budget. Here are some of the ways that both city and state have worked to minimise the disastrous impacts of earthquakes.
Early warning
Mexico City is built on a former lake bed, which makes it vulnerable to earthquakes hundreds of kilometres away, as the soft clay amplifies the tremors. Seismic waves from the 1985 earthquake took over two minutes to travel from the epicentre, which was over 350 kilometres away on the Pacific coast. This represents a "time of opportunity" – the period between when an earthquake occurs, and the arrival of its damaging effects.
The time of opportunity for Mexico City is typically 60 seconds. These critical moments have been exploited by the authorities, through the development of an early warning system (EWS) called SASMEX: the Seismic Alert System of Mexico. Sensors pinpoint the location and intensity of an earthquake, and if the magnitude is considered to be a threat then alerts are sent to state and local governments and emergency organisations.
More than 90,000 users in Mexico City – such as schools – have dedicated receivers for receiving warnings. Authorities also issue mass warnings to the public through radio and television broadcasts, Mexico City's municipal loudspeaker network and smartphone apps.
Be prepared
A culture of preparedness has also spread following the 1985 earthquake, with earthquake simulation exercises being held monthly in hotels, schools and offices. During the annual nationwide earthquake drill, people in large buildings were given advice based on a hypothetical 40-second warning.
Those on the ground or first floors were advised to evacuate to pre-determined meeting points, if these could be reached within the warning time. Those on the second floor or higher were advised to "drop, cover and hold on": drop to their knees to prevent falls, seek cover under a desk or beside an interior wall and hold on for stability until the shaking stopped, and then evacuate.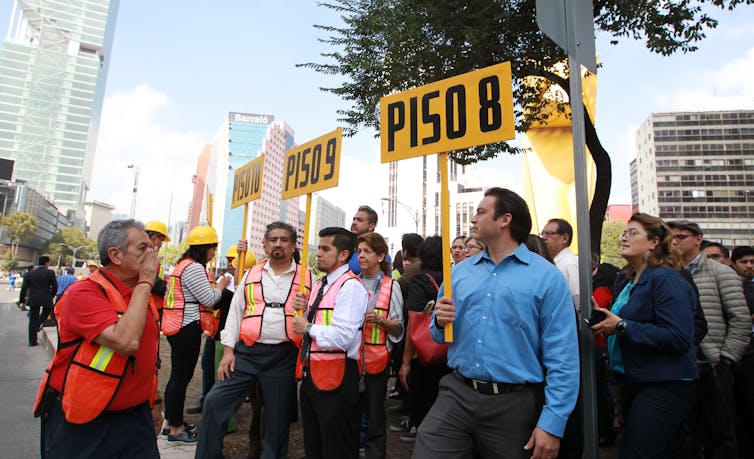 The city received 20 seconds advance warning of the most recent earthquake; enough time for people to take life-saving actions such as "drop, cover and hold on". But the effectiveness of this warning can only be assessed once the scale of the disaster is known. There are concerns that some people may have mistaken the alerts as a continuation of the earthquake drill held earlier in the day. Consistent advice on what action should be taken is vital, in order to make the most of the potential offered by SASMEX.
Better building
Mexico has also improved building codes – most recently in 2004 for Mexico City itself – and invested heavily in resilient infrastructure as a way of minimising the destruction caused by earthquakes. Most of the city's critical buildings, such as hospitals, have been structurally reinforced to make them more resistant to earthquakes. Seismic-resistant design using dampers (shock absorbers) and deep foundations has been adopted for major buildings in the city centre such as the Torre Major, Pemex Tower and Torre Latino America.
But actually enforcing building codes remains a challenge throughout Mexico – as in other countries around the world. Luis Felipe Puente, Mexico's National Coordinator for Civil Protection said recently that compliance was still a major issue, as a large proportion of the nation's buildings are constructed without permits or professional guidance.
Indeed, these "non-engineered" types of construction are estimated to account for 40% of Mexico City's building stock, and there are concerns that poverty and inequality contribute to continuing vulnerability to earthquakes, especially away from the city centre.
As well as making efforts to reduce earthquake mortality, Mexico is one of the leading countries in the financial management of disasters. The Fund for Natural Disasters (FONDEN) makes sure that finance is in place for rebuilding infrastructure after earthquakes and other disasters. The release of funds from FONDEN has already been anticipated, following the magnitude 8.1 earthquake that struck the country earlier this month. The government has adopted the principle of "build back better" allowing infrastructure to be reconstructed to higher standards, and public buildings or low-income communities to be relocated to safer zones.
As rescue and recovery efforts continue, the full impact of the recent earthquake has yet to be assessed. Although this event was of a significantly lower magnitude than the earthquake of 1985, there can be little doubt that the efforts made since then have helped to minimise the dangers of seismic events.