From the first of November Australians living in rural and remote areas will be eligible to receive Medicare rebates for psychological treatments delivered in part via video conferencing. This is a step in the right direction, but there are still psychological treatments we know work, that remain unfunded.
Under the "Better Access to Mental Health Care Initiative" children and adults are eligible for up to ten face-to-face individual and group psychological therapy sessions per year. The scheme, which commenced in 2006, has been extremely successful and resulted in millions of Australians accessing critically needed mental health treatments.
But since its introduction there have been significant advances in delivering psychological treatments that are highly effective, require less therapist time and increase access for children, teenagers and their parents. Medicare restrictions do not currently provide rebates for these methods of delivering therapy, preventing thousands of young Australians from accessing these evidence-based approaches.
---
Read more: Blame it on biology: how explanations of mental illness influence treatment
---
Parent-only interventions
A large body of research has shown psychological interventions delivered to parents alone (without child involvement) are highly effective for treating children's mental health conditions.
Brief parent interventions (five or six sessions) have been found to decrease child anxiety. They also reduce disruptive behaviour problems such as tantrums, arguments and non-compliance in children and teenagers.
And most child-focused interventions require some parent-only time to discuss sensitive issues related to the child and teach parents skills to support their child. Currently, to receive a rebate, children must be present at all sessions.
Internet delivered treatment
Recent advances have been made in the delivery of psychological treatments via the internet. These treatments are delivered to children and parents using written text, audio files, cartoons, videos and interactive games through websites or computer programs. They're most effective with a therapist on live chat, telephone or video conferencing.
---
Read more: How we can reduce dependency on opioid painkillers in rural and regional Australia
---
Internet treatments significantly reduce symptoms of anxiety, depression, eating disorders and disruptive behaviour problems in children and teenagers. They're as effective as face-to-face treatment for young people.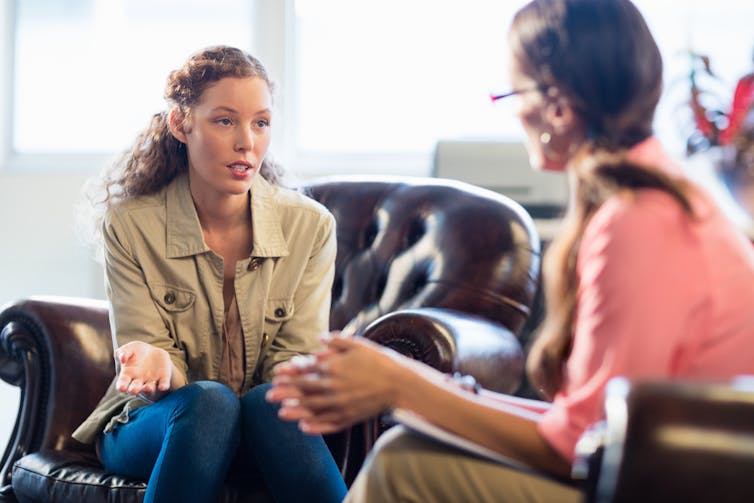 Internet-based treatments are highly advantageous as they can be accessed at any time (outside of office hours) and delivered regardless of geographical location. And because internet treatments require less therapist time they can often be offered more cheaply than face-to-face treatments.
Currently Medicare does not fund internet treatments supplemented with therapist support. The changes being introduced in November will only allow funding for seven out of ten video conferencing sessions, meaning three have to be in-person. Therapist support via the phone will not be allowed and this funding will still not be available to families outside of rural areas.
Brief intensive treatments
One long (for example three hour) intensive therapy session has been shown to be effective for treating anxiety and depression, conduct and substance abuse problems in children and teenagers.
And they're also associated with more rapid relief from symptoms, increased treatment completion rates and cost efficiency. They allow families living in rural and remote locations to travel for a long but one-off session that's highly effective.
---
Read more: Dissociative identity disorder exists and is the result of childhood trauma
---
Under the current Medicare scheme only one psychological therapy session can be claimed per day with a maximum rebate equivalent to a 51 minute session, leaving unreasonable out of pocket expenses for families.
Where to from here?
There are clear advantages of parent-only sessions, internet delivered treatments and brief intensive treatments. But Australian children and families can't adequately access these highly effective interventions.
Changes need to be made to the current Medicare scheme to ensure young people suffering from debilitating mental health conditions are able to access these scientifically supported and cost-efficient treatments that are also likely to be more accessible to rural Australians.