As the population ages and growing numbers of people are living alone, loneliness is emerging as a major public health issue. Many older people are lonely with estimates ranging to as high as 80% among care home residents. According to Age UK, around one million older people in the UK are desperately lonely and can go almost an entire month without speaking to anyone. It is therefore hardly surprising that two fifths of all older people (about 3.9m) say that television is their main company. Christmas may be referred to as the "season to be jolly", but for some older people, the festive season offers little to celebrate.
Feeling lonely is a negative emotional experience and can adversely affect both physical health and mental well-being, with studies demonstrating links with stress, lower self-esteem, disturbed sleep, cardiovascular disease, dementia and other mental health outcomes. Loneliness is said to have a physical effect equivalent to that of smoking or alcoholism, and more severe than not exercising or obesity. These negative health consequences are no doubt what led the current health secretary, Jeremy Hunt, to describe the extent of loneliness in later life as a "national shame".
In response, a number of initiatives have emerged in the UK in recent years: older people's charity, Age UK, and the British Red Cross have developed a number of projects; The Big Lottery has funded a programme, Ageing Better, operating in 14 areas of England; and there has been the establishment of The Campaign to End Loneliness and the Jo Cox Foundation, to mention just a few. These operate all year round but it is at this time of year, when some groups of older people can feel particularly lonely and need additional support. Indeed Age UK suggest that around 1.4m older people find their days repetitive and admit Christmas passes them by.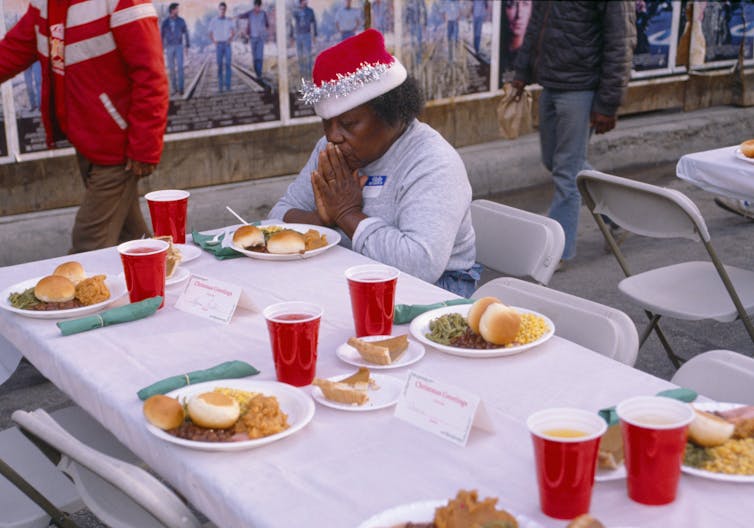 But it doesn't have to be like this, there are many ways in which older people can engage in their communities and meet new people this Christmas, and there are many initiatives around the world being provided to help them do so. Getting involved in traditional festive activities such as eating, walking and dance are just three examples.
A festive meal
For many, Christmas provides the opportunity for family, friends and work colleagues to get together and enjoy a festive meal. Sharing food is one way in which older people can meet others and develop new social relations this festive period.
We've seen the positive effects of this first hand. More than a Mealtime, a project based in Leeds that we were involved with enables single older people to share a restaurant table for a meal, hosted by an older volunteer. Prior to taking part, participants spoke of feeling isolated, empty and alone, particularly at weekends, evenings and when "coming back to a dark empty house" on winter nights. After getting involved they not only reported making new friends, but also feeling a part of their community. One participant reported: "I knew people by name or in passing, but now I feel I have much deeper connections as a result of spending time with small groups on the shared tables."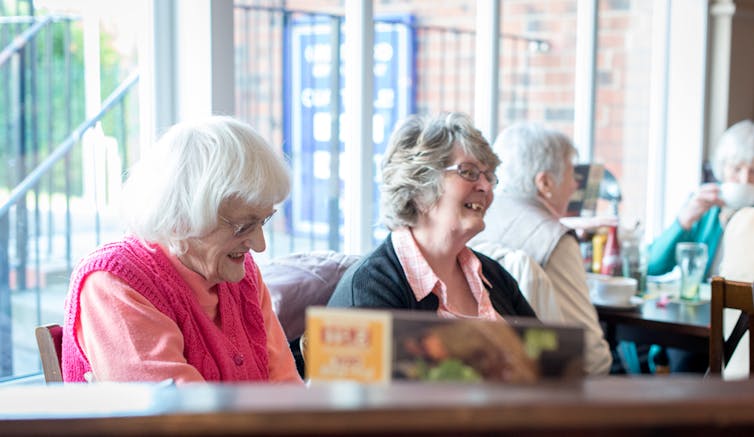 A winter walk
Another way in which older people can participate in their local community while experiencing health benefits is to wrap up warm and go for a winter walk. Although the weather might be cold, going for a walk has many health benefits, and what's more, can be a good opportunity for lonely people to meet like-minded others.
Through our involvement in one such project, Walking with Confidence, a project delivered by Age UK Leeds, we've seen how this very simple activity can have extraordinarily positive effects. In this project, local volunteers offer support to help older people get out and about. One participant has progressed from needing a rest every few paces to feeling confident to go out on her own and start attending local groups again. Another has been able to reengage with her community. She explained how having the volunteer do things with her gave her more and more confidence: "I started helping with the teas again at church and also went back to keep fit. I went on the bus shopping."
Cultural involvement
At this time of year we are surrounded by festive events, pantomimes, shows and people dancing to Christmas tunes. Attending one of these many festive events can help older people feel energised and happy as well as enabling them to make social connections with others. This was the aim of one project run by Yorkshire Dance, Young at Arts, which encouraged people living in the community and in care homes to participate in art, theatre, music and dance as a way to make social connections. One care home resident described how "each session has left me feeling energised, happy, useful and with a feeling of worth".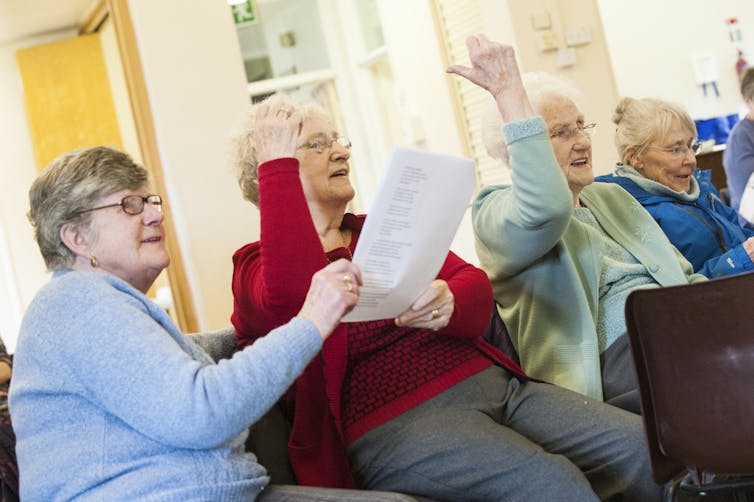 Participants experienced fun, fresh experiences and developed new skills, confidence and pride in their achievements.
So for all you lonely older people out there, or for those wishing to support older people to become less lonely, keep things simple: organise a festive meal, wintery walk or put on a festive dance in your locality. It will do someone – and could do many – a world of good.