In the endless drive to get people's attention, advertising is going 'native', creeping in to places formerly reserved for editorial content. In this Native Advertising series we find out what it looks like, if readers can tell the difference, and more importantly, whether they care.
---
Over the years the online world has become crowded with advertising pop-ups (which can be blocked), banner advertising (which can be annoying) and sponsored ads (which can be ignored). The reducing effectiveness of getting noticed has led to a new form of product placement appearing online with efforts being made for corporations to become part of the news content.
This takes the form of "content marketing" where content is produced and used "to build trust and engagement with would-be customers". This type of marketing has attracted a raft of different labels, including branded content marketing, sponsored media content, custom content, corporate journalism, brand journalism, and brand publishing - and increasingly, journalists are helping marketers to do it.
Native advertising is a subset of content marketing which has grown in interest. Native advertising has been defined as:
High-quality content that fits seamlessly into the natural experience of any platform. It's native to the environment that it appears on, not forced or disruptive.
Just like product placement, as people "switch off" physically or mentally during advertising, businesses are paying to have their product strategically placed in programs and stories so that the audience can see the brand, package, or logo, in a more subtle but seemingly natural way.
To ensure the quality of the content, businesses are employing journalists to write the stories, and the content is being portrayed more as news rather than public relations.
The branded newsroom
A recent example where an organisation has established an owned-media platform as a news site is ANZ Blue Notes. ANZ Bank's "corporate newsroom" describes itself as "a forum for insights, opinion, research and news about the economy, financial services, investment and society, from within ANZ and outside".
Appearing to be targeting the older investor, presumably already an ANZ customer, it is heavily branded with ANZ logos, so there is no mistaking who is the sponsor. Yet, it still has a news-feel format with stories that could be of interest to customers, written by respected former journalists.
Another form of content marketing uses a paid media platform where organisations can use an established media vehicle to produce self-promoting content.
Forbes, the well-known US business magazine, offers a print or digital "brand newsroom" called Forbes Brand Voice which "allows marketers to connect directly with the Forbes audience by enabling them to create content – and participate in the conversation – on the Forbes digital publishing platform". Some of the organisations that have a Forbes brand voice page include Adobe, Delta Business Travel, IBM, and Sage.
'Brand discovery'
In Australia, Fairfax Media last year launched Fairfax Brand Discover which it describes as "a native advertising product range that will enable advertisers to create, design and promote branded content across The Sydney Morning Herald and The Age websites". The first "story" using this format was sponsored by the Commonwealth Bank. While the story is about corporate innovation and looks similar to a news story, it is clearly sponsored by the CBA.
Infotainment
BuzzFeed, a "social news and entertainment" website which provides hundreds of posts each day, has been called the "poster child" for native advertising. The value of the BuzzFeed platform is that it encourages its posts to be shared, with popular posts becoming viral as they are forwarded by email, retweeted on Twitter, posted on Facebook pages, and pinned on Pintrest.
But, rather than the obvious banner or display ads, BuzzFeed offers more subtle "custom social content" to advertisers.
According to BuzzFeed:
Our in-house creative team works with brands and agencies to weave their story into custom social posts that consumers identify with and share, written in an authentic brand voice.
Does this work? BuzzFeed claims:
Our clients see an average lift of 55% in brand affinity and 88% in purchase intent from our custom social content.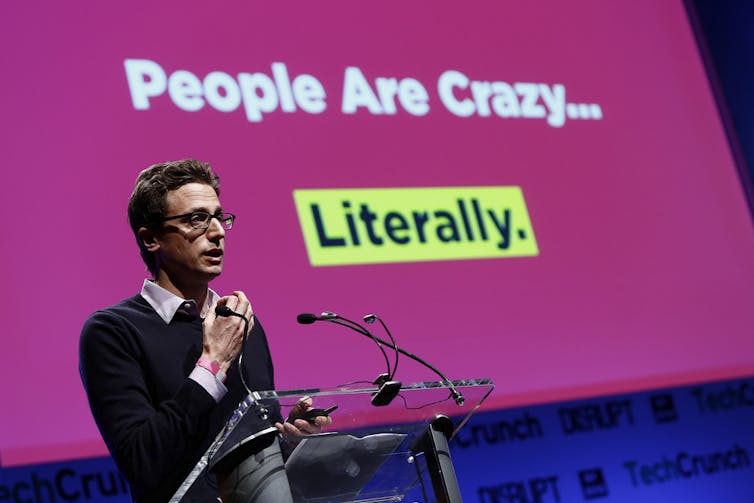 So is BuzzFeed going to be the future of online advertising?
There are several advantages of branded content marketing, including the credibility generated when a third party appears to be approving of the brand. It also allows brands to broaden their activities beyond a traditional media buy of a simple advertisement which would probably be ignored, and at the same time control the brand message. The trend is also generating work for journalists at a time when print media is cutting back.
But the blurring of lines between advertising and content, marketing and publishing, is not without controversy. There can be different issues relating to the objectives and influence of advertisers; the editorial independence of the media; possible conflicts of interest; the role of journalists, and the stigma of being a PR tool rather than providing real financial information; and the attitudes of the readers, current or potential customers, and whether there is a relationship with sales or brand perceptions.
As there are different forms of content marketing from heavily branded to almost hidden messages, the discussion will vary. It will be interesting to see if this trend increases or if in the long run, readers lose interest and the buzz fizzles.
For those that consciously try to avoid advertising it may be harder to dodge content marketing and native advertising. The solution might be to be more aware of where it occurs, switch off all electronic media, or just read advertisement-free sites like the ABC or The Conversation.
---
This is the first piece in our Native Advertising series. Click on the links below to view the others.
Recommended for you? Don't bet on it: the 'native' ad invasion