AUSTRALIA IN THE ASIAN CENTURY – A series examining Australia's role in the rapidly transforming Asian region. Delivered in partnership with the Australian government.
Here, Dr Gavin Mudd considers the economic, social and environmental impacts of Australia's mining boom as we rush to meet Asia's demand for resources.
The 20th century belonged to the West – not only in military terms but primarily in resource consumption. This century is expected to be dominated by Asia.
Given the generally high per capita consumption of a range of resources by developed nations, we must ask a fundamental question: can the world provide the same material standards of living for Asia without bankrupting the global ecological bank?
Surprisingly, the answer can be either yes or no – depending on one's point of view (as Obi Wan famously opined). Optimists point to the history of continually growing mineral and metal production and economic resources throughout the 20th century and say "no worries". Technology, exploration and economics are their friends.
Pessimists decry the near exponential growth of production and consumption of non-renewable resources and claim such patterns are inherently unsustainable. Simple mathematics and environmental limits are their focus.
Realists see the merit in both points of view.
Boom time
Let us explore the nature of economic mineral resources. In today's world, we mine fossil fuels, base metals, precious metals, ferrous metals, light metals, energy metals and a wide variety of miscellaneous minerals and metals – a significant majority of the known elements.
Although some elements are abundant throughout earth's crust, such as iron or aluminium, all minerals need to be found in deposits both high in concentration and easy to process to be worth mining.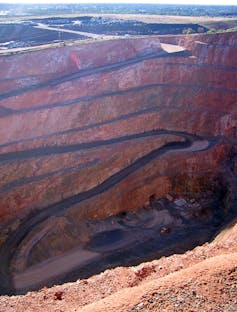 Throughout the past two centuries, the world has been scoured for new deposits which could be profitable to mine – and in many countries the mining industry continues to find more. For example, Australia and Brazil have both found massive iron ore resources and now dominate seaborne global iron ore exports. Parts of Africa now look set to repeat this pattern.
On the technology front, major advances in mining and ore processing have enabled breakthroughs in metal and mineral production. Prominent examples include the development of flotation technology for metal sulfide ores (now widely used in copper, lead-zinc, nickel, gold mining), carbon in pulp technology which uses cyanide in gold mining, solvent extraction-electrowinning technology, safer and cheaper explosives, bigger and bigger diggers and trucks, more efficient grinding technology, and so on.
On the economic front, the long-term trend is continually growing demand to meet consumption patterns. There can be the occasional hiccup during an economic downturn, but the trend is inexorably up – boom times aplenty for a miner.
Global per capita steel consumption has increased from 150 kg per capita in 2001 to 203 kg per capita in 2010. Allow for growing consumption in China's 1.3 billion people and India's 1.2 billion people (not to forget Africa's billion people or South America's half a billion). New cities are born, infrastructure built, manufactured goods made and exported – the sheer scale of current and prospective future demand for minerals and metals is indeed stark.
Barriers to growth
Although it may surprise many, economic mineral resources can often be underestimated (oil being the exception – peak oil is a real and urgent problem). Even allowing for strong growth in demand, I would certainly remain confident that there are sufficient deposits known globally for most mineral and metal resources to meet growing demands for several decades. Perhaps by the latter decades of this century we might start to approach limits, but we are already encountering other problems.
The real barriers to ongoing mining are mainly social and environmental. On the social front, community opposition to projects and commodities is growing and placing substantial pressure on the ability of the mining industry to develop new projects.
Clive Palmer's China First coal project in central Queensland threatens to mine most of the Bimblebox Nature Refuge – an area which is supposed to be protected by a perpetual conservation agreement between the landholder and government.
On the environmental front, ore grades and quality are gradually declining, meaning more mining to produce the same amount of metal. As open cuts get bigger, there is more and more mine waste.
At some "modern" mines in Australia, extremely polluted water flows freely to adjacent streams. Hanrahan's Creek in the Northern Territory is biologically dead due to severe acid mine drainage from the defunct Redbank copper mine.
There are many other legacy mine sites across the nation, even large ones at Mount Morgan, Mount Lyell or Rum Jungle. And the legacies are growing – check out the Hunter Valley coal province or Kalgoorlie's famous "Super Pit" in Google Earth.
The success of different mining sectors in reducing their greenhouse gas emissions footprint has been varied too – aluminium and steel have reduced their carbon intensity significantly thanks to energy efficiency and new technology. But many sectors have increased their carbon intensity.
The transition away from fossil fuels to meet the climate change challenge will remain a key global test of mining's environmental performance.
Dodging the bust
Overall, Australia remains in a strong position to continue to mine almost anything virtually anywhere to meet growing Asian demand – the mineral resources are certainly known. The trick will be managing increasingly complex social issues and environmental impacts, especially the move away from fossil fuels and uranium.
The boom may continue for some time, but we need to be mindful of the inevitable environmental and social bust. Our vision should not involve selling dirt and buying diamonds, then wondering why we are still in debt as a nation.
This is the final part of Australia in the Asian Century. You can read other instalments by clicking the links below:
Part One: Want to get ahead this century? Learn an Asian language
Part Two: Australia's great, untapped resource … Chinese investment
Part Three: Beyond China: Australia and Asia's northern democracies
Part Four: More than a farm on top of a mine: Australia's soft power potential in Asia
Part Five: Australia can lead the fight against Asia's lifestyle disease epidemic
Part Six: Why Australia needs an Asian Century Institute
Part Seven: Taming the tigers: tourism in Asia to become a two-way street
Part Eight: Australia will need a strong constitution for the Asian Century
Part Nine: A focus on skills will allow Australia to reap fruits of its labour
Part Ten: Engaging with Asia? We've been here before
Part Eleven: China, India and Australian gas – who controls energy in the Asian Century?
Part Twelve: Dealing with the threat of deadly viruses from Asia
Part Thirteen: Defence agreements with US harm Australia's reputation in Asia
Part Fourteen: As Asia faces climate change upheaval, how will Australia respond?
Part Fifteen: How Australia can become Asia's food bowl
Part Sixteen: Terms of trade: live cattle exports in the Asian Century
Part Seventeen: Good science makes good neighbours in Asia
Part Eighteen: Australia has much to teach Asia about progressive education