In an era of seemingly ceaseless tragedies, it can be hard to stay on top of the news. This week, six wildfires have burned up over 141,000 acres in California – an area larger than the cities of New York and Boston combined – killing two people.
A few weeks prior, the headlines were on Iran's deadly earthquake. Before that, it was the Rohingya refugee crisis.
You may have managed to take in all that information. But do you know about the November plague outbreak in Madagascar that has infected 2,119 people and killed 171? What about flooding in South Asia a few months back, which affected more than 41 million people in India, Bangladesh and Nepal?
If it's all new to you, you're hardly alone. According to the International Federation of the Red Cross, 91 percent of global crises go unnoticed.
As a researcher at the Harvard Humanitarian Initiative, a Harvard University center dedicated to advancing the science and practice of humanitarian action, our aim is to change that. Why? Evidence shows that ignoring all these small crises is a recipe for global disaster.
The many sides of world crises
Crises can take many forms, from hurricanes and floods to epidemics and complex emergencies like war. They also have varying levels of intensity: Taking only Latin America and the Caribbean, between 1994 and 2014, for every one large-scale crisis, there were approximately 177 smaller crises.
November 2017 saw not only a 7.1 magnitude earthquake kill over 400 people in Iran and Iraq, for example, but also flash floods, a typhoon and earthquakes in Malaysia, Vietnam and Cambodia, among other countries.
People generally pay less attention to these events, in part because there isn't much data on them. Still, while the impacts of an individual small crises may be less – both in terms of death toll and physical damage – together minor crises can have huge human consequences.
According to a 2015 United Nations report, the accumulated losses from small and recurrent events like flash floods, fires and drought account for 42 percent or more of total economic losses in low- and middle-income countries.
For particularly disaster-prone nations, the toll can be much higher. In Madagascar, for example, the annual economic losses from minor crises between 2001 and 2011 were equivalent to 75 percent of annual public investment during that same period. This is a serious economic erosion challenge for any country, but especially a low-income nation like Madagascar.
Plus, even in places where insurance exists, such events are rarely covered. As such, small crises can plunge families into debt. They also create food insecurity, drive environment damage and hurt mental health.
Small crises may also lay the foundations for greater tragedy to come. Before the Syrian civil war began in 2011, for example, drought and food shortages were compelling out-of-work farmers to leave rural areas starting in 2007.
Over several years, people from the countryside migrated en masse into big cities like Damascus. This influx, in turn, exacerbated Syria's existing political instability and contributed to the initial waves of political unrest that began rocking the country in 2011.
The end result is now one of the biggest humanitarian crises of our time.
Neglected crises
I call the kind of incidents that occasionally grace international headlines but tend to fade quickly into the background "neglected crises."
Currently, repeated famines in Somalia and Ethiopia fall into this category, as do the ongoing civil wars in Yemen and the Central African Republic.
Protracted violence and displacement in Afghanistan, the Democratic Republic of the Congo and Uganda have also made brief appearances in international news, only to disappear for those not suffering through them.
These problems aren't just neglected in the news – they're also critically underfunded. From 2016 to 2017, the United Nations fell short of its requested US$22.8 billion in global humanitarian assistance by fully $20.1 billion.
Consequently, neglected crises tend to get little economic and humanitarian support, even when great human suffering results from them. More than a million people have been uprooted by conflict in the Central African Republic, yet budget shortfalls compelled aid workers distributing food to displaced people to withdraw in early 2017.
Silent crises
Then there are what I call "silent crises." These events may be noteworthy for local government and the United Nations, but less so internationally.
Zika is a case in point. For two years before this mosquito-borne illness exploded across Latin America in 2015, it infected 30,000 people in French Polynesia. But as no deaths were reported and the consequences of infections remained uncertain, almost no one paid attention.
Unseasonably wet or dry weather is another issue that both the media and humanitarian relief organizations tend to neglect. That, too, is short-sighted.
The United Nations has found that between 1990 and 2014, the cumulative effects of droughts and floods in Latin America "generated more than half of all human losses due to climate events." Bad weather during those 15 years damaged the homes, crops and land of 115 million Latin Americans.
And because climate change-related disasters are strongly associated with poverty and inequality, these aberrant weather phenomena disproportionately hurt people in low- and middle-income countries.
Neglected rural problems often culminate in big urban crises. Take the 2010 Haitian earthquake, for example.
Its epicenter struck near Port-au-Prince, a city that had doubled in size between 1986 and 2006 as government neglect of agricultural policy and the well-being of people in the countryside forced millions of farmers to relocate to the capital.
By 2010, 86 percent of Port-au-Prince residents lived in dense informal settlements, many of them located on mountainsides, along rivers and in other fragile areas.
Urban crises
Haiti's exploding urban growth echoes a global trend. In 1950, only 30 percent of people lived in cities. Today, the global urban population exceeds the rural population. Exploding urban populations, combined with poor planning, have led to overcrowding, insufficient public services and rising urban inequality.
When disaster then strikes in such cities, the death toll can be astounding. Haiti's 2010 earthquake claimed approximately 310,000 lives, including 25 percent of all the country's civil servants, and displaced more than 1.5 million. Today, 2.5 million Haitians still subsist on humanitarian assistance.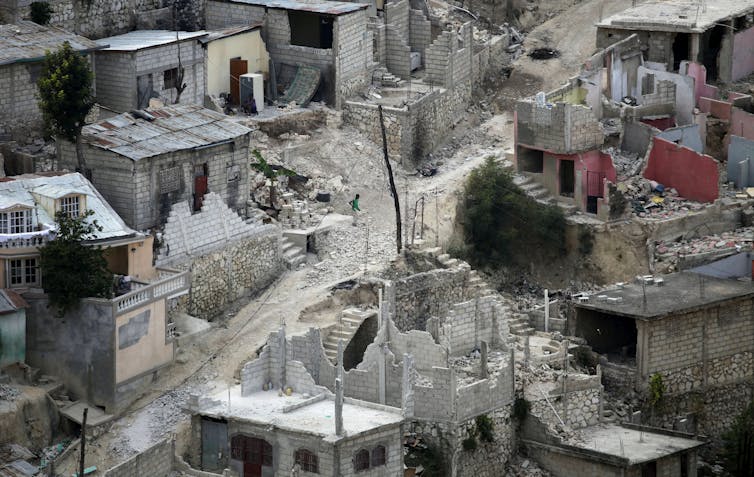 Seven years later, more than $13.5 billion in international aid money has gone into funding the country's recovery, including the added toll of 2016's Hurricane Matthew.
That's because post-disaster response is incredibly expensive. In 2013, the Red Cross calculated that for every $1 spent on preparedness activities, $4 could be saved in response internationally
So, if saving lives is not reason enough to pay more attention to small crises, perhaps money will be.