Tony Benn, who has died aged 88, was one of the great characters in 20th-century British politics. When he announced in 2001 he was "leaving Parliament to spend more time on politics" it was widely held to be judgement not only on the impoverishment of the British political system, but also a lament for the decline of his beloved Labour Party and the rise of the spin-obsessed forces of New Labour.
Anthony Neil Wedgwood Benn was born in Marylebone, London on April 3, 1925, son of William Wedgwood Benn and his wife Margaret. Politics ran in Tony Benn's blood. Like both his grandfathers, Benn's father was a Liberal MP – but he later shifted his allegiance to the Labour Party and was elevated to the peerage in 1941 as the 1st Viscount Stansgate.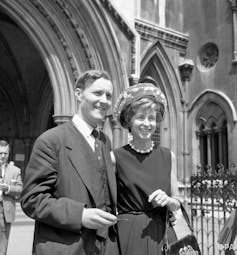 Tony's mother, was a theologian, a feminist and president of the Congregational Federation. She was also a strong advocate of the ordination of women priests. Her religious convictions did not rub off on Tony who was a lifelong agnostic.
Benn was educated at Westminster School and went on to read Philosophy, Politics and Economics at New College, Oxford where he was elected president of the Oxford Union in 1947. He always felt at odds with his privileged upbringing and education, but particularly with his hereditary title which he unsuccessfully attempted to renounce in 1955 and again in 1960. As a result, when his father died in 1960 he became 2nd Viscount Stansgate and when he won a by-election that May was prevented from taking his seat in the House of Commons. He successfully disclaimed his title for life in 1963.
In the 1970s Benn tried to remove public references to his privileged private education from Who's Who. In the 1976 edition his entry contained only the barest of facts and in the 1977 there was no entry at all.
Benn joined the RAF in 1943, joining his father and elder brother, Michael, who were already serving. He served as a pilot officer in South Africa and Rhodesia and in the Royal Air Force Volunteer Reserve from 1943-45 and in the Royal Navy Volunteer Reserve from 1945-46. In later life Benn adopted an anti-war stance and in 1982 strongly objected the escalation of hostilities between Britain and Argentina over the Falkland Islands, arguing instead for a peaceful settlement through the United Nations.
Two years later he was supporting the women at the US Air Force base at Greenham Common and complaining about their treatment by the police and the erosion of civil liberties. In 2009 Benn was openly critical of the war in Afghanistan and Iraq, labelling them "imperialist". Benn had been elected as President of the Stop the War Coalition.
Servant of the people
Although never leader of the Labour Party, Benn's political achievements were remarkable. He was first elected as an MP in 1950 for Bristol South East and, barring a short period from 1961-1963 when he was ruled ineligible due to his peerage, held the seat from for almost 20 years, until it was abolished before the 1983 election. He was elected as MP for the Chesterfield constituency after a by-election in March 1984, a constituency he continued to represent until to June 2001.
Benn was clearly favoured by Harold Wilson and held many senior political positions. From October 1964 to July 1966 he was postmaster-general, in which role he had to deal with the militant Union of Post Office Workers under the leadership of the extravagantly moustachioed Tom Jackson. He oversaw the opening of the Post Office tower in London and proposed the introduction of postage stamps without the Queen's head.
Benn spent four years as minister of technology from July 1966 to June 1970 and was responsible for the development of Concorde. He was chairman of the Labour Party from September 1971 to September 1972. He also assumed responsibility for the ministry of aviation in 1967 and for the ministry of power in 1969.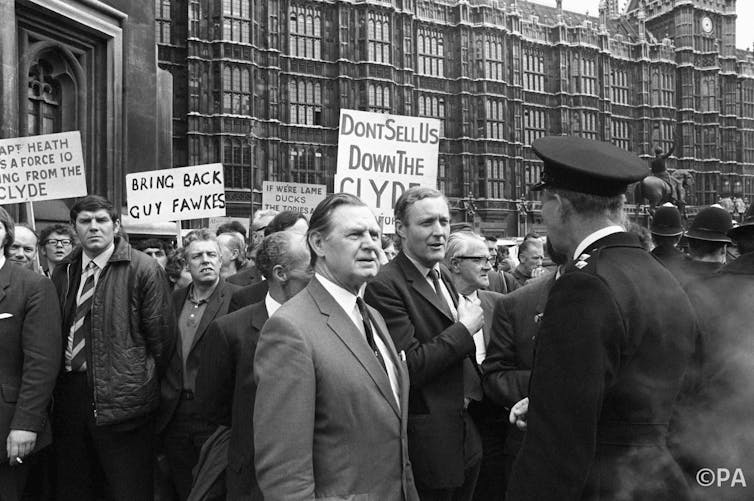 In opposition, Benn was a formidable opponent of the Heath government. He leaked a controversial paper, written by Nicholas Ridley, which advocated a complete government withdrawal from the Upper Clyde Shipbuilders, a consortium of five shipbuilders, which had been causing problems for the government. Benn also encouraged the UCS workforce to embark on a "work-in". Heath found both interventions highly irritating and unnecessary.
When Labour was re-elected in 1974, Benn was appointed secretary of state for industry, a post he held until May 1975, at which point he took over the energy portfolio until Labour lost office in May 1979. Both these jobs were performed against a background of unrest and these were particularly sensitive and trying posts. Prior to winning office in 1974, Wilson had entered into the "social contract" with the trade unions: restraint on wage claims in return for union-friendly legislation. But Labour's period of office was a period of industrial chaos: inflation was running at 16% and a year later had soared to 24.5%.
Labour delivered its side of the deal in the form of the Employment Protection Act, which provided for statutory trade union recognition but pay restraint proved a bigger problem, with spiralling inflation the government's relations with the trade unions became increasingly fractious and after four years the deal lay in tatters. The Winter of Discontent saw much of the public sector on strike and Labour's popularity in freefall, ushering in the Thatcher years.
Stalwart of the left
Benn was well known as one of the few really significant Labour politicians whose views became more left wing the older he got – partly due to his disenchantment with the way that civil servants were abusing their power and frustrating the endeavours of elected government.
In a similar way, his democratic principles were offended by what he saw as a habit of Labour leaders of treating the party as their personal fiefdom and running it in a centralised, authoritarian way. On the other side of the political ledger, he was outraged at the manner in which industrialists and bankers would use any means available to exert economic pressure to get their own way.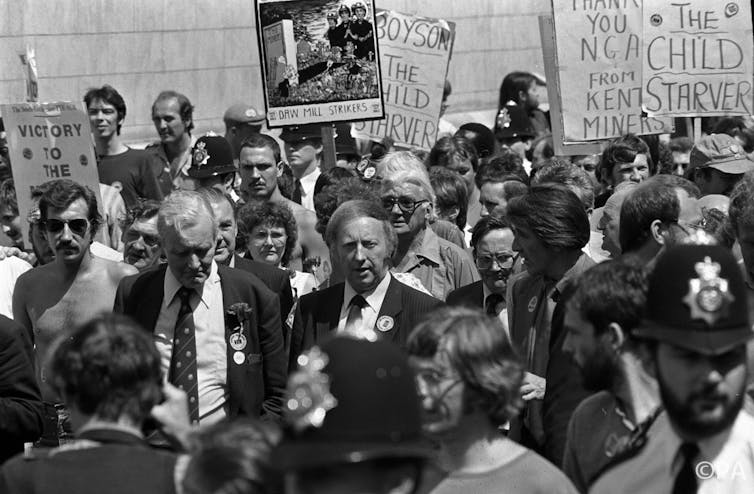 Benn was a vocal supporter of the National Union of Mineworkers in the 1984-5 strike and had a close friendship with the miners' leader Arthur Scargill. He was so popular with the miners that his picture appeared on the NUM Blackhall Lodge union banner. After the NUM was defeated he introduced the Miners' Amnesty (General Pardon) Bill 1985 to the House of Commons which would have secured an amnesty for all miners imprisoned during the strike.
Family man
Benn was clearly a romantic at heart. He met his wife Caroline in 1949 at Worcester College, Oxford, and some nine days later proposed to her on a park bench. Benn later bought the bench from Oxford City Council and placed it in his garden in Holland Park. Caroline died in 2000.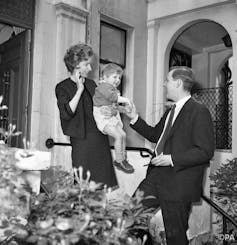 The Benns had three sons, Stephen, Hillary, and Joshua, and a daughter, Melissa, who went on to become a journalist. Eldest son, Stephen, was a member of the Inner London Educational Authority from 1986 to 1990 and Hillary was elected as MP for Leeds Central in 1999. Hillary went on to become secretary of state for international development from 2003 to 2007 and secretary of state for the environment, food and rural affairs from 2007 to 2010. Tony Benn was famously proud that Stephen became the third generation of the family to hold a Cabinet office.
Benn was an ardent diarist and recorded every detail of his life in and out of Westminster, publishing eight volumes covering the period from 1940 to 2013 before he stopped after suffering a stroke. He was a visiting professor of government at the London School of Economics from 2001 to 2002 and was awarded ten honorary doctorates from UK and US universities.
Tony Benn was an old-fashioned, ideological politician who was steadfast in his principles and uncompromising in his views. In a 1992 diary entry he poured scorn on David Owen, accusing him of being a Tory rather than a Labour moderate. His speeches were clever, articulate, compelling, and delivered with enthusiasm. His retirement was no doubt welcomed by his opponents, like a painful thorn being removed from the side. There is no doubt that politics – and Westminster – is much duller in his absence.