In a recent radio interview, Australian Football League (AFL) player Clayton Oliver opened up about his weight and fitness issues when he started getting serious about playing at the highest professional level.
Despite thinking he "wasn't in too bad a nick", the young, impressionable Oliver, who at that point was "playing (football) for a bit of fun", felt compelled to transform his body. Oliver undertook an intense training regime for six to seven weeks and went on a strict diet to shed some weight. He felt he didn't have a choice if he wanted to play in the AFL.
I was talking to the strength and conditioning coach and he said I was too fat to get drafted.

I had to lose all that if I wanted to have any chance of getting drafted.
Tigers premiership player Jack Graham was similarly stigmatised as unfit and overweight in the months leading up to the AFL national draft.
AFL Academy manager Nathan Ablett told him that "he had to change" and "enough was enough".
Oliver and Graham are not the only aspiring AFL draftees to be criticised in this way – made to feel overweight or out of shape even when factors outside their control, such as injuries or illness, contributed to their weight gain.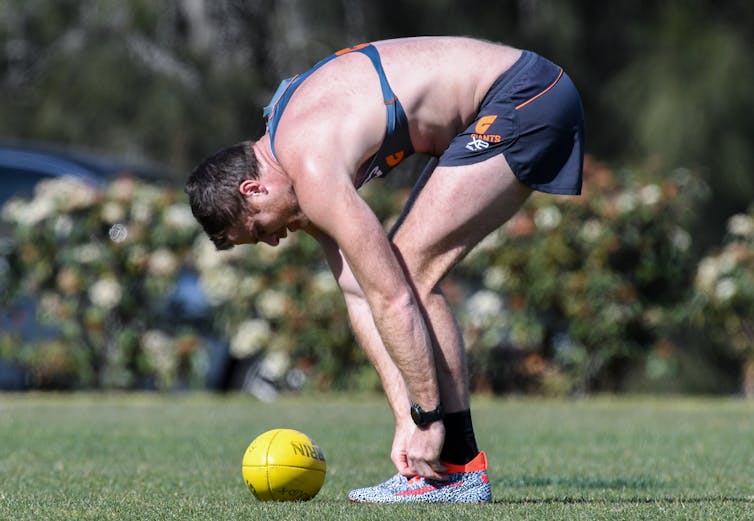 Damaging culture of the AFL
For male athletes, body image has long been a taboo subject. According to a recent study by University of Sydney researchers, men with eating disorders and body image issues such as muscle dysmorphia or "bigorexia" are up to four times less likely to be diagnosed than women.
The researchers found that men make up 40% of people with binge-eating disorders, 25% of men in a healthy weight range believe they are fat, and 3% of teenage boys use muscle-enhancing drugs like steroids.
For male athletes in big-money sports like the AFL, body-image pressure is even more intense, and perhaps even less discussed or understood.
In the AFL, aspiring players typically feel pressure from teams to transform their bodies prior to the draft. That pressure is then exacerbated by constant media and fan scrutiny once players are in the league, causing many to internalise these body image ideals.
A troubling aspect of this is how much AFL clubs perpetuate these feelings. In 2016, for instance, Carlton instituted a "fat club" for players whose body fat percentage rose above 12%. "Members" of the club were punished with additional intense training sessions. The former head of the Melbourne Storm rugby club, Brian Waldron, criticised the club as sending the wrong message:
There will be kids walking around school today being told they're in the fat club and I think that is just social stupidity to be calling … players into a group they call the fat club.
Still, this weight-loss tactic is hardly unique to Carlton.
When AFL players are on holidays or personal leave, many clubs also expect them to continue working on their bodies, too. Players who return overweight are sometimes ordered to leave the club until they get back into shape.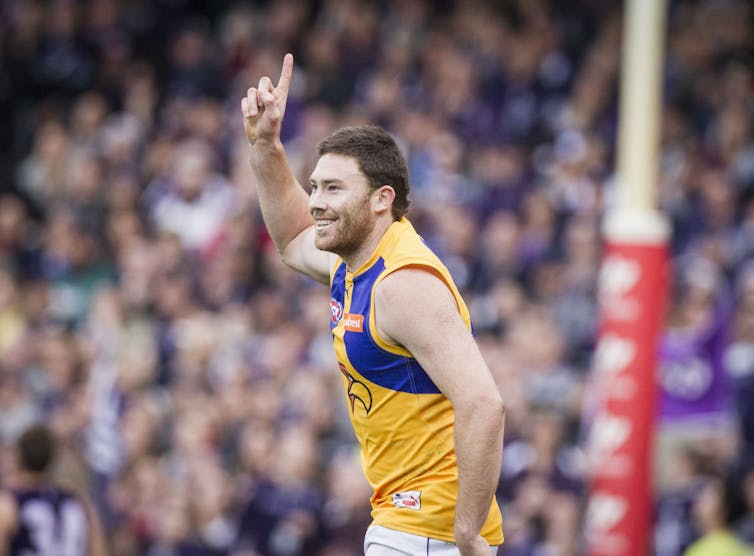 Lasting impact on health
Of course, body image is not a problem unique to the AFL. It affects athletes across a range of sports, from gymnastics and figure skating to cricket and netball.
---
Read more: Reining in advertisers to curb Australia's body image distortion
---
Nor is this issue limited to professional sports. A bombardment of imagery and media commentary on "ideal" sports bodies trickle down to kids in junior sport and school programs, who strive to bulk up or slim down to emulate their idols.
According to the 2017 Mission Australia Youth Survey Report, body image ranked within the top three concerns for young Australians, alongside coping with stress and academic issues. Similarly, the 2010 National Eating Disorder Collaboration Report found that 35% of females and 28% of males aged 11-24 in Australia were dissatisfied with their bodies.
Dealing with these pressures can lead even the fittest of athletes to develop negative perceptions about their bodies and emotional distress in the form of anxiety and depression. This leaves athletes at a greater risk of developing eating disorders and other problems, such as compulsive exercising and training.
This, in turn, can lead to burnout, injuries and shortened careers.
---
Read more: Your 'ideal' body, and why you want it
---
The emphasis placed on winning in the AFL means that maximising the physical output of an athlete's body has become the priority, while the long-term physical and mental health effects go largely ignored.
Mental health problems are a particularly worrying trend in the AFL. According to the AFLPA, one in five players suffers from mental health issues. Last year, twice as many current and former players sought treatment for depression and other mental health issues compared to the year before.
Last month, the AFL rallied behind players by announcing it will allocate nearly AU$1 million to improve programs and services devoted to players' emotional wellbeing and raise awareness around depression and anxiety.
The AFL has prided itself on taking a progressive stance to mental health, but it continues to ignore or not take seriously one of the contributing factors to these problems – the pressure to achieve the perfect body. Until the league stops pressuring players over their weight, token measures to address mental health concerns will have a limited impact.