With the inclusion of the Parramatta Female Factory institutional precinct on the national heritage list, the federal government has recognised for the first time that institutionalisation is and has been a central part of Australia's welfare system over two centuries.
The listing is testament to this precinct's unique capacity to tell the stories of institutionalised women and generations of Australians who experienced out-of-home care, known as forgotten Australians, child migrants and Stolen Generations. It is now up to national, state and local interests to embrace this change.
The Parramatta Female Factory was identified as a site of abuse by the Royal Commission into Institutional Responses to Child Sexual Abuse, which has now made its final recommendations.
It is timely to ask how past sites of institutional abuse can be transformed from places of incomprehensible violence and suffering into places that can be harnessed to achieve the commission's goals of redress, justice and the prevention of future institutional abuse.
The long wait for justice
The Parramatta Female Factory institutional precinct has been in continuous use since an assignment depot for female convicts was established there in 1821. In 1847, the original site was repurposed as Parramatta Lunatic Asylum, and again, in 1983, as the present-day Cumberland Hospital.
The adjacent Roman Catholic orphanage site, founded in 1844, became Parramatta Girls Industrial School in 1887, and operated as Norma Parker Women's Detention Centre until 2010. An estimated 30,000 women and children passed through the portals of the child welfare and Female Factory institutional complex alone.
This is Australia's longest-operating site of institutional incarceration and violence against females. It is also a place of punitive incarceration of children, women and Indigenous Australians and those labelled as mentally ill. Why did it take so long for this site to be added to the national heritage register?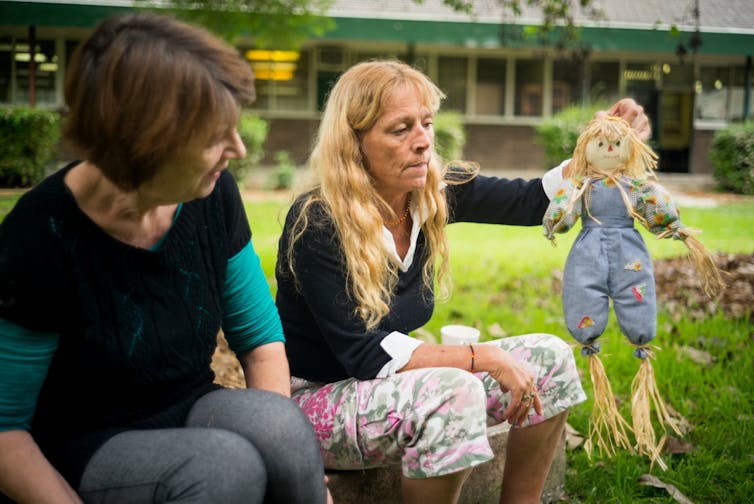 If not for former residents of Parramatta Girls Home this listing would have never happened. Parragirls founder Bonney Djuric lodged the original national heritage application in 2011, which was the basis for its final listing in 2017.
Parragirls have continuously fought, for more than a decade, to preserve this place so that the injustices they suffered will never be repeated again.
But, until today, the neglect of the girls' home and the entire precinct has replicated the abandonment the women have experienced in seeking justice for themselves and the thousands who passed before them.
Girls interned at Parramatta Girls Home experienced systematic and endemic levels of violence and neglect – the effects of which are endured by survivors to this day. These violations have been recorded by the royal commission.
---
Read more: Explainer: royal commission into child sex abuse
---
Findings from the commission's investigation into the girls' home catalogue a regime of discipline and punishment and emotional trauma, including physical and medical control, and physical and sexual abuse. Compensation and civil claim processes related to the home also came in for criticism in its report.
The problem confronting both the commission and Australians more generally is how to contend with personal and collective trauma on this scale. With the site now earmarked for redevelopment under the Parramatta North urban transformation plan, the New South Wales government faces this same challenge.
Creating a site of conscience
Apologies, stone memorials and trauma tourism no longer suffice for those living with the consequences of serious abuse. We urgently need a new imaginary for our past, where we make use of Australian heritage to do justice.
Former residents of Parramatta Girls Home have shown us how this is done by implementing a singular vision to transform this forgotten place. It's called a site of conscience.
In principle, the site of conscience global movement proposes the reclamation of places of human suffering to make common ground for dignity, respect and civil participation, instead of abuse and neglect.
Engaging with a site's history in this way, government, civil society and the public can better understand contemporary social justice issues and build a future society that does not repeat the wrongs of the past.
---
Read more: When it comes to redress for child sexual abuse, all victims should be equal
---
In practice, on the grounds of Parramatta Girls Home, a site of conscience has been brought into being through the community activities of Parragirls and PFFP memory project. Launched in 2012, the memory project has enabled Parragirls to supplant isolation, shame and silence with shared memory, creativity and social gathering.
Activities include inaugurating an annual children's day and memory garden, collaborative exhibitions and performances, and Stolen Generations' songwriting and live music events. The memory project has also enabled Parragirls to contribute to the design of the Parramatta Girls Home memorial and to impact academic research on ethics and policy on child welfare records.
Agency is crucial to the activation of this institutional precinct as a site of conscience. This means, first and foremost, those who experienced injustice – its former occupants – are empowered to determine how we remember the past and how to use it build a better present and future.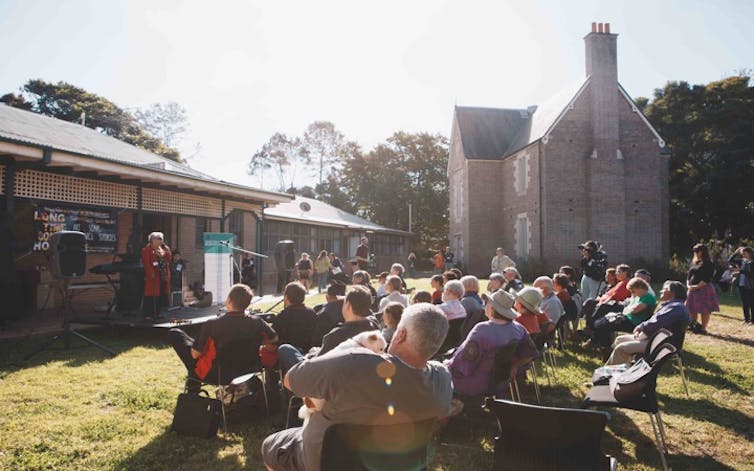 Transformative justice
Imagine a living public memorial that includes all Australians in the commitment to ensure our children are protected both now and in the future.
From this precinct, we can learn how past legacies and social issues impact contemporary practices of institutionalisation and systemic violence against women and children.
It is here, in this very place of inordinate pain and loss, that we can best put justice to work and make use of past wrongs for future good. And this enables us, as a nation, to put into action the royal commission's goals of redress, justice and the prevention of future institutional abuse.
This vision calls for our collective embrace of transformative justice. It also demands our civic engagement to hold the government to account in the development and future use of Australia's principal site of institutional welfare heritage.