In 2017, the Trump administration will likely continue and expand the Obama administration's focus on removing immigrants convicted of crimes. Whether Trump will break ground for a wall along the U.S. border with Mexico is far less certain.
Ramping up immigration enforcement by focusing on the criminal justice pipeline for removals has proven to be an efficient strategy. Immigrants in jail are not hard to find. And, removing criminals raises far fewer civil rights concerns than, for example, locating and removing laborers through the use of workplace raids.
Immigrants with criminal arrest records and convictions have few political allies and defenders. Resistance to their removal has not been as great as resistance to removing other groups of immigrants, such as undocumented college students.
That may explain why Donald Trump began his presidential campaign by claiming that Mexico was sending criminals to the United States, and promising to deport them en masse.
To increase crime-based removals, the Trump administration will probably seek greater state and local assistance in federal immigration enforcement. Under President Obama, these efforts led to the removal of a disproportionate number of Latino immigrants. My scholarship sheds light on how Trump's immigration proposals may similarly affect Latinos.
'Latino removal system'
President Obama's administration prioritized removing immigrants who had been convicted of crimes. However, the U.S. criminal justice system is notorious for producing racially disparate results. African-Americans and Latinos continue to be disproportionately criminalized and incarcerated as they have throughout U.S. history, as described in Michelle Alexander's powerful book "The New Jim Crow."
As a result, the U.S. immigrant removal system yields similarly unequal results.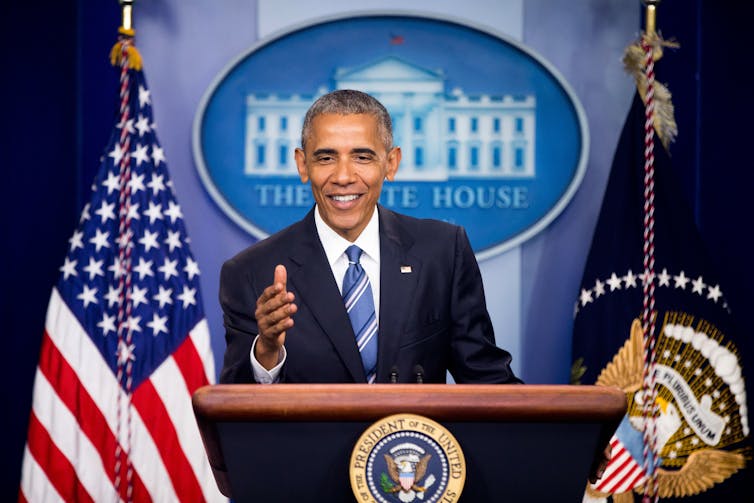 The Obama administration created programs that allowed state criminal justice systems to directly feed immigrants into the federal immigration removal system. That, in turn, made it possible for his administration to set removal records. In some years as many as 400,000 people were removed. During the eight years of his presidency, more than 2.5 million noncitizens were deported – more than during any other U.S. presidency.
Immigration and Customs Enforcement data show that, in fiscal year 2016, crime-based removals represented more than 90 percent of the noncitizens removed from the interior of the United States.
Under a program called Secure Communities, state and local law enforcement agencies shared arrest information with federal immigration authorities, and detained immigrant criminal offenders. Criminal offenders were then taken into custody by federal immigration authorities. In November 2014, the Obama administration replaced Secure Communities with the Priority Enforcement Program, which was somewhat narrower in scope.
Today, more than 95 percent of removals in the United States are of Latino noncitizens, despite the fact that the total immigrant population in the United States is much more diverse. Latino immigrants comprise only about 50 percent of lawful immigrants, and around 70 percent of undocumented ones. Because removals are so heavily skewed toward Latinos, some refer to the modern U.S. removal system as the "Latino removal system."
Mandating state and local assistance
Trump is likely to encounter the same resistance that Obama did in working with state and local governments on immigration enforcement.
The Trump administration may seek to mandate state and local assistance in federal immigration enforcement. To do so, it might challenge "sanctuary cities," as Donald Trump has done rhetorically. However, there is no firm definition of what sanctuary cities are – only the suggestion that they are not fully cooperating in enforcing immigration laws. Trump has threatened to defund such cities, a step that would seemingly require congressional authorization.
If Congress were to pass such legislation, state and local governments may be able to challenge it as infringing on the constitutionally protected authority of the states.
Needless to say, any challenge to sanctuary cities is likely to meet formidable resistance from some quarters. The California legislature already has been preparing a game plan for a showdown with the Trump administration on immigration enforcement. For example, legislators have proposed legislation that would limit information sharing with the federal government about immigrants.
Some state and local law enforcement leaders worry that immigrants lose trust in local police when they are perceived to be deeply involved in federal immigration enforcement. Loss of trust, in turn, can reduce the willingness of immigrants to help authorities combat crime. This concerns local police who say they need the cooperation of all people in the community, including lawful and undocumented immigrants, in reporting crime and aiding criminal prosecutions.
To that end, the Los Angeles Police Department's Special Order 40 limits police inquiry into the immigration status of crime victims, witnesses and suspects. The idea is to separate criminal law enforcement from federal immigration enforcement. Such separation is consistent with the Supreme Court's finding in Arizona v. United States in 2012 that the federal government has the authority to admit and remove immigrants. And, ordinary law enforcement primarily is handled by local law enforcement agencies.
The new administration will also need to grapple with how local police involvement in immigration enforcement impacts the civil rights of Latinos. Such impacts are real. This year, a federal court found the Maricopa County Sheriff's Department in Arizona, in the guise of assisting federal immigration enforcement, had engaged in a pattern and practice of discrimination.
These civil rights abuses show the potential costs of state and local law enforcement assistance in federal immigration enforcement efforts. The same risks will exist for the new Trump administration in 2017.