Malcolm Turnbull's first visit to Japan as Australian prime minister, to last for three days from December 18, is likely to mark a seamless diplomatic transition from the close relations developed between Japanese Prime Minister Shinzo Abe and Turnbull's predecessor, Tony Abbott.
How we got here
Abbott declared that Japan was Australia's "closest friend in Asia" at the ASEAN summit in 2013. He aimed to prove this through his visit to Japan in 2014. Abe soon made a return visit to Australia, where he was granted the rare privilege of an address to parliament.
This led to the conclusion of the Japan-Australia Economic Partnership Agreement. A parallel Defence Equipment and Technology Sharing Agreement was also signed.
Abbott then hosted a leaders' meeting of the Trilateral Strategic Dialogue with Abe and US President Barack Obama on the sidelines of the Brisbane G20 summit in November 2014.
And, last July, Japan sent its Self-Defence Forces to participate for the first time in the large Talisman Sabre military manoeuvres regularly held in Australia with the US military.
The subs question
Turnbull held an official bilateral meeting with Abe on the sidelines of the G20 summit in Turkey in November. They appeared to get on well. Turnbull is sure to be warmly welcomed in Tokyo, as Abbott was.
The key issue of Turnbull's visit will concern Japan's attempt to win the competitive evaluation process to build Australia's next generation of submarines.
To improve its chances against rival bids from France and Germany, Japan has altered the conditions of its original pitch. The bidding Japanese consortium, Mitsubishi Heavy Industries and Kawasaki Shipbuilding Corporation, has conceded that construction of its Soryu-class submarines could be carried out in Australia. It has offered to train Australian maritime engineers in Japan.
Abe will no doubt urge Turnbull for his favourable consideration. If Japan is awarded the submarine contract, it will be its first major export of a combat weapons system in its post-war history.
Securing this arms deal would complement the strengthening trilateral security ties between Australia, Japan and the US. Such closer military links were cleared to deepen further after Abe's ruling Liberal Democratic Party (LDP) passed its controversial "war bills" in the Japanese diet in September. This allowed Japan to exercise collective self-defence with other countries.
The challenges ahead
When Turnbull first became prime minister, there were concerns over whether he would shift Australia's relations more closely towards China, at Japan's expense.
Any such fears quickly turned out to be unfounded. Turnbull admonished China at the East Asia Summit last month that its island-building activities risked escalating into war. Backing up this warning, the RAAF probed China's territorial claims with "freedom of navigation" surveillance flights over the South China Sea.
Under Turnbull, Australia looks set to continue to confront its core foreign policy dilemma: balancing relations between its largest trading partner, China, and its key security partners, the US and Japan.
The already extensive trade relations with Japan, Australia's second-largest trading partner, will also be reinforced on this trip. Agriculture Minister Barnaby Joyce visited Japan last month to promote Australian food exports.
The only significant diplomatic dispute that remains ongoing between Australia and Japan is whaling. Japan has already defied last year's ruling by the International Court of Justice to end its whaling program, in the case brought against it by Australia and New Zealand.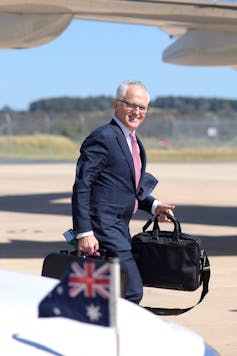 After dispatching a whaling fleet to the Southern Ocean yet again last week, Environment Minister Greg Hunt and Foreign Minister Julie Bishop issued an official protest. However, Australia is likely to take no practical action to prevent Japan's long-discredited "scientific" whaling, apart from possibly taking Japan back to the International Court of Justice.
As before, Australia and Japan will agree to disagree on whaling. They will not allow the dispute to impede their shared key trade and security interests.
Elections for the diet's upper house are due in mid-2016. There is already speculation that Abe may also yet again dissolve the lower house early, and hold a rare joint election for both houses. This is despite the economy having just narrowly avoided slipping back into recession.
The LDP remains in a commanding position over the still weak and divided Japanese opposition parties. Turnbull, meanwhile, firmly leads in opinion polls coming into an election year in Australia. So, this visit could be the first of many meetings between the two leaders.
The visit will certainly continue and consolidate the long-running trend of Japan developing closer security relations with Australia, encouraged by the US – the mutual military guarantor of both countries.