Australia's new prime minister, Malcolm Turnbull, has announced what he calls a "21st-century government". Today The Conversation begins a series focusing on what such a government should look like.
---
When the history of the Abbott government is written, it will be well worth keeping the following example in mind.
In 1991, the Soviet Union and the old paradigm of communism teetered on the edge of extinction. Reacting to the seismic wave of freedom and people power sweeping the Soviet empire, a small group of hardline communist elites staged a coup.
They placed reformist president Mikhail Gorbachev under house arrest and issued their demands. Restore order, they said. Reinstate the old hierarchies and the old certainties of command-and-control rule.
This old guard did not only want the world to stop dead in in tracks. They wanted it to retrace its steps – back to a time when the political and social order was clearly set and clearly obeyed.
Inevitably, the coup failed and its leaders – along with the Soviet empire – were swept away by the march of history.
On the surface, this short-lived coup and the now-defunct Abbott regime appear light-years apart in terms of political ideology. But underlying both was the same reactionary mindset – and the same fate.
Both represented a desperate clinging to an old order being rapidly unwound. Seen through this prism, the Abbott government was not so much an administration under intense political pressure as a manifestation of an out-of-touch psyche under siege from the 21st century.
Age of disruption threatens the old order
We live in a world where entrenched hierarchies of social authority and economic power are being quickly upended by an internet-driven, globalised society and economy.
This 21st-century world of continual disruption is empowering individuals and social groups in unprecedented and far-reaching ways. It is making them less dependent on, and less willing to support or adhere to, the agendas and whims of established interests.
This makes many middle-of-the-road conservatives uneasy. However, for the super-conservatives who dominated the Abbott government's agenda and narrative, these shifts were anathema.
Why? Because current levels of change and disruption conflict with a key tenet of conservative thinking: that preserving existing hierarchies is all-important because hierarchy equals order and certainty.
Thus, the Abbott government's agenda could be seen as a string of radical reactions to stem – if not thwart – the disruptive change that is fast eroding the social and economic hierarchies it was wedded to.
Meeting the challenge of governance
The need to change entrenched policies is one challenge facing government, but the other key challenge is much bigger – perhaps the most challenging of all currently facing Australia. But it must start to be addressed if a Turnbull government and successive administrations are to truly reset Australia on a path to 21st-century success.
Australia's policymaking and governance systems are close to broken. They need to be significantly updated from the current short-term, adversarial system to include much more purposeful, integrated and consensus-based processes.
They also need to be linked to far better consultative processes that achieve sustained and authentic buy-in from citizens.
Change to Australia's policy and governance structures to make them fit for purpose in the 21st century won't occur overnight. But the conversation, and some initial reform, needs to start now.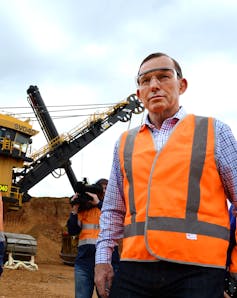 Disruption on many fronts and levels
Take climate change as an example of a policy challenge demanding change on many levels. In the minds of those advising on and shaping Abbott government policy on climate change, the issue was not merely an economic and environmental one. It remains a lightning rod for new technologies and progressive values that threaten to fundamentally disempower the old hierarchies of vested business and economic interests.
As such it is one of the more threatening symbols of the current era of disruption. That's why, under the Abbott regime, the switch to renewables had to be slowed or stalled.
Same-sex marriage was viewed as another proxy for a perceived war against the established order. It speaks to the threat of individuals' private lives escaping the control of reactionary conservative values.
These are values that view same-sex marriage as inferior to traditional marriage. So, again, it had to be stalled.
In short, only excessive action (or non-action) could restore a paradigm that was rapidly passing its use-by date, even if these actions were increasingly out of step with sentiment in the rest of the world.
However, it was not only these and other policy issues that highlighted the Abbott government's compulsion for overreach and disconnect. There was a pattern to the people it blithely handpicked to surround and advise it.
That's why it appointed as its senior business adviser someone who believed climate change is spurious and the whole push to address it amounts to a conspiracy to usher in a new world order.
That's why it selected a Commission of Audit, whose recommendations for deep budget cuts sought to reinforce – not ease – the economic and social hierarchies of Australia's growing rich-poor gap. And this is why the commission's chair was able to epitomise the government's reactionary mindset by complaining that the public backlash to these cuts was "a sad reflection on the modern Australian attitude".
Then there was the Australian knighthood for Prince Philip – the former prime minister's attempt par excellence to reassert the primacy of the old order.
Coalition needs a policy reset
The new prime minister, Malcolm Turnbull, is initially seeking to renew and reconnect with voters with more progressive, consultative language.
Turnbull's medium-term objective will be to cleanse as much as possible the reactionary mindset from Coalition policy and embrace the winds of change, rather than endlessly rebuking them.
Yet to pacify in the short term the hardliners close to the man he displaced, Turnbull is sticking to the status quo on both climate change and same-sex marriage.
At some point, sooner rather than later, Turnbull will need to chance his arm and attempt a major recalibration of both policies to align with voter sentiment.
The alternative is a premature and potentially sour end to what is likely to be a strong bounce in opinion poll support for the Coalition resulting from Turnbull's ascension.
The big lesson from Abbott's fall is that retreating into policies that reflect days gone by means being increasingly marginalised from the present. And as opinion polling over the last two years has shown for the Coalition, being marginalised from the present means being marginalised from the mainstream.
It remains to be seen how adroitly Turnbull walks the fine line between the future and the past.
One thing is more certain. The regime Turnbull inherited will not be treated kindly by history. Like the misguided communist coup a quarter of a century ago, the Abbott government is likely to be written up as a last-gasp attempt to stop the old world becoming the new, via a series of strange yet ultimately futile interventions.
---
Mark will be on hand for an Author Q&A between 2 and 3pm AEST on Wednesday, September 23, 2015. Post your questions in the comments section below.