Australia's population is growing fast, ticking over 25 million in August 2018. And as the population increases, it is also becoming more diverse.
At the time of the 2016 Census, Australia's population comprised people from more than 190 countries and 300 different ancestries. Almost half the population were either first- or second-generation Australian, and more than 300 different languages were spoken in homes.
---
---
But we are still predominantly an Anglo society, reflected in the number of people who identity as English, Scottish or Irish. Collectively, Anglo ancestries made up more than 50% of the population (excluding people who identified as Australian).
Not surprisingly, the majority of the population are born here — about two out of three people (or about 67%) were born in Australia.
---
---
But this is changing. The number of overseas-born residents has steadily increased since the second world war.
---
---
The number of Aboriginal and Torres Strait Islander people has also increased in recent years, with 2.8% of the population identifying as Indigenous in 2016.
---
---
Prior to the war, the Immigration Restriction Act of 1901, commonly referred to as the White Australia policy, resulted in a rapid decrease in the proportion of overseas-born residents, from almost 30% in 1894 to around 17% in 1911, reaching a low of 9.8% in 1947.
---
Read more: Australian politics explainer: the White Australia policy
---
After the second world war, the then immigration minister, Arthur Calwell, relaxed the policy to allow refugees from Europe to settle in Australia. The White Australia policy was completely removed by the mid-1970s.
---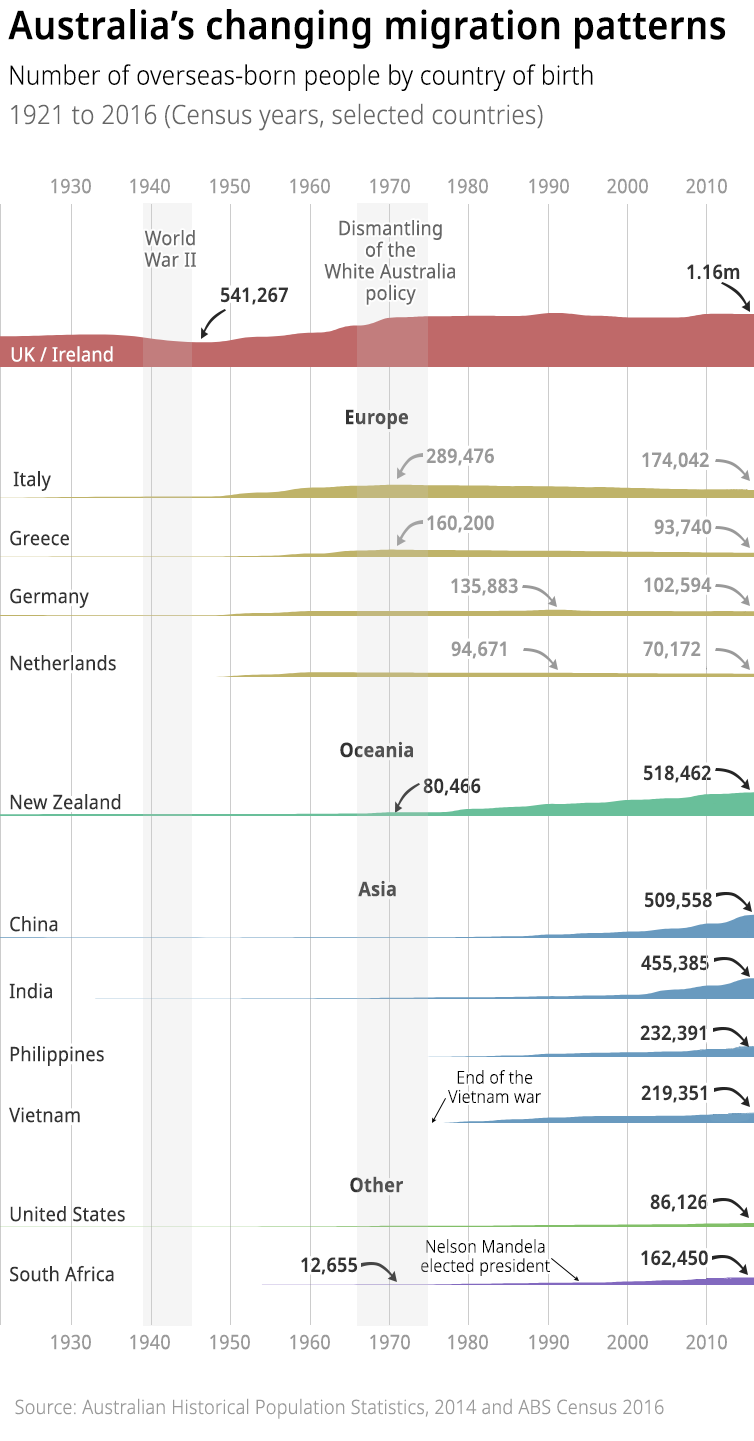 ---
People from the United Kingdom continue to be the largest migrant group – more than 1 million people living in Australia were born in the UK. But the proportion of UK-born residents has decreased significantly, from about 12% of Australia's population in 1921 to just under 5% in 2016.
Of the overseas-born population, nearly one in five (18%) people arrived since the start of 2012.
And nearly as many people had at least one parent born overseas (45%) as had both parents born in Australia (47%).
---
---
Though we tend of think of Australia as being multicultural, we actually rank relatively low in terms of diversity. But the above charts show that this is changing. And Australians generally seem to support diversity.
A survey done by the Challenging Racism Project (Western Sydney University) found that 80% of survey respondents felt positive about cultural diversity.
---
---
The report also found that people's views about different cultures and ethnic groups are complex, and sometimes contradictory.
Despite the positive views about diversity, people were not as supportive of non-discriminatory immigration policies, with only about 53% supporting that view and 23% opposed.
---
---
Almost 50% of Australians thought that overseas arrivals should assimilate into Australian culture.
---
---
Most troublingly, the report found that 32% of survey respondents have "negative" feelings towards Muslim Australians, and 22% said they have "negative" feelings towards Australians of Middle-Eastern heritage.
---
---
The Australian Human Rights Commission received 409 complaints under the Racial Discrimination Act in 2016-17.
About 40% of these complaints were made by someone born outside Australia. And of those made by Australian-born complainants, about 25% were made by Indigenous Australians.
The grounds for the complaints are shown below, listed by the number of complaints:
---
---
But modern Australia's most strained relationship is its oldest. Aboriginal and Torres Strait Islander people have suffered greatly under European rule. On many measures, Indigenous Australians are still worse off than the non-Indigenous population.
For example, life expectancy is about ten years lower, unemployment is higher, and Indigenous students are considerably behind their non-Indigenous peers.
And 27 years since the end of the Royal Commission into Aboriginal deaths in Custody, more than 400 Aboriginal and Torres Strait Islander people have died in custody, and Indigenous Australians are still massively over-representated in our prison system.
---
---
The over-representation of Indigenous people in the justice system is not confined to adults. Unfortunately, Aboriginal or Torres Strait Islander people are also over-represented in the juvenile justice system.
About 53% of all young people in detention in 2017 were Indigenous (on an average night during the June quarter). Indigenous young people aged 10–17 were 24 times as likely as non-Indigenous young people to be in juvenile detention on an average night.