As iconic sporting images go, there are few finer specimens than the picture of Brazilian genius Pele shaking hands with England captain Bobby Moore, after their teams battled to a 1-0 victory for Brazil during the 1970 World Cup (video below).
The game is remembered as soccer's greatest ever stalemate. History's most magnificent striker (Pele) faced its most artistic central defender (Moore) in a showcase of skill that became a thing of beauty, ending . More beautiful still, the final, shirtless embrace between Pele and Moore; a wordless confirmation of soccer's capacity to overcome racial divisions.
After all, soccer had once stopped a war. When German and Allied troops decided to hold an unsanctioned cease-fire in Christmas 1914, the most famous symbol of the impromptu camaraderie, that at least held a candle of hope for humanity's future, was an impromptu game of football held in no man's land.
The point is, when people have contemplated world peace, they've quite often either been kicking a ball around, or watching other people playing.
So the recent experiences of David Nuyoul Vincent speak to an especially distressing betrayal of the Pele/Moore legacy. Mr Vincent is a member of the Sunshine Heights Western Tigers, an amateur soccer team drawn from Melbourne's Sudanese community. Vincent has been the victim of constant racial vilification in his six-year career. Worse still, he and several of his team-mates are contemplating involuntary retirement, following a match in which Tigers players were repeatedly called "black c**ts", and where the vituperation descended into violence that left two of Vincent's friends lying unconscious on the field.
A quick survey of the international soccer scene shows the Tigers' experiences are part of a depressing global trend, where racism dogs the global game.
In the very week that Mr Vincent told his story, Chelsea and England's John Terry was acquitted on charges that he too had called another player (Queens Park Rangers' Anton Ferdinand) a "black c**nt". But the verdict simply raised another controversy. Rio Ferdinand, Anton's brother, found himself accused of racial abuse, when he responded favourably to a tweet calling Terry's witness, England left-back Ashley Cole, a "choc ice". Racism, so it seems, has seeped its way into the everyday language of the game.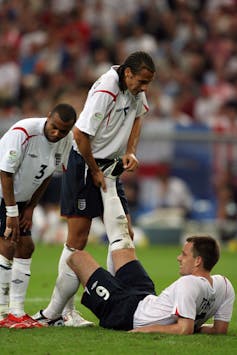 Proceedings in the Terry case had been delayed so he could play in the European Championships held in Poland and Ukraine. But even that tournament had been shrouded in concerns that the Union of European Football Associations (UEFA) could not guarantee the safety of black and Asian people, whether they were playing or watching.
The BBC's Panorama documented alarmingly organised acts of verbal intimidation and assault carried out by neo-Nazi supporter groups in Poland and Ukraine against non-white players and supporters. Conditions were so bad that the parents of one of England's black players decided not to attend.
That decision must have been especially distressing because the player in question, Alex Oxlade-Chamberlain, is the son of Mark Chamberlain. Chamberlain senior had been one of the first black players to represent England; a pioneer who helped demolish the blatantly racist assumptions that were common in professional English soccer during the 1970s. How must he have felt about the prospect that his son would face more spiteful and even dangerous treatment? And why hadn't things changed?
Sociologists can help us out here. In his book No-one likes us, we don't care, Garry Robson spent time researching the supporters of London's Millwall Football Club. Millwall supporters became infamous in England's 1980s hooligan culture, noted for their excessive violence and racism. Yet Robson found an interesting paradox. Although many of the men he spoke to admitted to racially abusing opposition players during games, they didn't consider themselves to be racist. The logic went like this: their job, as supporters, was to put the other team off their game. The best way to do this is to find the most vicious insult possible - ergo racism. But, they reasoned, it was just a joke, something fuelled by the heat of battle, to be forgotten and forgiven over a beer after the final whistle.
This way of thinking even made its way into the media. Former Manchester United manager Ron Atkinson was recorded calling Chelsea's Marcel Desailly a "n****r" during a break in the action as he commentated on a televised European Champions League game in 2004 for the UK's Independent Television. Although he apologised for the incident, Atkinson too presented the defence that racist insults had particular meanings in the industrial language which surrounds live soccer, different in kind from "real" acts of racism. Like Milwall fans, he was just having a laugh.
But the Sunshine Heights Western Tigers aren't laughing. Their story shows how "banter" cultivates prejudice of the most vicious kind.
It isn't true that soccer condones racism, or that the game hasn't taken great strides since the days when a "fan" could throw a banana at a black player, and no one would say a word. But it is true that racism has been tolerated on too many occasions. Pele, and David Nuyoul Vincent, deserve better.