Ride sharing, both the legal and "illegal" type is growing rapidly around the world, with new Australian entrant RideBoom the latest to take on market leader Uber.
Uber, which began in San Francisco in 2009, now operates in more than 50 countries with 300,000+ driver-partners (as they are known in "uberspeak") in the US alone. In Australia it's moving towards 20,000 driver-partners.
The difference between Uber and many of its competitors though, is that most of Uber's direct competitors operate within the legal confines of the countries they're in. Uber on the other hand, is paying for its drivers to ignore local laws.
Uber is in a global fight to win a regulatory environment favourable to its business model. This fight largely relies on ambiguity on how Uber should be defined as a company. Uber steadfastly denies any suggestion it is a service provider, insisting instead that it's a "technology company" … "seamlessly connecting riders to drivers".
Uber maintains that its driver-partners are not employees. This has been, and continues to be, challenged in the courts and on the streets.
Uber also wants to manipulate regulation that extends well beyond labour law, in order to boost its competitive advantage. The impact is being felt by non-Uber taxi drivers, prompting street protests everywhere from Paris to Mumbai; London to Mexico city.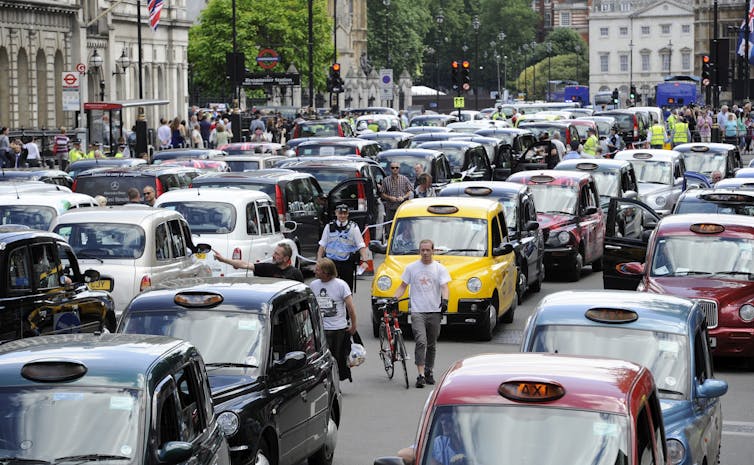 Fighting on multiple fronts
In Australia, the current round of regulatory sparring has Uber contesting decisions across state and federal jurisdictions. In Queensland driver-partners have been hit with more than A$1.7 million in fines for providing "unlicensed" taxi services. Despite it being Uber practice around the world to pay drivers' fines, the penalties in Queensland are being disputed and have not yet been paid.
Similar situations can be seen around Australia and internationally. In California Uber collected a US$7.3 million fine for failure to provide information to the California Utilities Commission about the nature of the services provided by its drivers, including access for disabled clients.
These are just a few of the multiple examples of Uber using its economic clout to promote regulatory recalcitrance, to reform rules with which it doesn't agree.
In some cases the stakes are even higher. Earlier this month in Hong Kong five drivers were arrested for illegally hiring out their vehicles. In France two Uber executives have also been arrested and in South Korea 30 people associated with Uber have been charged with running an illegal taxi firm.
Multiple legal challenges and ongoing penalties are costly but do not seem to be a deterrent to Uber, a company valued at over US$50 billion and backed by the likes of investment bank Goldman Sachs. Uber is not pulling punches in its attempt to fashion the regulatory landscape, influence public opinion and policymakers.
To that end, it has recruited lobbyists ranging from David Plouffe, one of the orchestrators of the Obama's 2008 campaign, to Rachel Whetstone, former head of Google communications, and Jack Lanvin formerly chief of staff to the Illinois Governor.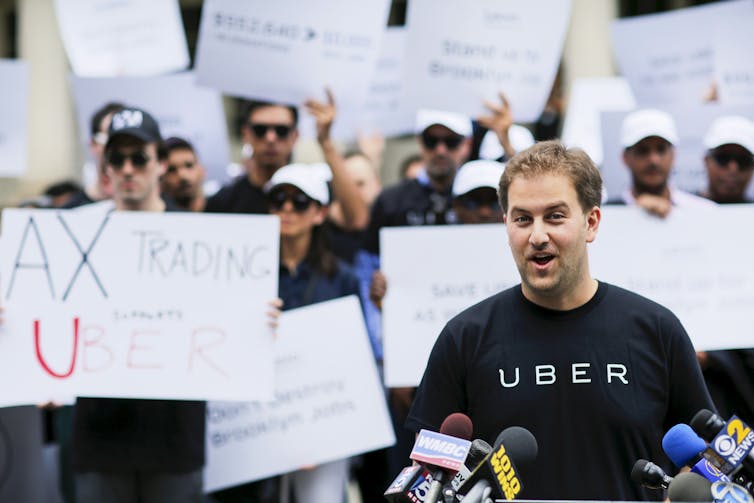 A high stakes game
Uber seems to have made a strategic decision to take the legal hits associated with flouting local regulations, with the view that this is unlikely to land a knockout blow. But the business will need to be able to survive a succession of assaults from regulatory bodies and individuals, sometimes in the form of class actions.
Using contractors while playing with regulatory frameworks and uncertain judicial responses is a high-risk strategy. Homejoy, a housekeeping platform, became a victim of risk adversity among investors in the face of similar lawsuits. Investors began to back off and after failing to raise enough capital to pursue its growth plans it shut down.
Likewise, if Uber were to see a significant proportion of its partner-drivers reclassified as employees, or face a government crackdown on its aggressive tax minimisation practices, it could come under pressure at a time of escalating losses because of its determined expansion efforts.
So, if we were to take a guess, what might be the likely outcome of this rumble in the jungle? Here are two possibilities.
Scenario 1
Individual lawsuits, class actions and aggressive regulation generate increasing costs for Uber. In several countries, tribunals condemn Uber to pay heavy compensation and to reclassify its drivers as employees. Investors start to back out because of the financial and reputational risk.
Competition increases, saturating the market and increasing the cost of drivers. The business model is no longer sustainable and Uber goes bust. Competitors take over, with a more traditional model of employment, which means a higher cost of operation but lower cost of litigation. This new generation of taxi drivers enjoys working conditions comparable to other workers in the economy. Regulators (and drivers) win in a knockout.
Scenario 2
Uber adopts a risk-mitigation strategy, meeting existing regulation when necessary but maintaining its model in several countries and as a result its market leadership. It continues to co-invest in the development of a self-driving car. In 2020, the company operates the first self-driving car.
The program to replace the millions of partner-drivers starts immediately in the US and is progressively deployed globally. Robots produce the cars. If Uber's partner-drivers are lucky enough to find another job, they can always use the new self-drive Uber service to get to work. Uber declared winner on points.
---
Sarah will be one hand for an Author Q&A between 3 and 4pm on Thursday, August 27. Post your questions in the comments section below.