African peace missions to Ukraine and Russia last week came up empty-handed. Led by South Africa's president Cyril Ramaphosa, the delegation included leaders and senior officials from Congo-Brazzaville, Comoros, Egypt, Senegal, Uganda and Zambia.
Their plan was based on establishing a ceasefire "through negotiations and diplomatic means". High on the agenda were calls for Ukrainian and Russian grain and fertiliser exports to resume unimpeded and the return of children taken during the conflict.
The delegation met Ukraine's president, Volodymyr Zelensky, in Kyiv on Friday June 16, and his Russian counterpart, Vladimir Putin, in the margins of the St Petersburg economic forum the following day. Both leaders rejected the plan as unworkable.
This was merely the latest in a series of peace plans that have emerged over the past month or so – and it gained similarly little traction. An earlier initiative by the Vatican was rejected by Zelensky immediately after his meeting with Pope Francis on May 13.
Another proposal by the Indonesian defence minister, Prabowo Subianto, at the Shangri-La Dialogue annual defence conference in Singapore involved establishing a demilitarised zone and a UN referendum in what he called "disputed territory". It was widely derided as a "Russian plan" by Ukraine and its western partners.
The China card
By contrast, China's peace plan is still in the running. Officially announced on February 24 2023, the first anniversary of the invasion, western leaders were not particularly enthusiastic – but did not reject it out of hand either.
Putin described it as a potential basis for ending the war during his meeting with the Chinese president, Xi Jinping, in Moscow the following month. Zelensky signalled cautious optimism about China's engagement in mediation after his hour-long phone call with Xi at the end of April.
---
Read more: Ukraine war: what China gains from acting as peacemaker
---
A tour by China's special envoy for Eurasian affairs, Li Hui, to Kyiv, Moscow and several other European capitals in May yielded few concrete results, but ended with a Chinese commitment to consider continuing engagement.
West still favour's Kyiv plan
The western favourite, so far, remains the Ukrainian peace plan. This was first presented as a five-point plan by Zelensky at the UN General Assembly meeting in September 2022. Two months later, at the G20 summit in Bali, the Ukrainian president outlined the current ten-point version. Then, and also at the May 2023 G7 summit in Hiroshima, Zelensky proposed further discussions at a global peace summit.
This idea now has new momentum after Denmark offered to host such a summit – suggesting that key players from the global south including India and Brazil, as well as China, should attend.
None of this makes it any more likely that negotiations between Russia and Ukraine about the end of the war are imminent. The main reason is that the fundamental disagreement remains. Zelensky demands a complete Russian withdrawal from all occupied Ukrainian territories, including Crimea, as a precondition for talks. Russia insists that Ukraine should accept the "new territorial realities" on the ground, and enter negotiations on that basis.
Mutual distrust
As long as this gap between the positions of Kyiv and Moscow remains, any plans that prioritise a ceasefire over Russian withdrawal, such as the African and Indonesian proposals, are stillborn. Neither Ukraine nor its western partners can accept this, as it would freeze the current frontline and give Russia yet more time and opportunity to consolidate its hold on these illegally occupied territories.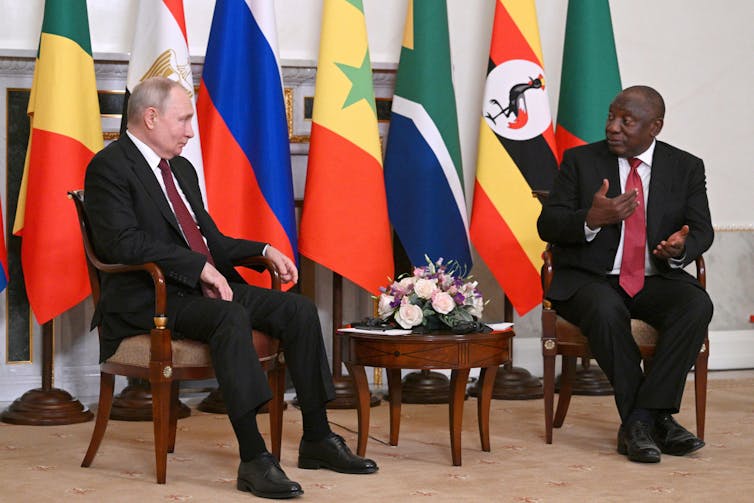 Any such deal would also be eerily reminiscent of the Minsk accords of September 2014 and February 2015, which established an unstable ceasefire and whose non-implementation provided part of the pretext for Russia's full-scale invasion of Ukraine in February 2022.
Notwithstanding these problems, pressure on both sides to start negotiating an end to the war will continue to grow. The African peace mission was significantly motivated by the fact that the countries on the continent have massively suffered from the economic consequences of the war.
If, for example, there is no extension of the UN-Turkish brokered deal on grain shipments from Ukrainian Black Sea ports, which is due for renewal in July, more African pressure on both sides is likely. The currently hardening Russian line does not bode well in this regard, and indicates the limited leverage that peace initiatives such as those by the African leaders really have.
Real pressure will have to come from more powerful players – key among them China and, arguably, other BRICS countries such as India and Brazil. In this context, the stabilisation of relations between China and the west is critical.
This is at least back on course as a result of recent shuttle diplomacy – notably, the visit by US secretary of state Antony Blinken to China, and that by a high-level Chinese government delegation, led by the prime minister Li Qiang, to Germany and France. These are extremely important engagements because they create incentives for Beijing not to throw its full weight behind Moscow.
It also means the doors are not closed on future cooperation between China and the west during any actual peace negotiations between Russia and Ukraine.
These bigger geopolitical machinations in the background are important because they shape the broader context in which an end to the war will eventually come about. But they are just that – background to an ongoing brutal war, forced upon a sovereign European state by its revisionist eastern neighbour.
Ultimately, the key pressure point – for now, at least – remains military in nature. The more successful Ukraine's counteroffensive, the stronger its position in the run-up to negotiations and at the negotiation table.