In what is more than likely to turn out to be an attempt at escalation in the confrontation between Nato and Russia over the war in Ukraine, former Russian president Dmitry Medvedev argued recently on his Telegram channel that Russia should have the right to attack submarine data cables.
Medvedev claimed such rights against the background of recent media reports on the mysterious sabotage of the Nord Stream undersea gas pipeline last year. He wrote:
If we proceed from the proven complicity of western countries in blowing up the Nord Streams, then we have no constraints – even moral – left to prevent us from destroying the ocean-floor cable communications of our enemies.
The question of who was behind the attacks on the pipelines in the Baltic Sea on September 26 2022, however, remains unresolved. Several reports, rumours and conspiracy theories circulate.
There's some agreement that the time, location and level of sophistication of the attack indicate the involvement or support from a government. But the speculation stretches from western special forces or Ukrainian groups being behind the attack to it being a well-orchestrated Russian operation.
In the meantime, none of the official investigations have been concluded and solid evidence that could support any of the narratives remains sparse. The Swedish prosecutor leading one of the investigations announced on June 14 that he hopes to have completed the investigation by autumn.
Vulnerable undersea cables
For all his characteristic bluster, which have included threats involving Russia's nuclear arsenal, Medvedev's threat should be taken seriously. As we have shown in a report to the European parliament of last year, subsea cables are the backbone of the contemporary digital economy. Almost all of our internet connections depend on them.
According to SubTelForum's Submarine Cable Almanac as of the beginning of 2023, there were 380 cables in Europe on the ocean floor, mostly the size of a garden hose. They use fibre optic technology to convey information at large distances.
Yet they are easy to cut and get damaged quite frequently. The industry reports up to 100 cable failures annually, mainly caused by fishing activities or the anchors of ships.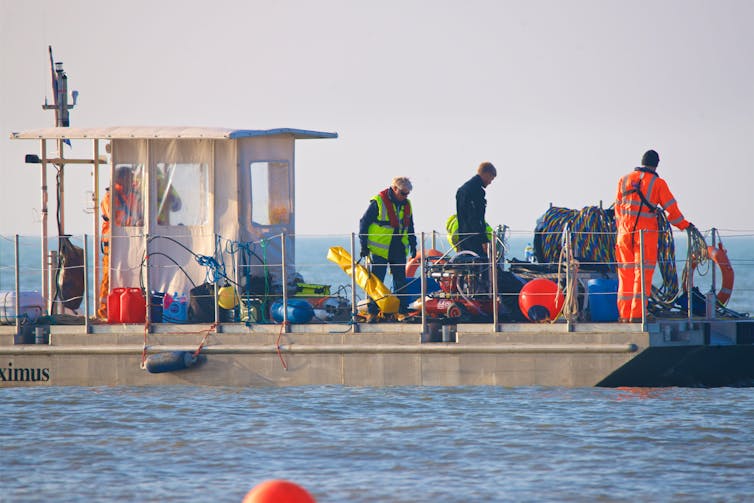 This rarely causes serious disruptions. As already established above, there are hundreds of cables on the sea floor and in the case of failure, traffic is swiftly rerouted and a repair ship is sent on its way to fix the damage.
If Russia is serious about its threats to cut cables, the main economic cost would be for repair work. Major disruptions are unlikely.
There are, however, places that are more vulnerable and where the impact would be more extensive. This includes sites where several crucial cables could be attacked at the same time. These are known as "chokepoints".
For instance, several important cables surface in the port of Marseilles – and the English channel and the Red Sea have a high density of cables. Also, island states, such as Ireland, are more vulnerable because they do not have terrestrial connections as backup.
So Medvedev's threat should be taken seriously, but should not be blown out of proportion.
What's behind the threat?
Once thought of as a reasonable politician, who took over as president when Putin was having his "break" from 2008 to 2012 after two terms of presidency, Medvedev has become ever more of a Kremlin stooge. His threat is a continuation of Russia's strategy of disinformation – an attempt to distract western leaders from events in Ukraine and force security policymakers to worry about their vulnerabilities at home.
Probably, this is also a message to two security events happening in the coming days and weeks and meant to increase the feeling of vulnerability and uncertainty.
At the end of May, Ireland commenced a national consultative forum on security – online and on four separate days at the end of June.
Ireland's foreign minister, Micheál Martin, said the aim was to build public understanding and generate discussions on our foreign, security and defence policies. The particular focus would be on how Ireland wants to respond to the new security environment and whether to seek Nato membership.
As an island with open seas, Ireland is one of the most vulnerable places in Europe in terms of potential internet cable sabotage.
A bit further down the line is the Nato summit taking place in Vilnius, Lithuania, in early July. Subsea cable protection is one of the priority issues on the agenda, and the organization's new infrastructure protection coordination cell is expected to make recommendations for how the alliance can protect cables better and deter any sabotage.
But a military approach to protection on its own won't suffice. Close collaboration between the military, civil maritime agencies, communication regulators and the industry is needed. The European Maritime Security Strategy expected to be issued by the European Council this summer will be an important step in this direction. The strategy lays out plans for risk analyses, improved surveillance and inter-agency exercises.
Overall, and beyond the immediate Russian threat, the protection of critical maritime infrastructures, which also includes wind farms, power cables, hydrogen pipelines and carbon storage projects, needs to become a defining feature in the global ocean governance agenda.