Ukraine has launched its largest drone attack to date on Russian assets in the Black Sea and Crimea. This is consistent with an escalation in attacks on Crimea and the surrounding region in recent weeks, highlighting the strategic importance of that region for Kyiv.
At the start of the war, the Russian navy quickly secured control of the northwestern Black Sea. But its control was to be shortlived. In April 2022, Ukraine struck a blow against the Russian Black Sea Fleet when it sank the flagship cruiser Moskva. This was followed, in July the same year, by the retaking of Snake Island, which Russia had occupied in the early days of the war.
Both events undermined Russian prestige and morale, but – more crucially – they denied Russia its control of the Black Sea. But Ukraine's depleted navy is not capable of controlling the Black Sea either, and, so far, Russia has still been able to deny safe traffic to and from Ukraine's ports.
Russian surface ships are vulnerable to Ukrainian land-based anti-ship missiles and maritime drones, but submarines have remained relatively safe from Ukraine's attacks. In addition to carrying out cruise missile strikes against targets in Ukraine, they can act as what is known by naval strategists as a "fleet-in-being" – whose mere existence poses a permanent threat to civilian traffic.
Since July 2023, Ukraine has again successfully targeted Russia's assets in the Black Sea and Crimea, including warships, bases, air defence systems and the Kerch bridge which connects Crimea to mainland Russia.
More recently, the September 13 attack on Sevastopol shipyard has severely damaged a kilo-class submarine and limited Russia's ability to repair ships. This follows Kyiv's recent recapture of strategically located oil installations known as the Boyko Towers.
The fast pace of these recent successes at sea, which contrast with the slow progress on land, creates strategic opportunities in the Black Sea and – in the longer term – on land.
Breaking the blockade: a game of chicken?
Since its decision in July not to renew the Black Sea grain deal, Russia has played a dangerous game by threatening civilian maritime traffic to and from Ukraine, especially grain ships.
To actually sink a civilian ship transporting grain would undermine its relations with much of the Brics bloc and other developing countries, many of which are maintaining a neutral stance in the conflict. That said, Russia has shown unscrupulous behaviour before, hence the need for the west to be prudent and credible in a political contest akin to a "game of chicken".
Even without attacking civilian ships, Russia is preventing the free flow of grain, because it is not possible to charter a ship without it being insured. With the current level of threat, the challenge consists in finding insurers (and operators) willing to take the risk.
This stasis benefits Russia, although the tolerance of the global south cannot be taken for granted by Moscow, given the demand for Ukrainian grain in many countries, particularly in Africa.
Ukraine can try and strike deals with insurers. The less credible the Russian threat is, the more likely such agreements will be reached. As of today, five ships have left Odesa and two have arrived to load grain. The insurance details have not yet been made public.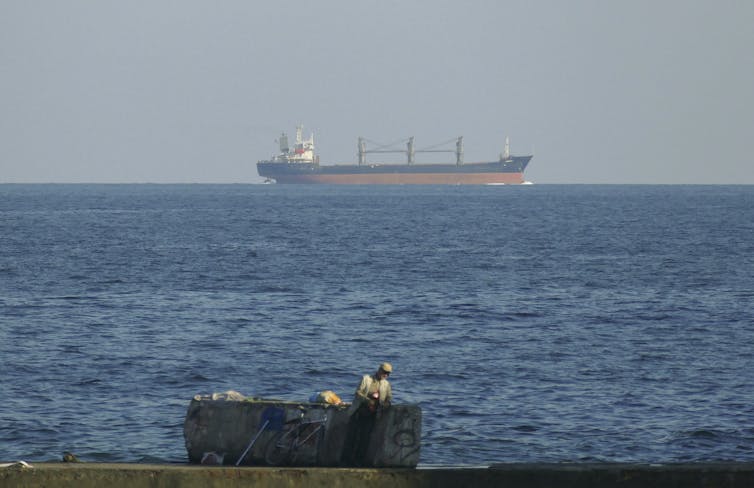 If this enables grain exports to resume, the pressure will mount on Moscow. Targeting humanitarian ships would be diplomatically risky for Russia. But if ships start moving freely, the so-called blockade will lose its credibility and rapidly become obsolete.
Nato's role
To facilitate this outcome, Nato could be more vocal about freedom of navigation and set up a red line that would forbid Russia from targeting grain ships. Russia might not dare bypassing this red line but only if Nato's deterrence threat is credible enough.
There is a spectrum of options from the more restrained measure of sending diplomatic warnings to Russia to the riskier gambit of sending assets, such as minesweepers, to the Black Sea. The former option would have the benefit of avoiding escalation, but would carry less weight and is likely to have little effect on Kremlin decision-making.
The recent incidents in which a Russian drone aiming for Ukraine's Danube ports strayed across the border into Romania has demonstrated that attacking the Danube grain route is risky for Russia because it is adjacent to Nato territory. We can expect Moscow to be more prudent in the future.
Nato deputy secretary general, Mircea Geoana, said there was "no indication of a deliberate action [by Russia] to strike Romanian territory and therefore Nato territory". This can be interpreted as a diplomatic way to remind Russia of the dire consequences of reckless actions – again deterrence and credibility are key.
Ukraine increases the pressure
With its recent attacks on warships and Crimean air defence systems, Ukraine is increasing strategic pressure on Russia, whose capacity to operate in the Black Sea has been further degraded.
Opening a new front in Crimea is also likely to oblige Moscow to redeploy assets away from the frontline on land, which might create tactical opportunities for Ukraine in its ongoing counteroffensive. Putting pressure on Russia in the maritime domain also shows that Moscow is not in charge in the Black Sea, which can help undermining the credibility of Russia's blockade.
Since last month, Russia has extensively targeted port and grain facilities in Ukraine, on land. This suggests Moscow doesn't believe its sea blockade can halt Ukraine's trade. In itself, this is another admission of weakness, a lack of credibility and a failure to exercise power in the Black Sea.
Nato countries are under pressure to provide more weapons to Ukraine. Some of this resupply must be focused on the maritime domain, where a better capacity of Kyiv to destroy, immobilise or interdict Russia's warships (and especially submarines) would make a big difference. If Ukraine can secure control of the Black Sea, it would represent a big step towards achieving its key military objectives on land.