Only a week after the death of the writer and philosopher Umberto Eco, Italian bookshops are already selling his last book, Pape Satàn Aleppe: Cronache di una società liquida (Pape Satàn Aleppe: Chronicles of a liquid society), which originally was due to be published in May. 75,000 copies sold in a single day.
The publication date was brought forward as a homage to the author, who died in Milan in February, aged 84. The book is the first to be released by the new publishing house, La nave di Teseo, recently co-founded by Eco himself in opposition to the merging of the two biggest Italian publishers, Mondadori (owned by Berlusconi) and Rizzoli. The merger is seen by many intellectuals to be a threat to plurality and freedom of speech – and international writers such as Hanif Kureishi, Michael Cunningham and Tahar Ben Jelloun have joined the La nave di Teseo project.
Eco contributed both intellectually and financially to the founding of the new publisher. He suggested the name, inspired by Plutarch's Parallel lives; he granted it his rich publishing rights (the new ones immediately, and the others as soon as they become available), and he backed personally the project with €2 million. La nave di Teseo represents the last act and the legacy of his unfaltering civic commitment, which became particularly strenuous in the years of Berlusconi's governments.
La bustina di Minerva
Eco already had approved the final proofs and the cover of this collection of newspaper articles, chosen from those that appeared over the years 2000-2015 in his column for L'Espresso. The column was called La bustina di Minerva; here not signifying the Roman goddess of wisdom but the humble object of the matchbox (in Italy, Minerva is a common name for the safety match, an old brand name). It symbolises a small space in which one jots down quick, extemporary notes.
In his column, Eco either scrutinised current events or used them as starting points for digression, humorous anecdote, and wordplay. Following the promise made to the readers of his first "bustina" in 1985, he wrote notes on:
The last book not read, on the intuition that has crossed our minds on the highway while braking in order to not end up in the back of a truck, on being and nothingness, on the famous steps of Fred Astaire. We'll see.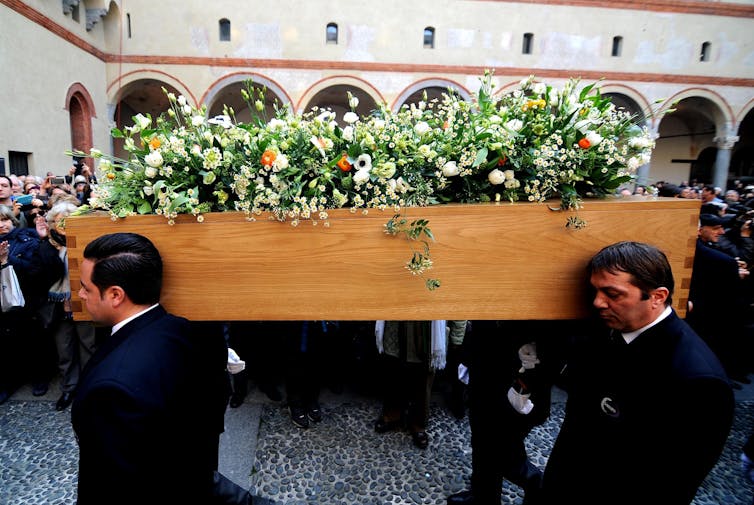 There are few educated Italians who didn't regularly read Eco's column, but it has attracted only intermittent interest in the English-speaking world – although earlier selections were translated partially in How to Travel with a Salmon & Other Essays (1998), and Misreadings (1993) is in a similar vein.
Internationally, Eco is known for his fiction, and especially the blockbuster crime novel Il nome della rosa (1980), translated into English by William Weaver in 1983 as The Name of the Rose, and made into a film by Jean-Jacques Annaud in 1986, featuring Sean Connery in the leading role of Brother William of Baskerville. Worldwide intellectuals and academics also recognise him as an eminent scholar, particularly in the fields of medieval aesthetics, literary theory, and semiotics. But the way he zoomed into and commented on Italian culture meant that Eco was a key figure well beyond literature and philosophy.
The polymath
Eco's tireless and wide-ranging intellectual activity spanned over 60 years, during which time he was always an active, nonconformist presence in Italian public debates. He was the first academic to give custom clearance to mass and popular culture, both with his studies and by contributing consciously to its production. Already in the 1950s, for example, while studying medieval aesthetics, he worked at the state broadcaster, RAI, as one of the young intellectuals appointed to modernise TV and radio programmes. He mixed highbrow and popular culture without any sense of guilt, much to the chagrin of his academic peers.
His omnivorous curiosity is particularly evident in his short pieces for the press, marked by a unique penchant for paradox and irony: here, Eco the philosopher, the public intellectual, and the storyteller converge.
Since social commentaries and irony are based on topicality, in order to enjoy them fully one needs to have some knowledge of Italian internal affairs. Despite this, his posthumous publication has an international appeal, as together with Berlusconi's scandals the author reflects broadly on the Western society of our times, from Bush's politics to the recent terror attacks in Paris. He comments on the role of internet in the evolution of mass media and communication, on racism and integralisms, religion and philosophy. Here's hoping for a translation.
Whereas the subtitle reveals the debit to Bauman's reflections on the "liquid modernity" we live in, the title quotes a verse from Dante, who historically is the first of the Italian civic intellectuals. "Pape Satàn Aleppe" are the words of Plutus, the guardian of the fourth circle of hell in the Divina Commedia, (Inferno, VII, 1), and they still trouble interpreters for their menacing unintelligibility.
Similarly, Eco's book suggests that we live in a society which to a, 80-year-old can resemble a medieval hell, one that is difficult to understand, but that, in its intrinsic contradictions, is always open to different interpretations – a theme that runs through all of his thinking and writing. Right up to his final days, Eco never renounced the intellectual role of attempting to understand the changing social and cultural phenomena, guided by human curiosity and rationality, and always tempered with a good sense of humour.