An Australian government delegation faced a barrage of tough questions in its review by the United Nations Human Rights Council in Geneva on Monday. I was among the observers at Australia's review, which had a strong focus on asylum policies and Indigenous rights.
The Universal Periodic Review (UPR) is significant for three reasons.
First, each country is reviewed by the Human Rights Council only once every four-and-a-half years.

Second, unlike other UN human rights reviews, the member country's record on all human rights issues is under examination in the UPR.

Third, while independent experts carry out other UN human rights reviews, the UPR is a peer-review mechanism. Countries hold each other to account on their human rights records. Monday's review is only Australia's second review since the UPR was introduced in 2008.
What were the questions about?
More than 100 countries took the opportunity to comment and make recommendations on Australia's human rights record.
Almost half of them made one or more recommendations on asylum policies. These included calls to stop boat turnbacks, end mandatory detention or use only when strictly necessary and with limitations. There were also concerns about the conditions in detention and whether Australia was sending people back to countries where they might be tortured (in breach of the principle of non-refoulement).
Australia's treatment of asylum seekers is a common concern for various UN human rights bodies. However, in the UPR, countries can be a little more reticent about taking a hardline stance on this issue due to the fear of reciprocity.
Asylum policies are a politically charged topic in many countries which struggle to comply entirely with their international obligations in this area. As a result, they may be less inclined to hold other states to account. For example, there have been more than 8000 recommendations on women's rights during the UPR's history, but only about 700 recommendations on asylum seekers and refugees.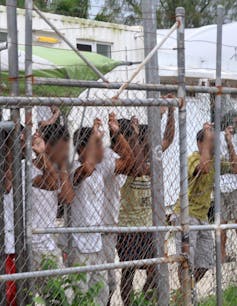 Monday's review was a clear departure from this record, an indication that Australia is clearly out of step with international norms in this area. Sweden noted that, according to the UN High Commissioner for Refugees, Australia is the only country in the world to use offshore processing and mandatory detention.
Linked to this, one of the most consistent recommendations made in the review was for Australia to ratify the optional protocol to the Convention Against Torture to allow visits to places of detention. The Australian delegation indicated that this is being actively considered.
The other recurrent theme of recommendations was Indigenous peoples' rights. Again, this featured in almost half of all submissions to the review. Recommendations relating to constitutional recognition, consultation with Indigenous communities and reducing inequality in health, education and employment were common.
In an example of reliance on information submitted by NGOs, the US expressed concern over closure of remote communities without consultation and spoke specifically of the Oombulgurri community in Western Australia.
Russia also appeared to have relied on NGO information in its critical statement. It asserted that Australia's progress in implementing the previous UPR recommendations from 2011 had been poor, citing an implementation rate of only 10%. This figure has been provided by NGOs and the Australian Human Rights Commission in their reports.
However, in its report, the Australian government claimed to be "progressing implementation of" or to have fully or partially implemented at least 130 of its previous 137 recommendations. Russia clearly was not buying it.
The review covered a range of other issues, with quite a strong emphasis on rights of persons with disabilities, women's rights, children's rights, tackling racism and Islamophobia, plus a few recommendations on marriage equality.
How did countries formulate questions and recommendations?
Countries are given three short reports in advance of the review – one by the country under review, one summarising all NGO and civil society reports, and one summarising reports from other UN bodies on the state under review. Each country considers these reports in developing questions and recommendations for the review.
NGOs also lobby states in advance of the UPR, both in Geneva and through their embassies in the country under review. An Australian NGO delegation has lobbied extensively in advance of this review and delegates travelled to Geneva in October for pre-sessions with Geneva-based embassies.
A number of NGOs, government representatives, academics and other civil society representatives are in Geneva for the review.
What happens next?
The UPR report on Australia, containing all the recommendations made, will be adopted on November 12. A unique feature of the process is that the government then has a few months to choose whether it accepts those recommendations.
It could be argued that this weakens the effectiveness of the review. However, internationally, 74% of all recommendations made in the UPR are accepted by the country under review. In its 2011 review, Australia accepted more than 90% of its recommendations.
It remains to be seen whether the Australian government will show the same level of commitment on this occasion. This UPR is timely as the government's response may be influenced by its bid for a seat on the Human Rights Council from 2018-20. The Australian delegation made reference to this bid at least three times in its UPR presentations.
Although a less-than-perfect human rights record does not preclude a country from membership of the Human Rights Council, countries must demonstrate willingness to provide redress and make improvements. What better way to do so than to accept in good faith the recommendations made by other countries during this UPR?
Over to you Australia, the world is watching.