Recently, Angelina Jolie announced her retirement from the acting profession so that she could take up writing and directing full time. Which is an error, if her latest directing endeavour Unbroken is any indication.
Unbroken is based on a best-selling nonfiction book by Laura Hillenbrand. It tells the story of the experience of second-generation Italian-American Luis Zamperini who was imprisoned in a Japanese prisoner of war camp during World War II.
So, there's a strong story behind it and the film is solidly crafted and coherent. Jack O'Connell also gives an assured central performance. But it stops here. Disappointingly, Angelina Jolie brings none of the fire that we might associate with her screen performances to her role as director. And then there's precious little of the mordant wit that is the hallmark of Joel and Ethan Coen, brought in as script doctors. The interesting soundscapes associated with composer Alexandre Desplat are also sadly lacking. The film is not a complete failure, but it never quite pulls its disparate material together.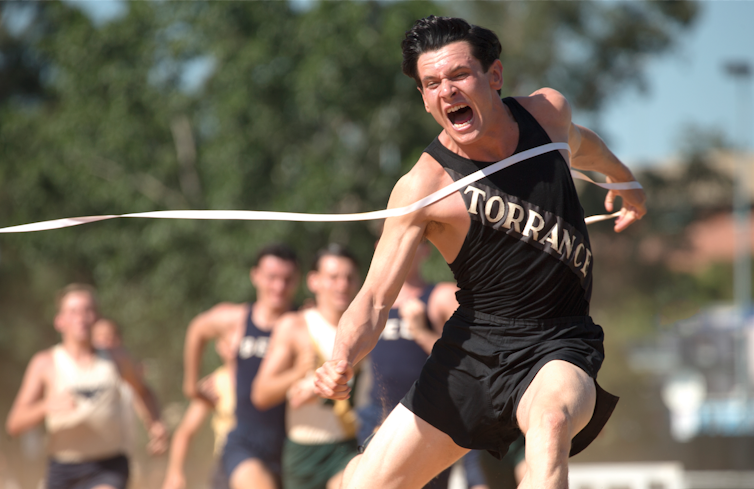 Three films in one
The scant opening scenes of the film, which are also the best, show a US B-24 bomber on a mission in the Pacific. In the heat of battle, bombardier Zamperini recalls his delinquent childhood and how, under the tutelage of his older brother, and following the mantra "If you can take it, you can make it", his wayward energy was channelled into long-distance running. He secured a place on the US Olympic team and competed in Berlin in 1936.
This well-handled layering of the war and Zamperini's early life quickly gives way to the film's primary focus: an attenuated account of survival and perseverance. While on a rescue mission, Zamperini's plane ditches in the sea and he survives in a tiny life raft for 47 days. We see how his considerable willpower and personal determination, working in tandem with fellow airman Russell Allen Phillips's devout Christian faith, allow him to survive shark attacks, strafing by enemy aircraft, sunstroke, dehydration and starvation.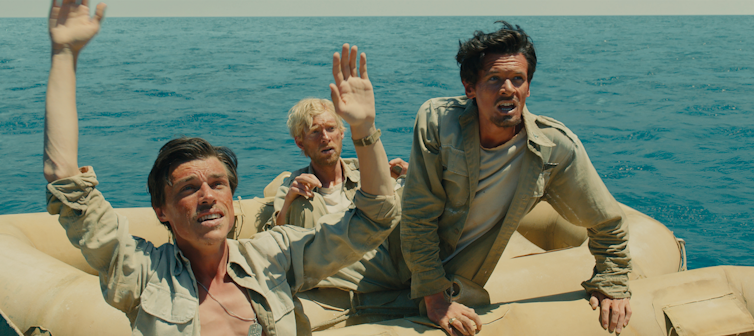 This part of the film, although gruelling at times, is leavened by shock edits straight from Jaws and gags about eating putrid Albatross and contains the film's best one-liner, with Zamperini quipping to his fellow survivor as a Japanese patrol boat picks them up: "I've got good news and bad news." One suspects the role of the Coen brothers here, brought in to lend elan to an otherwise sober and functional script.
After they are rescued the men are interred in a number of POW camps, and the film shifts to an unremittingly dark tone focused on salvation. Zamperini draws the attention of sadistic prison commander, Mutsuhiro Watanabe. Scenes of Watanabe's brutal treatment of Zamperini follow.
After years of abuse, and at the film's dramatic high point, Zamperini finds the impossible strength to defiantly raise a railway sleeper above his head. Replete with the iconography of Christ's crucifixion, this scene shows just how much the film uses extreme suffering in order to sanctify Zamperini's emerging Christian faith and indicates how this faith had a hand in his survival. Here a comparison with Mel Gibson's The Passion of the Christ (2004) would not be completely unfounded, and indicates how the film has (not altogether convincingy) shifted register from the adventure-war genre to something altogether more serious.
An all-too-brief epilogue (hinting at a more interesting film) tells us how a period of alcoholism and post-traumatic stress preceded Zamperini's conversion to Christianity, which was followed by him seeking out and forgiving his captors. In fact, Zamperini's actual story, as told by Hillenbrand, is more challenging – after the war he first contemplated and planned for bloody revenge before falling under the influence of charismatic evangelical Christian Billy Graham. Presumably this version of events was soft-soaped in the film to avoid alienating potential viewers who might be wary of such religious enthusiasm. But the consequence is over-simplification and a lack of depth.
A conservative message
Even watered down, Unbroken's providential impulse sets the film apart from similar stories of resistance such as The Great Escape (1963), Cool Hand Luke (1967) and Papillon (1973). The protagonists of these films have an instinctual anti-authoritarian streak that appealed to audiences during the 1960s and 1970s. By contrast, Zamperini's toughness is simply about surviving in order to return to the safe fold of America, where he will find family, religion and order.
Like Saving Private Ryan (1998) before it, Unbroken celebrates the "greatest generation", a group of young citizen soldiers who volunteered to serve their country and fight against totalitarianism and then set to the work of building families, businesses and communities. This conformist and fabled view of World War II provides an anchor for – and antidote to – a contemporary US realm of failed wars, political deadlock, race riots and the aftermath of a deep, lasting recession. It is this fabled view – embodied in Zamperini's spiritedness and faith – that the film wishes to claim is unbroken.
But one is left wondering if the difficulty of reconciling Zamperini's intriguing life with the war film narrative, Roger Deakin's anaemic cinematography and a lack of conviction among the key creatives involved might be read as symptoms of a profound hesitation in such a claim during such difficult times.