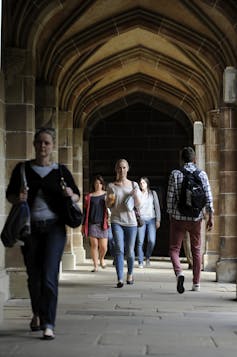 Universities are increasingly looking to philanthropists for research funding but experts have warned that donated funds may come with strings attached.
The University of Melbourne announced yesterday it was seeking to raise half a billion dollars (AUD) from philanthropists by 2017, adding that $249m had been donated since 2008 to its campaign.
The University announced $42m in new gifts last night.
Among the $42m was new money for scholarships, $5m from the Financial Markets Foundation for Children for a Chair of Developmental Mental Health, $10m from The Ian Potter Foundation, Martyn and Louise Myer, and The Myer Foundation for the Southbank Campus development, $1m to for Indigenous eye health research and $2.3 million from John Higgins to establish the Gerry Higgins Chair in Positive Psychology.
University of Melbourne Vice-Chancellor Professor Glyn Davis said philanthropic money "will help us go beyond what a university can achieve with current funding levels."
"It will give us greater resources to offer scholarships to students who have the ability and the will, but often not the means to aspire to higher education," he said in a statement issued by the university.
"It will enable us to attract the best lecturers and teaching staff to inspire students and to attract and retain world-leading researchers to help us tackle issues from mental health care in children to human rights, making further inroads to curing cancer and helping improve Indigenous eye health."
Growing trend
Tim Pitman, a researcher in higher education policy at the University of Western Australia said Australian universities derive more than 40% of their income from private sources.
"The trend is set to continue. Philanthropic funding is a relatively under-exploited resource in our country. Traditionally, universities have approached philanthropic funding in an ad-hoc manner, for example seeking support for individual programs or passively accepting bequests from estates. This is in part due to the sector's lack of an alumni culture, compared to the United States," he said.
Dr Pitman said many universities, including Curtin University and the University of Sydney had also courted philanthropic funds.
"More recently, my own uni, University of Western Australia, has stepped up a coordinated approach to philanthropic funding, linking to our Centenary Year celebrations. Now that we have achieved that milestone, the activities are continuing through an annual Alumni Fund, which is a regular ring around of alumni to ask for donations."
Dr Pitman said the University of Melbourne appeared to be trying to get as much "untied" funding as possible, so that it could direct it where it wishes.
However, he warned that education philanthropy, in general, came with risks as well as benefits.
"There is a potential problem when donations are given without explicit conditions attached, but there are implicit, cultural expectations. For example, what if the university directs the money into military research? Or funds research for the benefit of an organisation that is ultimately owned by a multinational tobacco company?" he said.
"Even when the money is apparently untied, universities have a duty to either establish broad boundaries concerning how the money can be spent. They need to disclose, in general terms, how the money will be spent, so donors can make an informed decision."
A free lunch?
Leila Morsy, Lecturer in Education Policy at University of New South Wales and an expert on philanthropy in education, said donated money allows for speedy work on projects that may not be possible with government money.
"The issue with philanthropy and education in general is that it fills the vacuum that governments should be filling. We can have philanthropists who are driving the agenda of higher education institutions. This is a real possibility and not necessarily something that's desirable," she said.
Not many philanthropists are keen to donate to general operating costs.
"If you follow the trail, this can go to philanthropic money directing commercial and private interests."
Correction: An earlier version of this story said that $42m had been raised so far. In fact, $249m has been raised since 2008 and $42m worth of new donations were announced last night.