What are people looking for when they browse the State Library of NSW's collection of six million items?
There are books in there, of course, but also photographs, soldiers diaries from World War One, locks of childrens' hair, a vast array of paintings and sketches, maps, diaries from First Fleet officers and soldiers, Aboriginal artefacts and even floppy disks from the 1980s.
As winners of the inaugural DX Lab Fellowship at the State Library of NSW, we wanted to reveal the breadth and diversity of this collection (most of which is held in the library's underground stacks), and show what odd and interesting items pop up when people search the collection online.
The result is Unstacked, launched this week by the library's DX Lab, Australia's first cultural-heritage innovation lab. DX Lab aims to build and support new ways of design thinking, experimentation and research with digital technologies.
So what is Unstacked? It is a webpage that updates to show what items people are accessing from the State Library of NSW's collection. When people look at a collection item, it pops up on Unstacked. It is essentially a window into the collection, and an insight into what people are interested in at any given time.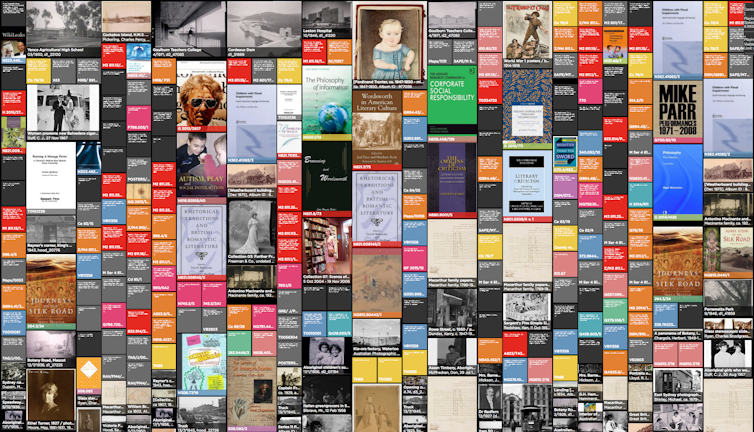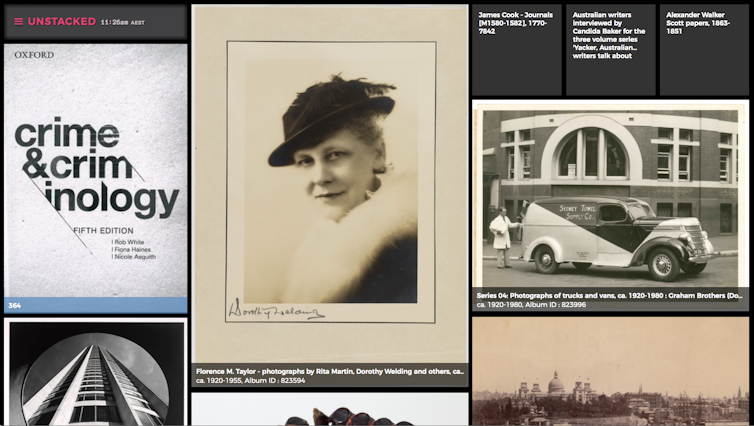 Unstacked because it presents in a visual form items which are physically or digitally coming delivered from "the stacks"; the underground space where the library stores holds much of their collection.
You can view Unstacked on your computer, mobile phone or device. The plan is to display this project over a large space in the library for everyone to see. We've found that when it is shown in a public space, it provokes conversation and this was one of our aims.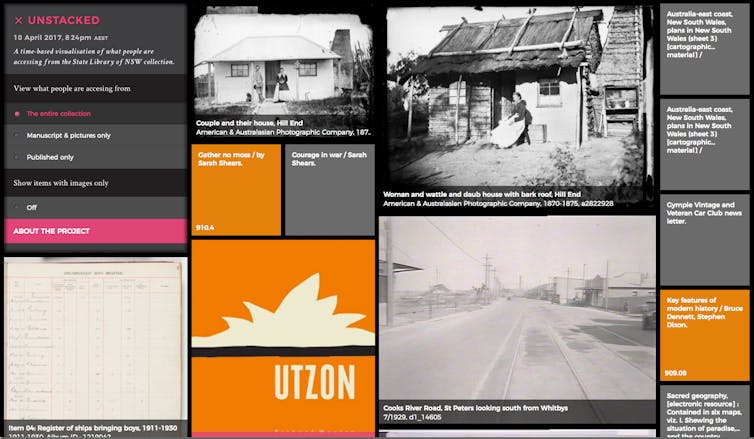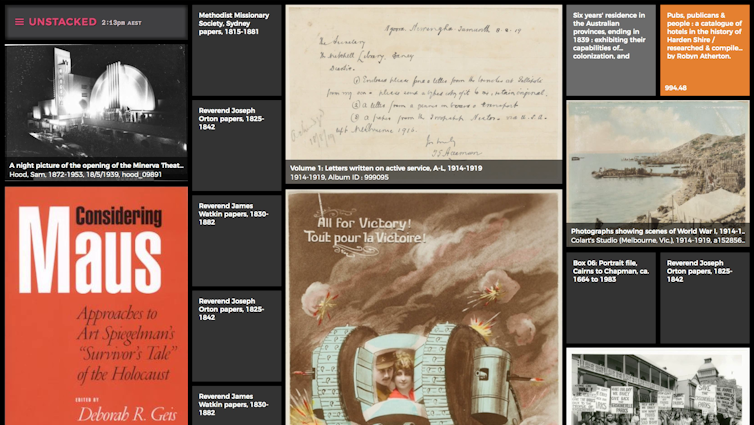 What are people searching for?
The work reveals that the library's users have very different interests and this highlights the diversity of the collection.
People use the library for all types of research. On any given day you might see searches ranging from Shakespeare, the psychology of teenagers or HSC papers to subdivision plans, kisses, houses in Lilyfield in the 1970s, or mosquito management.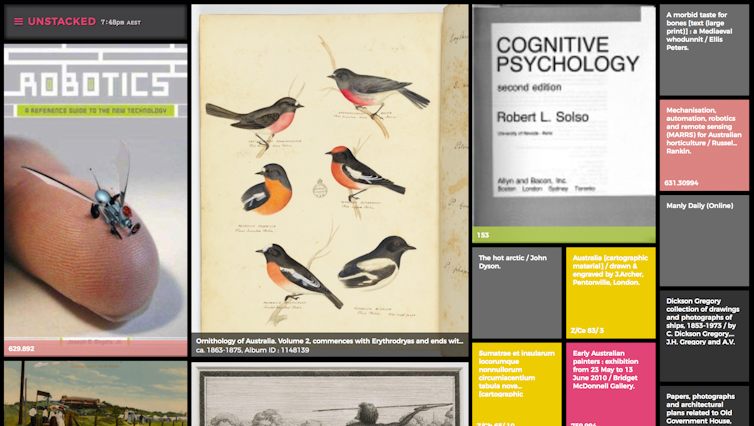 For example, if you were looking at Unstacked when someone accessed a photograph of colonial houses from the collection, then you would see that photograph appear.
If you were interested in finding out more about this photograph then you could enlarge it and see more details. You could then click on the link to its record in the library's online catalogue.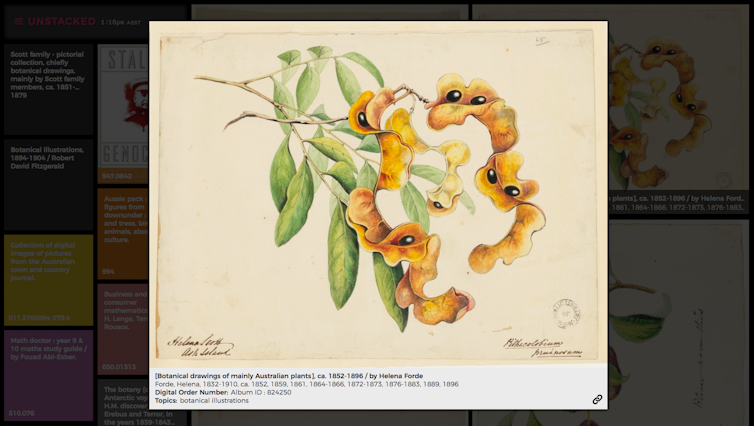 You may well see this photograph displayed alongside a book on The History of the Bean Bag, war diaries or Snugglepot and Cuddlepie. It depends on what other people are looking at, at that moment.
And because people access the collection chiefly through the library's web-based catalogue, the search queries displaying on Unstacked could be coming from anywhere - in the library, in regional NSW or on the other side of the world.
Visualising the searches
In respect to design, we wanted to showcase items with minimal fuss and let the contents of the collection speak for themselves. We thought a lot about how much information to show and when to show it.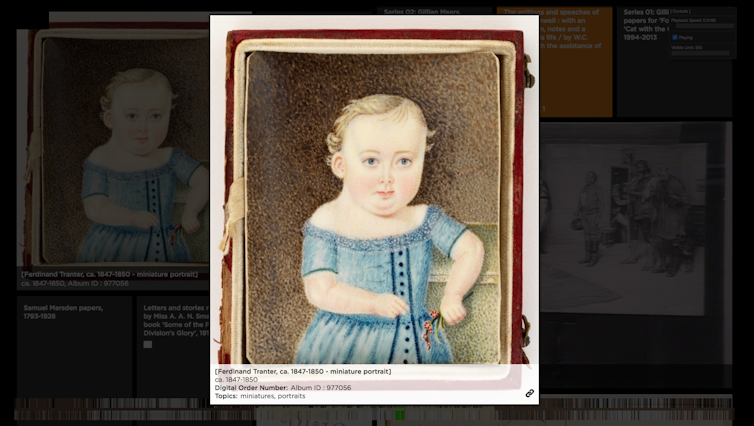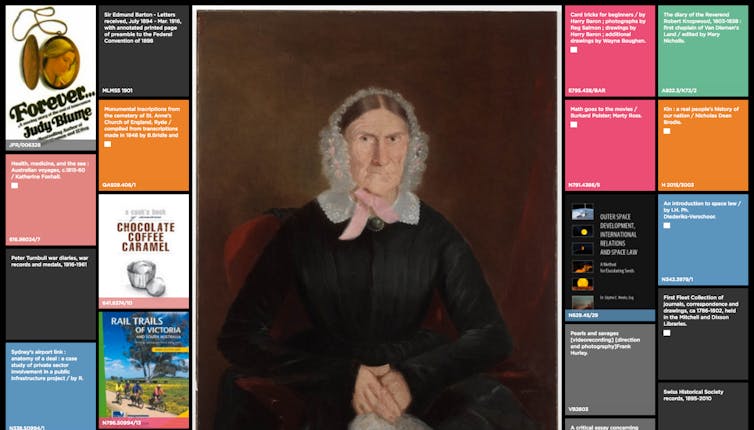 In consultation with the library, we settled on a visualisation that balances communication and aesthetics. In other words, it looks good but is still easy for anyone to understand what they're looking at. One of the challenges we encountered was how to deal with items from the collection that don't have images attached to their records.
For published items including books, we used a palette of colours created by Chris Gaul for the UTS Library, which represent the different Dewey Decimal topics. For example, blue represents social sciences and orange represents geography and history.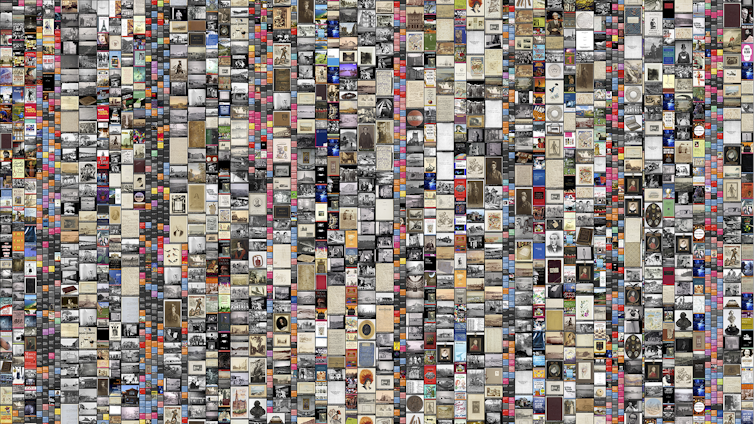 We've had responses like "I had no idea the State Library of NSW had things like that" and "I'm going to look that up too". People have been surprised by just how interesting and diverse the State Library's collection is. They're also amazed that anyone undertaking research can go into the library and look at the originals whether they be rare books, photographs or drawings.
We hope that Unstacked will increase the number of visits to the library both virtual and physical and inspire people to explore the State Library of NSW's incredible collection.
Unstacked builds upon Elisa and Adam's investigations as Artists-in-Residence at the UTS Library in 2014. This article was co-authored by Adam Hinshaw, a creative technologist specialising in interactive installation and a co-creator of Unstacked.